Today mark the
5th years Anniversary
for both me & hubbie ever since I'm willing to be his "special girlpren" .. *shy* On this very date,
5 years back, 1999
, after midnite, he popped up his question online...Yesh!! Online mind you! At tat time we were chatting in one of the chatroom.. I was stunned!!! To avoid my malu-ness, I pretend to be cool and still got the cheek to joke with him... But he sounded serious lah!! We then continued our conversation on the phone till 4am in the morning... But at the last2 part when we gonna hanged up with each other, I finally gave him the answer! It was a YES!! *shy again* He was soo happy and the very day, he asked me out for our
official date
to Bugis, watching James Bond movie,
The World Is Not Enough
...Then we went East Coast after tat..
A bit of history flashed back..... Hubbie used to be my best buddy... We met thru Alamak Chat.... I used to hang around with Kak Yahfiq and gang... We normally have lotsa gatherings together den till one day hubbie asked Kak Yahfiq to organise a gathering where he wants to meet the rest of us... I still remember vividly where we went at tat time.. We had dinner at Sakura Far East Plaza & hang around in front of Takashimaya....But tat was in 1998... And tat was the first time I met him.. Since then we became good buddy... At tat time, I was with somebody else and he had just broken off with a girl... So we usually shared our problems together not knowing tat he had gotten smitten by me.. hahahah...But I didnt know abt tat actually.. But we do always called each other..He was in NS, Police Coast Guard...So when he's bored at werk, he will called me.. So being a very nice girl here and a good buddy, I entertained his call everynite.. Actually he kept hinting tat how nice if he were to find a girl like me...Knowing tat he was still single at tat time, I always "cannon" him with other female chatters...hahaha..
Days & weeks passed...Months by months went by...We were closed like bro & sis.. As I'm having problems with my relationship, he will always be there to comfort me, shield for me.. At one point tat we totally lost contact with each other due to some reason... But after a few mths, he called me back and tat was the turning pt of our relationship.. He called me at the rite time when I'm already single & available.. When he got to know abt it, he sounded happy but being a selenger me, I didn't know tat was the cue...hehehehe... We still continue to talk but feel a bit awkward cos it's been quite sometimes tat we didnt contact each other... I was already working by then... Not long after tat, I sensed tat he is being extra nice to me..very the lembut one to me...cos when we were buddy-buddy tat time, he can be very kasar one... but tis time, it's diff..
Oops! I tink I got the hint oredy... Actually I'm scared of going into another relationship but upon the encouragement of my frens..one of them is Nazreen, my ex-kolig...I decided to give it a try... But besides tat, I actually knows his character well oredy and the feeling2 got lah abit!! Tat one cannot deny lah... hahahah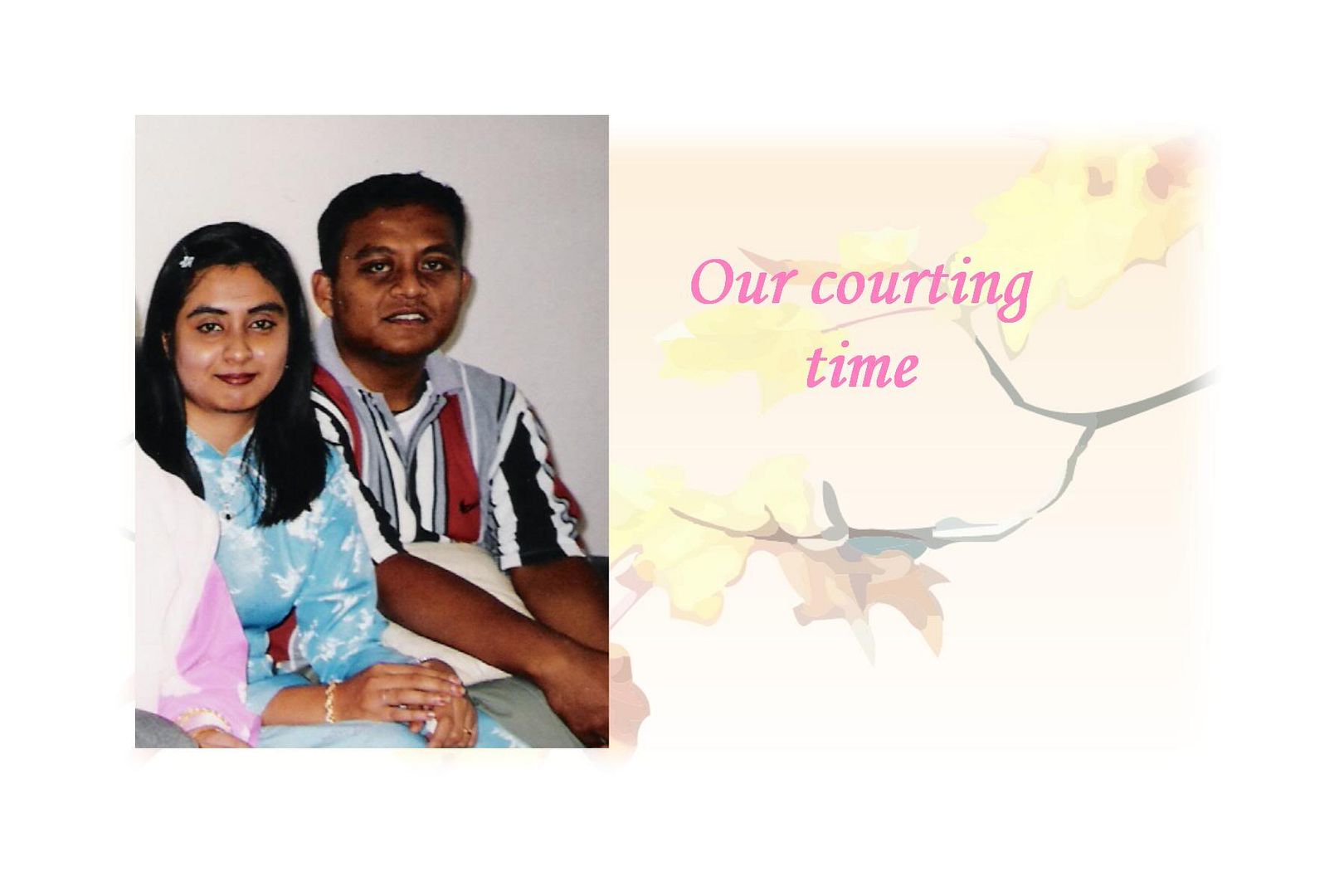 Photo during our courting time


To cut the story short, after nearly a year we went steady, he sent his rombongan meminang to my hse..and tat was around Sept 2000.. We decided to get engaged on 20.01.2001 after 3 weeks of Hari Raya...After tying the engagement knot for 1 year 11 mths, we were being solmenize as husband & wife on 13th December 2002, 1 week after Hari Raya.... And today, with our 5th years being together, we considered today is a special day coz we celebrate it with an additional member in my tummy... *grin*
Engagement Pic..


Nikah pic..
Happy 5th year Anniversary to my beloved hubbie!! Thank you for the love & concern tat you have been showering to me..Love you bery2 much!!