4 invitations today!!! Phew! 2 wedding invites and 1 kenduri tahlil & 1 kenduri sunat.. Now my whole body aching.. And tomoro work starts at 7.30am... Tired!!!
Went out at 12 noon... Fetch PIL den went to Compassvale Dr for wedding invitation (hubbie's side).. Never did I know tat the wedding reception was my old secondary schoolmate.. What a surprised... But I didn't approach him tho'.. hehe.. Stayed for awhile den off to send PIL back to Bedok Reservoir Rd for the kenduri (Hubby's late aunty's 1 yr tahlil) ... Then we went to Bedok Reservoir View to my cuzzin's wedding... It was then raining heavily.. Iskk... We sat there for awhile before we made our move to send my Pak Long & wife to Harbourfront as they going back to Batam... Den off to send my dad to my nenek's place and we drove back to Bedok Reservoir for the kenduri...
At around 5pm, we made our move.. Sent hubby's uncle and aunty back den MIL.. Off we went to my paternal grandma's house for another kenduri sunat (kenduri dah abis lah sesampainya kita.. hehe) It's my lil cuzzin, Ariff, who had his sunat done yesterday.. Met my aunties, uncles and cuzzins... Had fun there...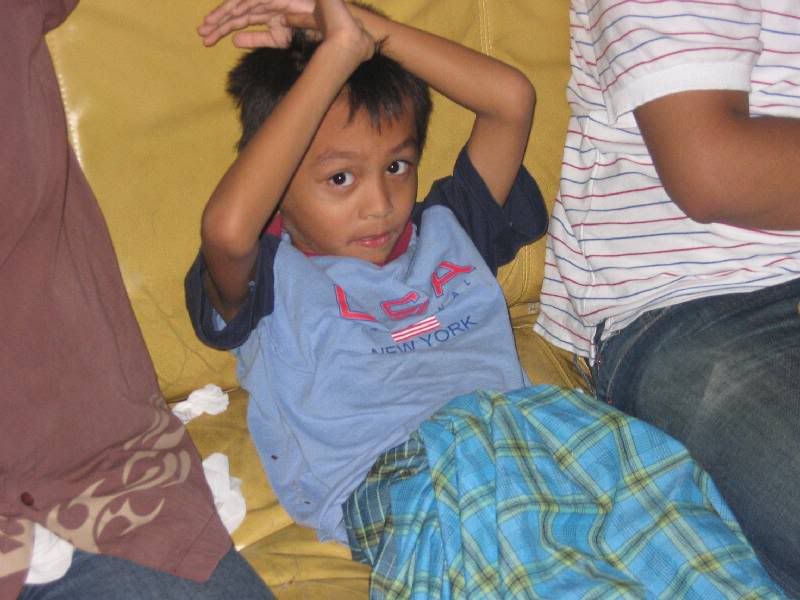 Lil' Ariff with his kain...
At 8.30pm, we made our move back home.. By the time, Alisha's getting cranky... Once reached home, she had her milk and den off to sleep.. And now I'm gonna stop here... Sleeping time!!
Have a great week ahead! Papai!! Can view more pics
here!