I changed to a new layout tat I made myself. The previous layout is being modified by Mamafai and will used it back once she has done with it. :)
Today both me & Lil' Alisha followed my mum to my moyang's place over at Bishan. Got to know from my aunty tat moyang is really sick. So today we decided to pay her a visit. Met my sis who had just finished her class at the nearest bus stop there.. Was quite shock upon seeing moyang. She looks soooo frail and fragile! What can we expect from a 105 years old great-grandma.. I was so sad seeing her condition.. She left with thin bones.. :( According to my aunty, she does not recognised anyone but to our surprised, she mentioned my name tho' her voice is really soft..
Moyang is the one who looked after me when I was small. At tat time mum was working and I was left with moyang and maternal grandma's care at Toa Payoh. Was closed with them and I was being pampered my moyang... When I'm in primary school, she often gave me money each time I slept over... She sayang me the most among her cicits... And what really make me feel so sad is tat she cudn't get to hold my Lil' Alisha, her great-great-grandoter.. :(
Stayed there for almost 2 hrs before we make our move. Went to Junction 8 for awhile before going back. Dad came over after werk. All of us had dinner toegther..
Now Lil's Alisha is sleeping so soundly. She's tired after a day out.. So I better end here and get my early sleep.. Have a great week ahead! Papai!!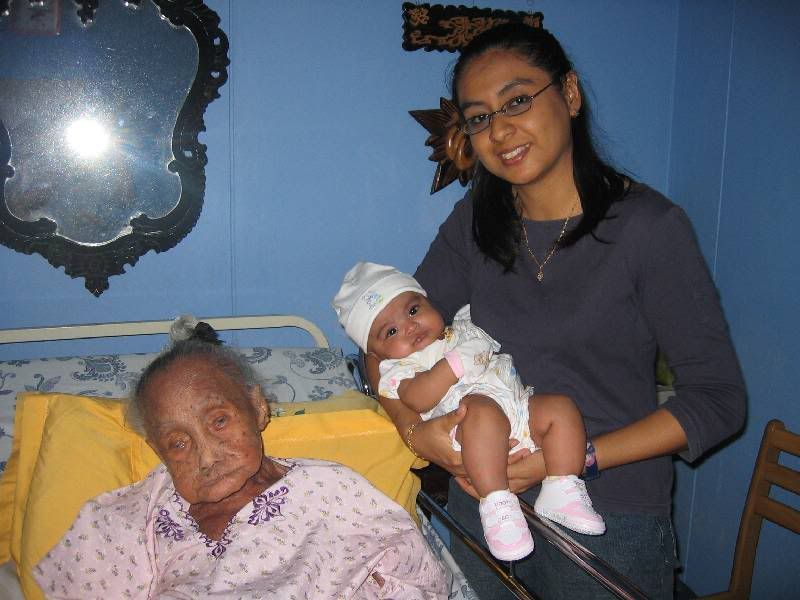 Me & Lil Alisha with moyang..