Guess what?? Partner in crime, kissy, just told me to on RIA to hear 4U2C song! She sanggup on balik itu MSN just to tell me tat! haha..Padahal member dah nagntuk tuh dah say goodnite2 and bubbye2 sekali dia timbul lagik dahhh..ehehe..Anyway thanks pal! haha.. Kita sama2 imbas kembali zaman2 sungguh kental dot com... muakakakaka..
I was in Secondary 3 back then.. My classmate, Rozi, the one who was responsible for introducing me to 4U2C.. Back then I only listened to their song in the radio but never was I expected tat I'm gonna meet them in real person one day! It was like a dream come true! Excited beb!! My fren knows the inside information on to when they will come to Singapore, which flight they are taking, which hotel they are staying.. Fuh!! Excited giler beb!! Bila dia ajak jumpa, fuiyoooo peh happy! hahaha..
The first time meeting them when they had concert in Sentosa.. But at tat time, I only get to see them from far.. I really dragged my dad to bring me to Sentosa just to see 4U2C..hehe.. My cuzzin, Nini, too was interested in them so she oso dragged her dad along.. So the 2 adik beradik and the 2 sepupus went Sentosa just to see the concert..hehe..
The really first time I get to meet them in person when my fren asked me along to Paramount Hotel where they stayed in during their performance here... Mak datuk cam tak percaya pon ada! hehe... 2nd time was at the Changi Airport to send them off... Fuiyooo! Mcm bermimpi gitu dapat jumpa lagik! hehehe.. Brought my brother along tat time! Was so happy to mingle around with them and get to take photos with them too.. Subsequently, my fren & I began to meet them everytime they came to Singapore.. Tak happy giler youuuu?! Sampai kan dorang dah betul2 kenal dgn kita.. Fanatik betul ah! Apa nak buat, masa tuh suka giler dgn grup dorang! hehe.. .. Sampai pegi JB ah tgk concert dorang and jumpa dorang kat their hotel.. Itu pon Cikgu Melayu kita yg organise ah! Sporting kan Cikgu kita tuh?! hehe.. Sebab anak dia pon minat gak so sampai dia arrange kan van ah utk kita2 pegi sana.. Balik sampai pagi2..the next day ada Speech Day..kene perform plak tuh!! hahhahaha
Azean, kau ingat tak masa zaman dulu?? *aku tahu kau mesti baca blog aku ni :p*
..
And one thing I can still remember till now is tat, everytime after skool, me & my fren will go to Bedok Central Post Office, purchase phone card and call the grup members.. We usually called Yanz, Adikz and Rin... Giler kan?? Sampai dapat phone number! hehe.. Lupa nak bilang, dolu2 me suka sgt ngan si Yanz tuh! hehe.. My cuzzin plak suka ngan si Lanz..Si Azean ni suka nah ngan si AC...And my fren si Rozi tuh suka sgt ngan si Rin! kartun kan kita??? hehe... Then plak tuh, kat sekolah, masing2 ada file! Depan abis kita paste2 gambar 4U2C yg kita amik ngan dorang... Cam eksyen gitu ah! hahaha... Abis yg si lelaki2 plak jeles..cakap ah 4U2C kental lah..Wah bukan main HOT lah kita bila grup kesayangan kene kutuk! Apa lagik, kita bambu ah meke2 tuh! hahaha..Sanggup seh!!
Bila ingat2 balik, mak oi...sungguh ku tak sangka ku fanatik sampai gitu sekali.. Kental sungguh diriku ini! hahaha.. Tapi tak bleh disalahkan lah..Sapa tak happy dapat jumpa artis kesayangan kita kan??? :p ..
Btw, ada tak eh Muzika Rekod jual kaset2 atau CD dorang yg lama2? Kaset2 ku dah ilang ah!! uwahhh!!! Cam nak dgr balik plak lagu dorang..tapi kalau ada kaset pon, radio mana plak nak mainkan kaset2 tuh.. Sekarang radio semua canggih manggih..mana ada slot kaset lagik kan? hehee..
Kay sini ada foto-foto zaman kegemilangan ku dgn 4U2C.. Oops..tapi muka ku ni memang kental ah..maklumlah gambar zaman dolu2.. Muka sememek...hahaha..Pls bear with me okay! hahaha...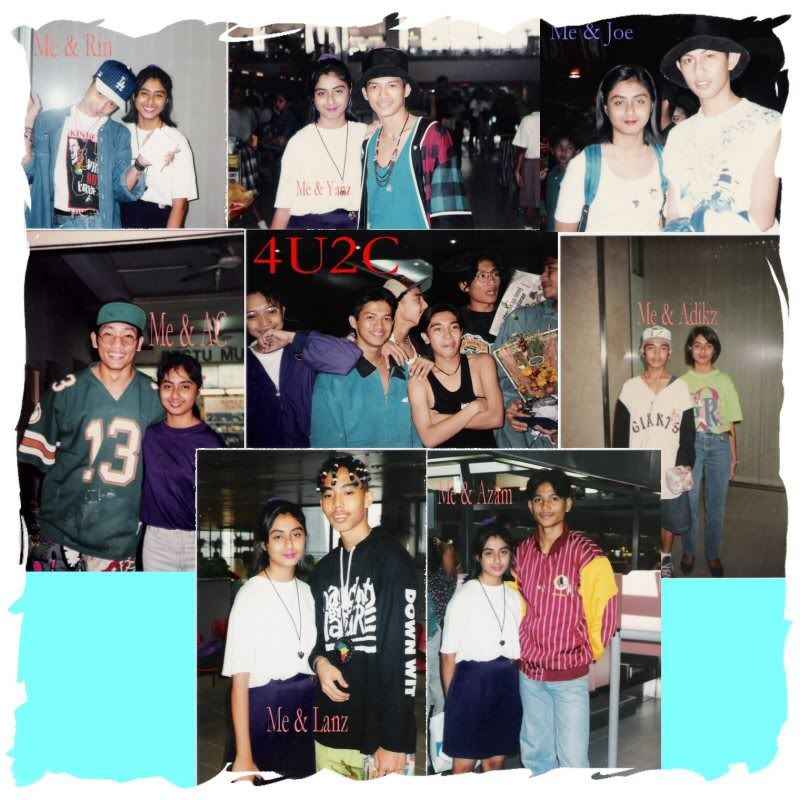 Pls click on the photo to enlarge it!