This morning had my gynae appt... *grin* .. Yay!! I get to see my lil' one again.. Tis time Dr Aziz really focussing on the baby's features... Both me & hubbie were smiling & grinning all the way when the Dr Aziz explain which feature is which... Can see he/she cute legs & foot.. the eyes, nose & mouth...the spine...at the cutest part is tat his/her hand is like a waving gesture..
Baby, are you trying to say Hi! to Mama & Papa?? hehehe...
But tis lil' baby is real active inside..while Dr is scanning, he/she kept moving about...Auwww!! My heart melted when I see my lil' baby.. Dr trying to see the sex of the baby but it's not tat clear yet...So the next check up then we can know!! Will wait patiently for the moment.. *biggrin* oh..by the way lil' one weighs 175g as of today... :)
Hmmmm..I guess you guys waiting for me to tell you abt my blood test rite?? hehe.. I myself dunno why I'm so paranoid with tis blood test till I cudn't sleep a wink last night...Yesh! I did not sleep at all mind you! Crazy rite!! hahaha... And end result of the test = NOT PAIN AT ALL!! aiseyman... I werried for nothing lah!!!! Stoopid me! hehe
Bought our bfast at Eunos den proceed to MIL's place for awhile... After eating our bfast, we headed home... Watched Meteor Garden I at 12pm... By 1.30pm I dozed off... I tink I'm too tired... Woke up around 3.45pm with an empty, growling stomach... Sheesh! No food to eat.. Hubbie won't let me cook today...He tot of whipped up something but I then suggest tat we go to Hajah Maimunah rest at Joo Chiat... So after Asar prayer, we off to eat our late lunch.. Eat till our stomach really gonna burst..hehe.. Then we went to Onan Rd to get some karipaps to be brought back to MIL's hse as my SIL has long wanted to eat tis Onan Rd Karipap... Stayed at MIL's place till 7.30pm den we went back.. My sis came with big tapau of nasi minyak from my dad's cuzzin's place... They had kenduri arwah... I guess I'm to full to eat so keep it for tomoro bfast...
Now I tink I'm gonna sleep!! yesh!! I need my beauty sleep now!! *yawn* Enjoy yur weekend guys! Tata!! eh wait..before I take my leave, just to inform you guys tat The New Police Story movie is damn good!! Worth watching!! Just lurve Jacky Chan's move!! Fuh!! POwer!!!hehe
Share with you guys the scan pics of my Lil' one...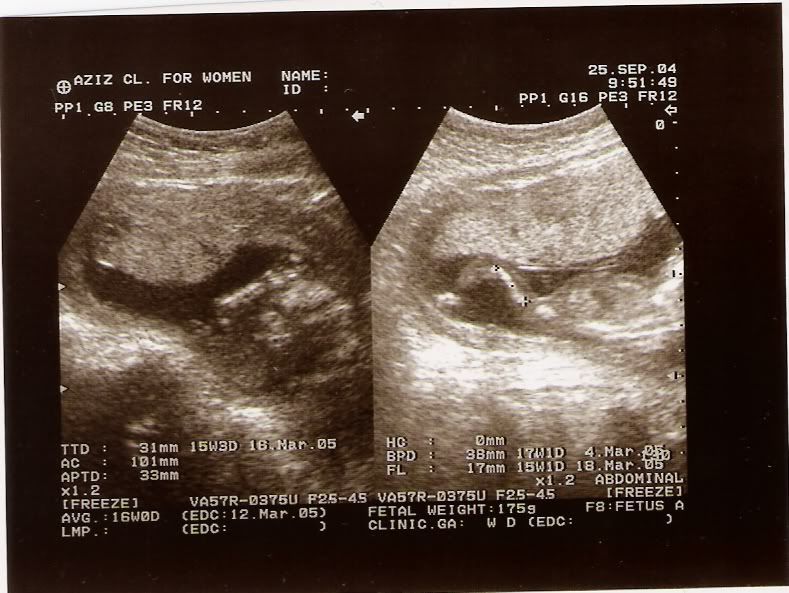 Left: Lil' one's side profile face wif his/her right hand saying Hi!
Right: Lil' one's tummy & legs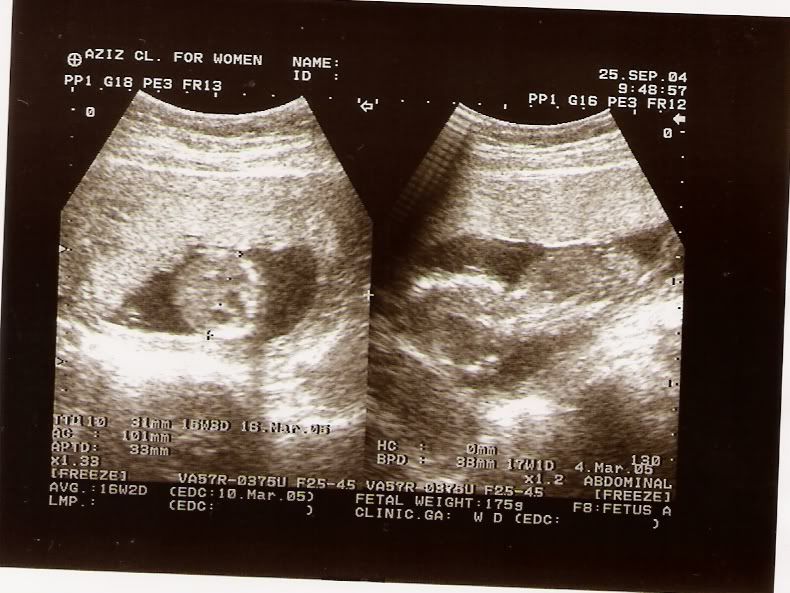 Left: Lil' one's head
Right: Lil' one's head & tummy