Helo! Helo!
I'm back!! Yesh! I'm finally back from hospital yesterday afternoon! Was admitted on 23rd Feb 2005 and was discharged on 25th Feb 2005.. Alhamdulillah, I managed to go thru the birth ordeal smoothly.. It's a normal delivery! Syukur Alhamdulillah! LiL' Alisha Ameera out to see the world on 24th Feb 2005 at 1.37am...
Will story you more on the birth experience soon!! For those who are curious on what is the meaning of Alisha Ameera.. here it comes..
Alisha
-
Honest & Truthful & Protected by Allah
Ameera
-
Noble Lady Princess

To all of you guys out there, thanks for the wishes thru th etagboard, comment board, forum perkahwinan.com & sms... Truly appreciate the well wishes, doas & congrats!! Alhamdulillah both me & my little princess are fine and I'm recuperating now... Kene pantang beb!!!
Kay lah will be back soon!!!! Thanks again all!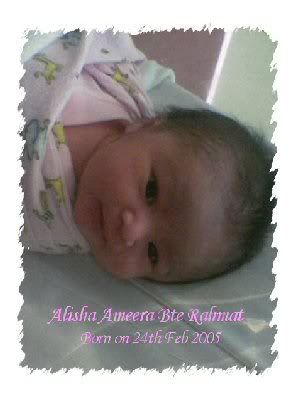 Visit my
fotopages
for more pics...