Guess what? My Lil' Gurl started to take the Nestle Rice with milk oredy..Supposedly the Nestle Rice is for 6 mths and above but tis kenit gurl is only a mth plus tapi dah mcm 6 bulan gitu..isk isk isk... She's hungry all the while eventho' her milk intake is 3 oz.. So MIL and mum suggested to buy the Nestle Rice to be added to her milk as according to them when I was carrying her inside my tummy, I consumed lotsa food and mebbe bcos of tat she kept getting hungry.....And true indeed, she really drank it away till finished!! Makin dobok lah anak dara ku ini!! hehe.. Anyway we oso changed her formula milk from Mamex Gold to Friso 1.. Since Friso 1 has tis prevention of vommiting, colic & constipation so we decided to change for Alisha... The whole of yesterday she did not put put but she kentut alot!! Gave her grip water as we scared her tummy kembong...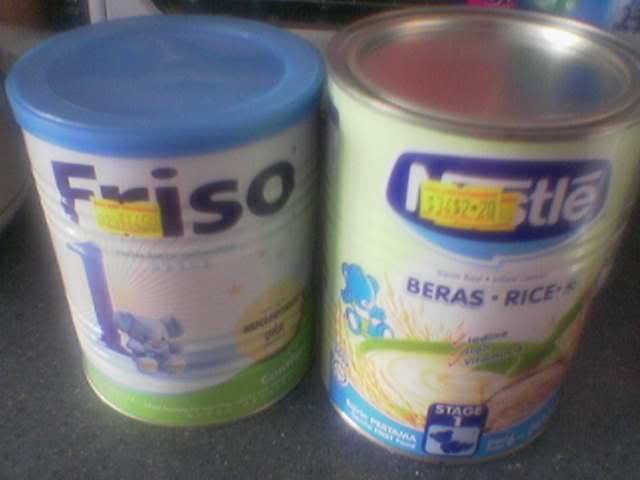 Her food & milk intake...
But Alhamdulillah, tis morning, she put put a lot lah!! Phew! I tink Friso 1 is okay for her... BIL gonna go JB tis Sunday so can kirim him a few tins... (sep duit beb!! hehe)
Did you guys watch DIA Sinetron yesterday?? I was looking forward for the continuation of DIA.. And as usual it makes my blood goes upstairs!! The vicious Fifi, the toopid but ganteng Ivan, the cute & now pwetty Dwi and the bubbly & now hensem Eka.. I so the excited to know what happen next!!
Here some peektures of my Kenit Gurl...