Hiya!!!
Yesh! I'm back after 4 days of MIA.. Tot of MIA-ing longer but I can't resist in updating more on Lil' Alisha to show to you guys!
Anyway now my mind is cleared from things tat are not supposed to be inside!! I'm feeling fresh and back to my usual self.. All thanks to the support tat some of you had given me.. :)
Kay let me summarized what happenned last 4 days...
Wednesday
Both me & Lil Alisha followed PIL and BIL to my SIL's place in Bukit Panjang.. Since we were bored at home, I decided to follow them.. So MIL came over my place around 12 plus.. She hanged all the washed clothes and washed Lil's Alisha's clothes for me.. I went to take my bath as Lil' Alisha was with my BIL... After tat we went over to SIL's place..
Eversince I'm with Lil Alisha alone, I can't do any housework nor I can take my bath leaving her sleeping alone.. She will tend to wake up when she knows tat I'm not around her... Asyik kene ngadap dia 24 jam jer.. hehe.. So tat's why when MIL came over, I managed to "breathe" and "free" myself...hehehe.. My body all aching oredy!! isk isk isk! Dah cam nenek tua!! hehe.. Now Lil ALisha likes to sleep on a big pillow instead of her small pillow.. Dah cam org besau! If she sleeps on the big pillow, she will tends to sleep longer.. Mcm2 karenah si kenit ni.. hehehe
Thursday
Was at home all the way.. Played with Lil' Alisha.. Now she beginning to start her goo gaga with her cute voice.. After she finished her goo gaga, she will smile or laugh "melekek-lekek".. Soo cute!! And one thing habit of me, everyday I must take pictures of her.. Either my digicam or my hp will be beside me... hehe.. Biasa ah..kata anak first so jadi jakunist jap ah..ekeke.. As usual, MIL came over to take over my "shift"... hehe.. Kalau tak penat jugak seh! Naik kurus beta.. kekeke.. Speaking of kurus, I lost another 2 kgs liao! Fuiyooo...So happy like mad ah! kekeke... NOw muz maintain ah!! ekeke.. But sometimes can't resist on munching2 things... But will have to do tat moderately else badan jadi buntal balik lah nampaknya.. eheheh...
Friday
My parents, bro & sis came over my place as they missed Lil' Alisha so much... Mum came early and brought food! Yeah food! I can't even cook when Lil ALisha is around so dapur tak berasap lah.. hehe.. Usually MIL will give some lauk everyday or if mum come over, she will bring food oso... So selamat lahh! ehehe.. Went Shing Shong with hubbie to buy monthly groceries...
Saturday
Morning2 we brought Lil' Alisha to take her passport photo.. But sadly it turned out so horrible.. So blur seh the gambar!! Bodoh nya apek tak tahu amek.. Cakap jer ah tak tahu amek gambar baby..iskk.. Kasi diskaun cuma $1 jer..Weak ah! Then we went to GValue to do the belen2 groceries..
After Zohor, we went out to Orchard to meet Mummie Rosie and Mummie Nollie...ekeke.. Lil' Alisha kene "molest" by the 2 god-mummies...ekekeke..Luckily she so quiet one! She let the 2 mummies kish kish and hug2 her..ehehehe... We had pasta gratin set at Delifrance for lunch.. So sedap!!! hehe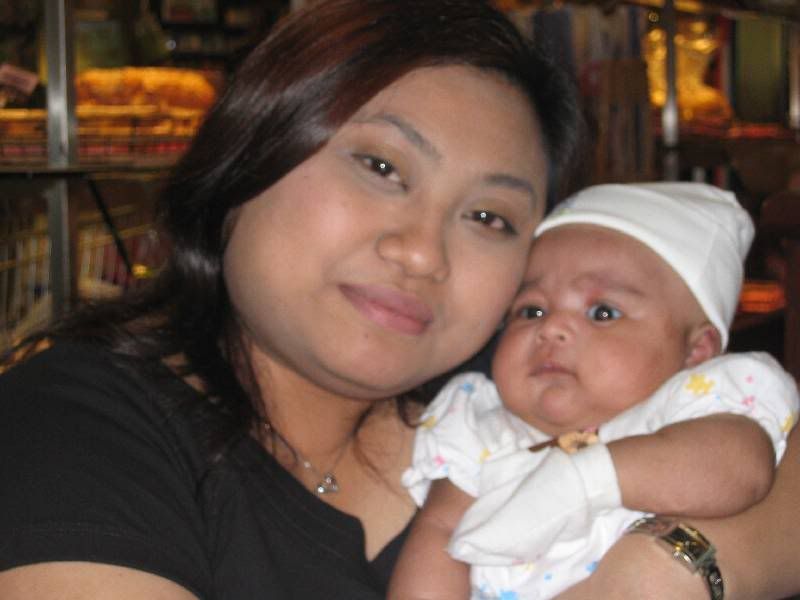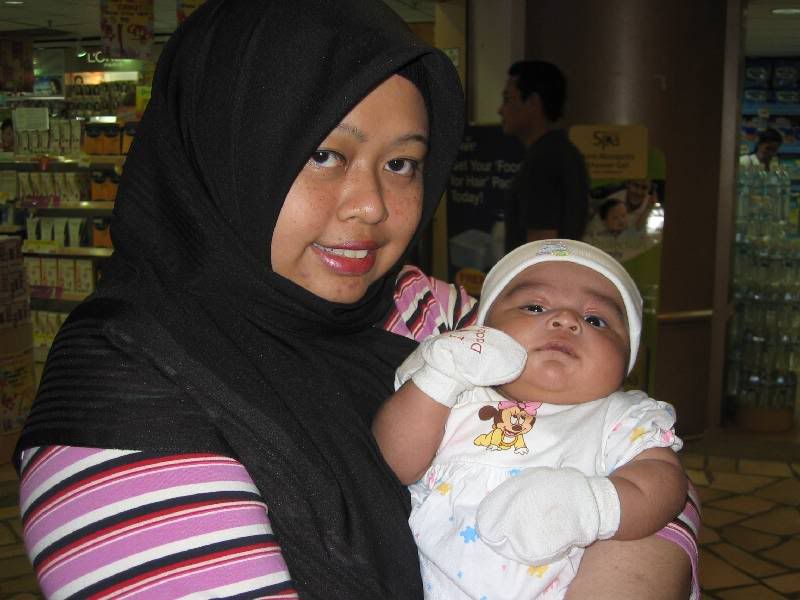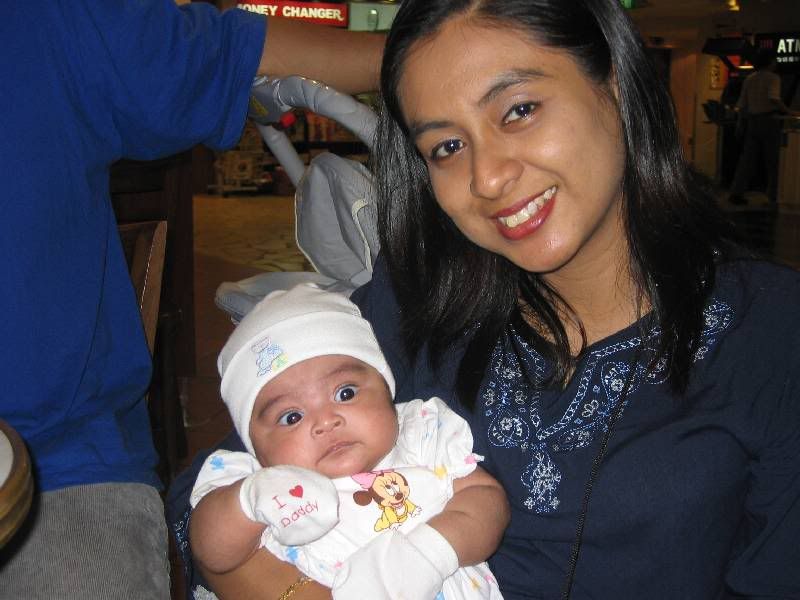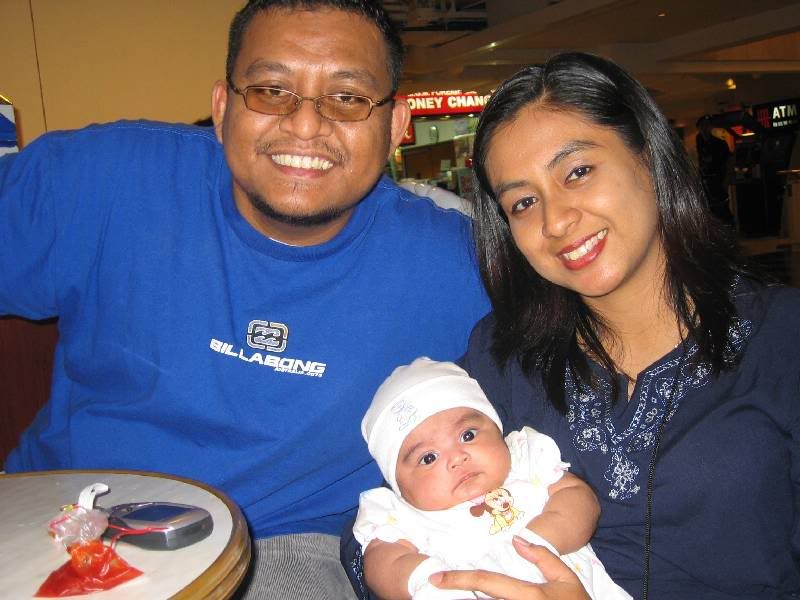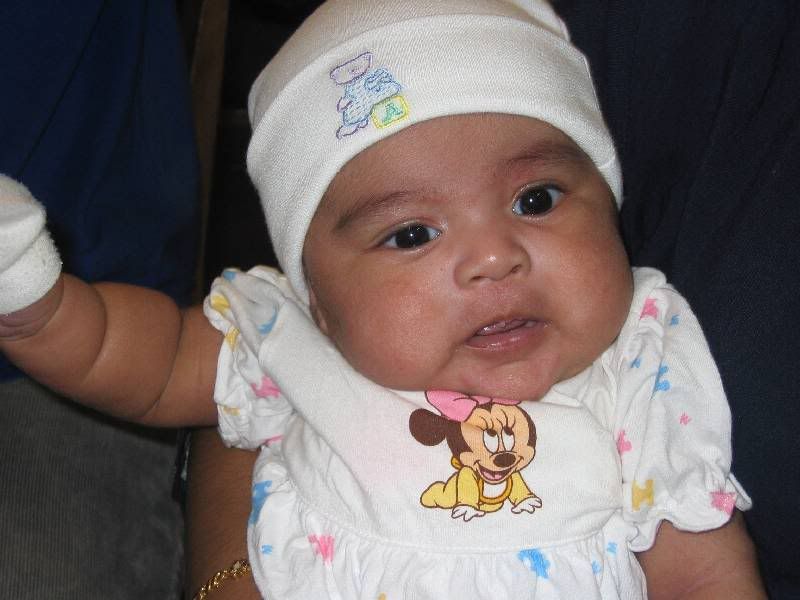 Then we go jalan2 at Metro before we finally find a place at Starbucks to relax... Went back at 7.30pm.. My cuzzin, Ain, came over to my place with her hubby and Lil Yasmin.. Lil' Yasmin soo cute and so big oredy! But I tink Lil Alisha looks bigger than her..akakaka.. Even my cuzzin said so.. But Lil Yasmin is 5 mths old compared to our Lil' dobok gurl which gonna turns 2 mths next Sunday...
As for today, later after Zohor, we gonna go to my fren's son cukur rambut at Simei.. Gonna meet up with Nazz & family and Zamri & family... Too bad the rest of PPPIO gang cudn't make it..
Okay I tink enuff update oredy...I'll present you guys with peektures of Lil' Alisha... Sit back and relax and enjoy viewing Lil Alisha's peektures.. kwang kwang kwang :P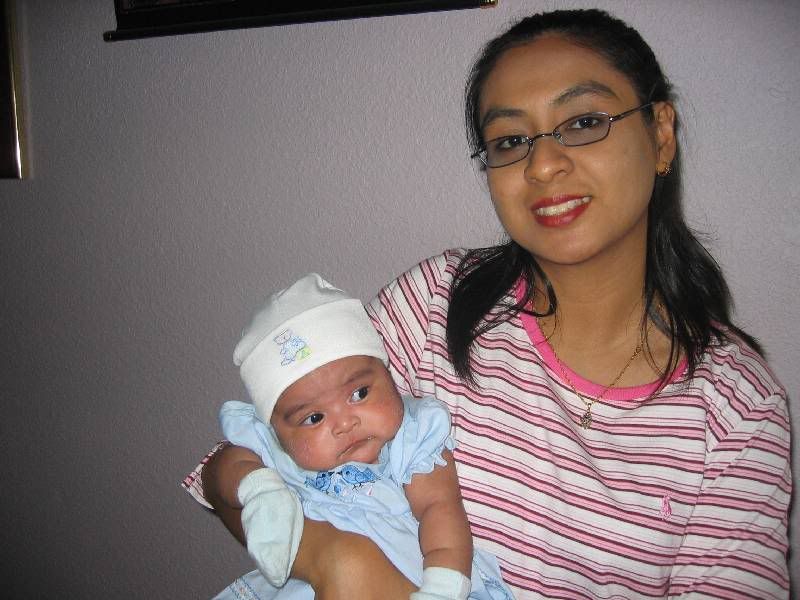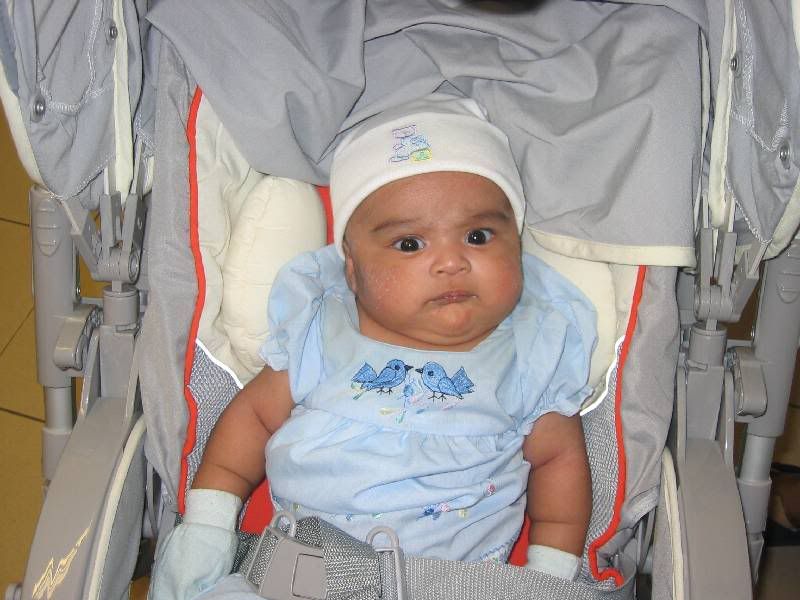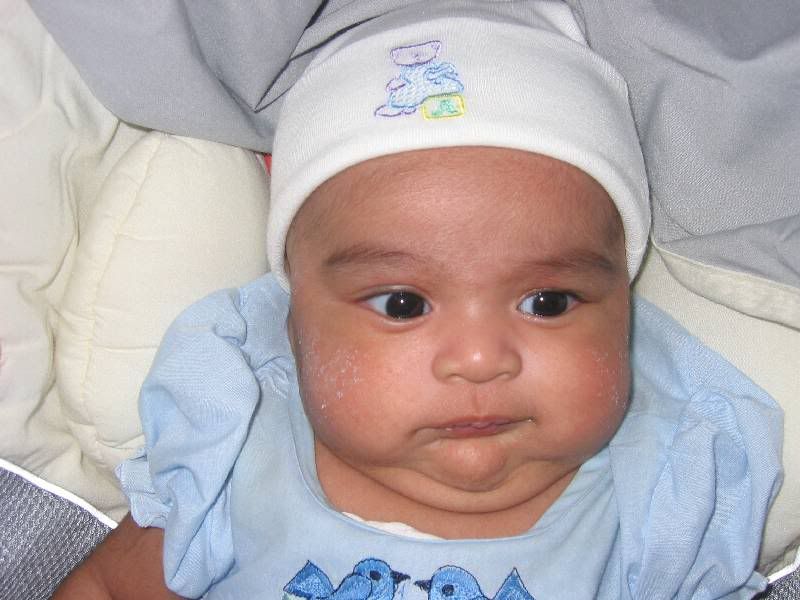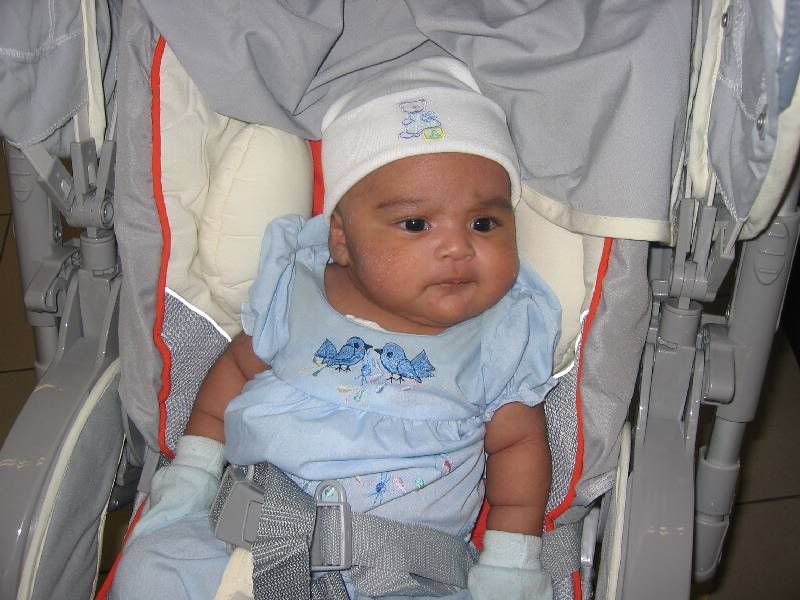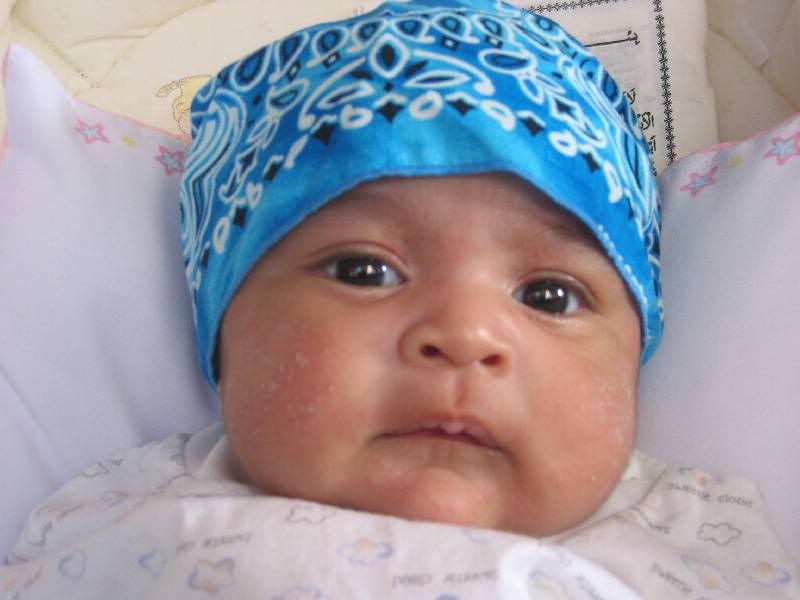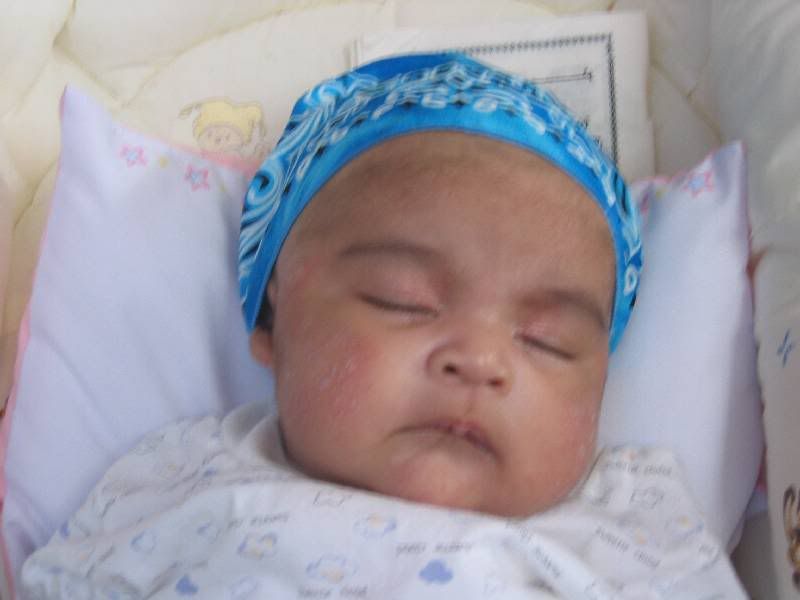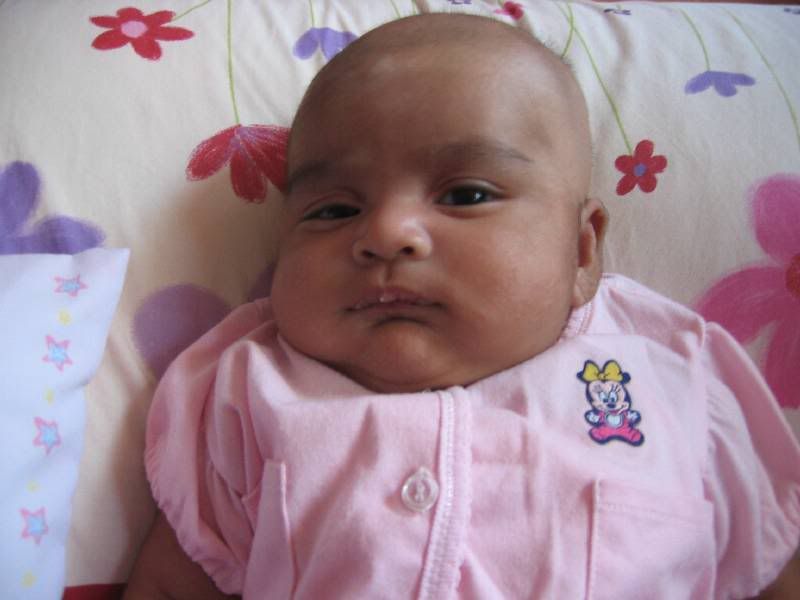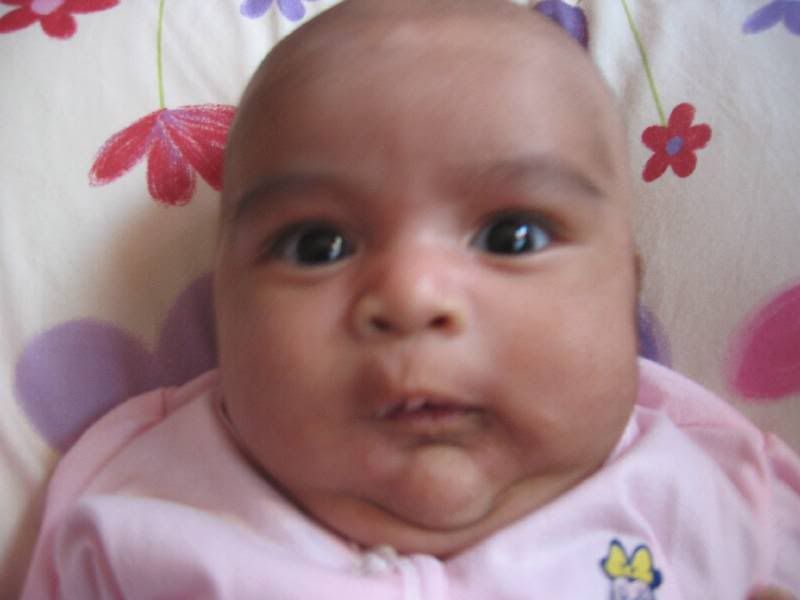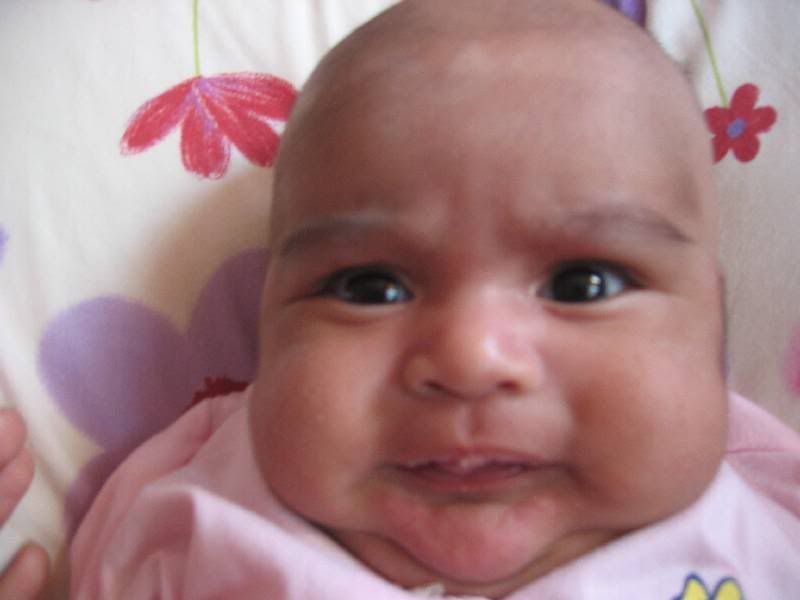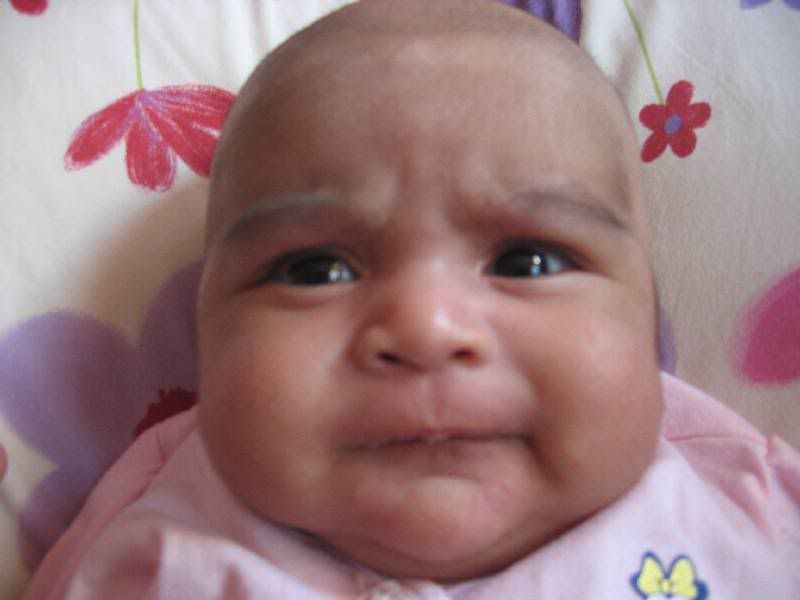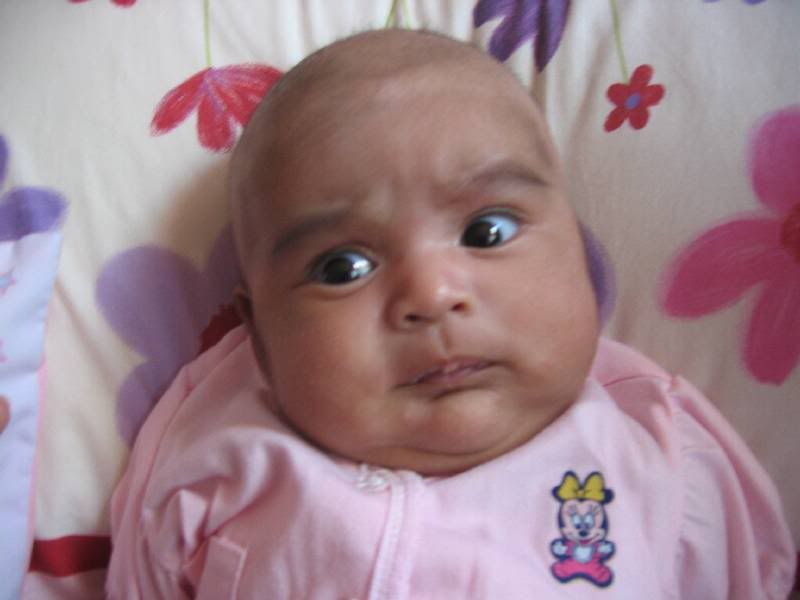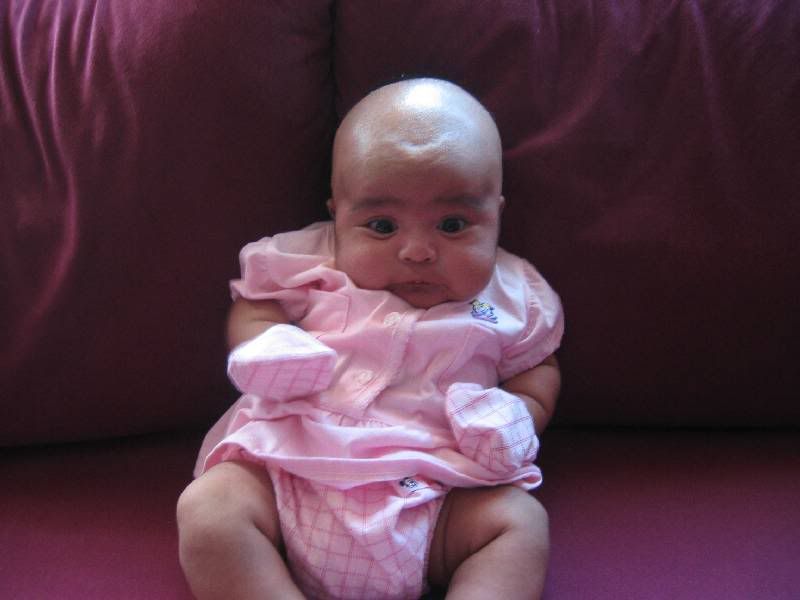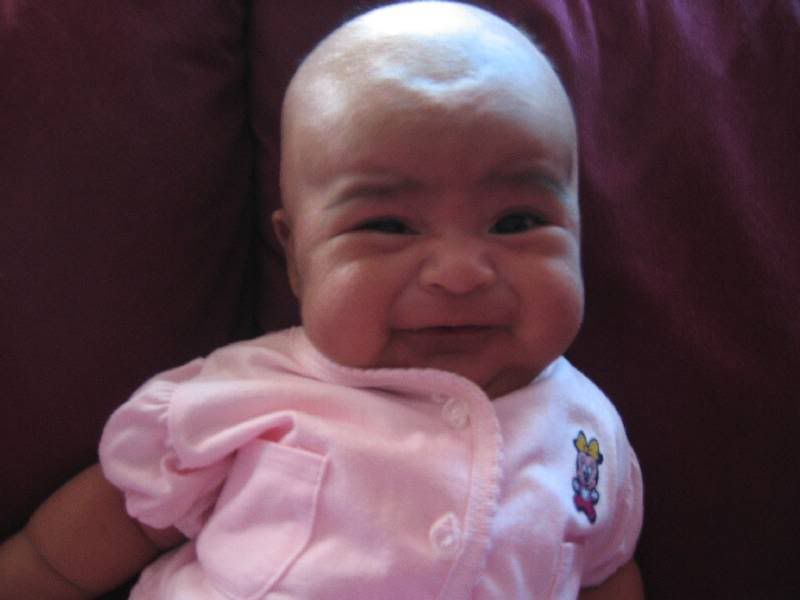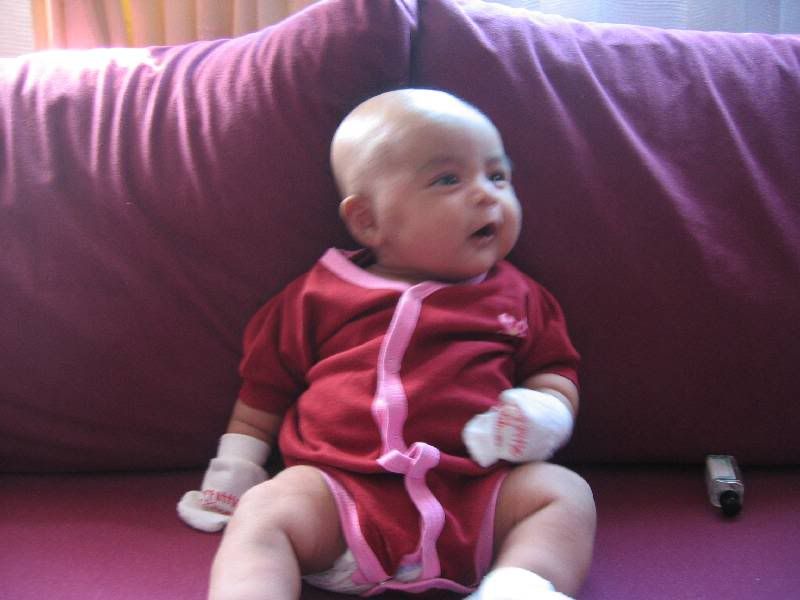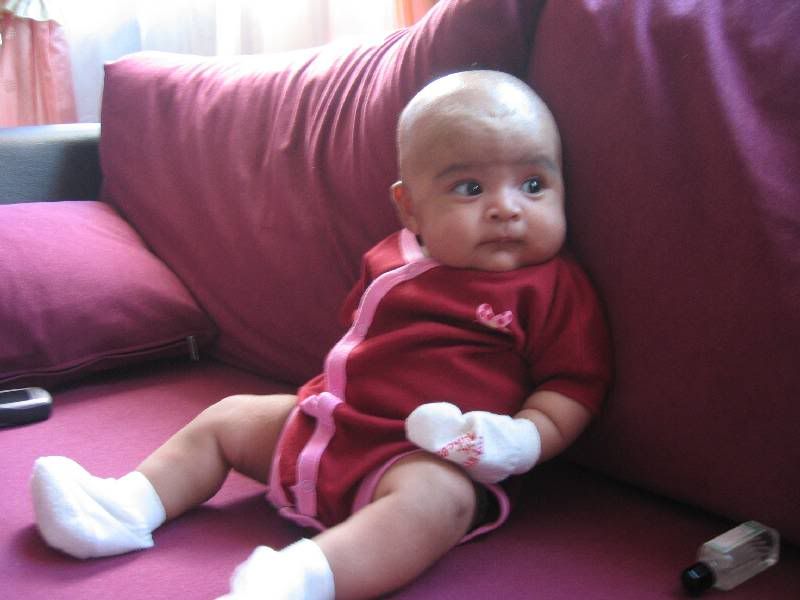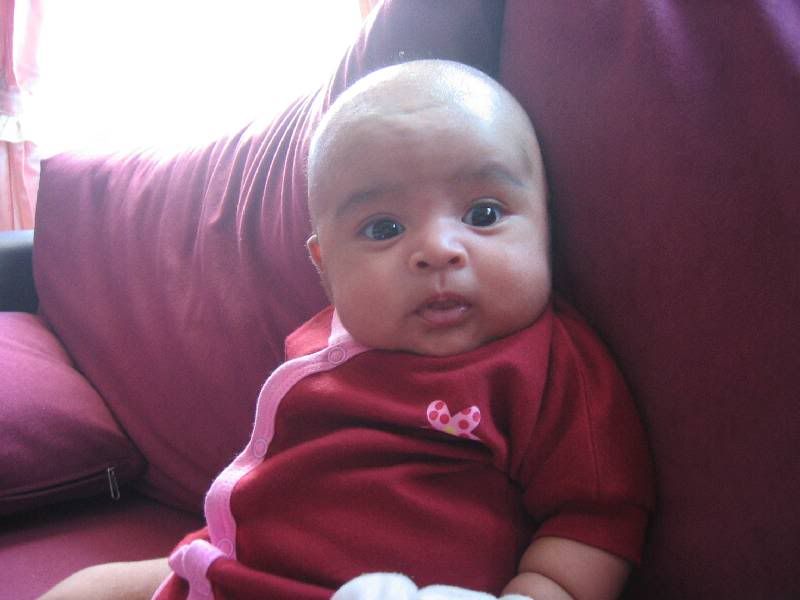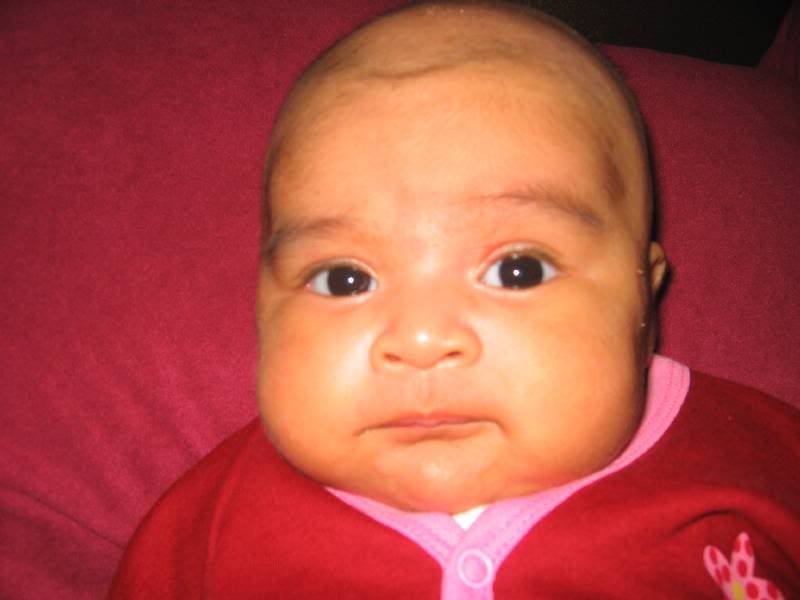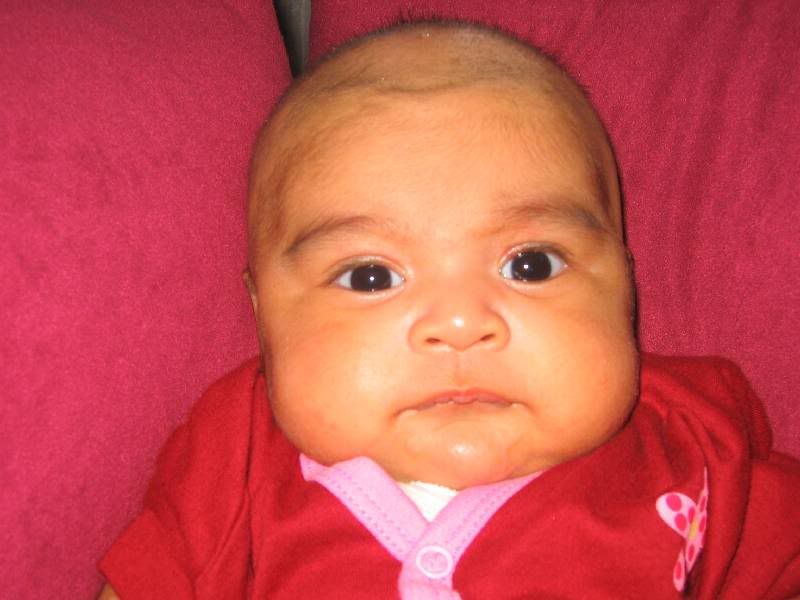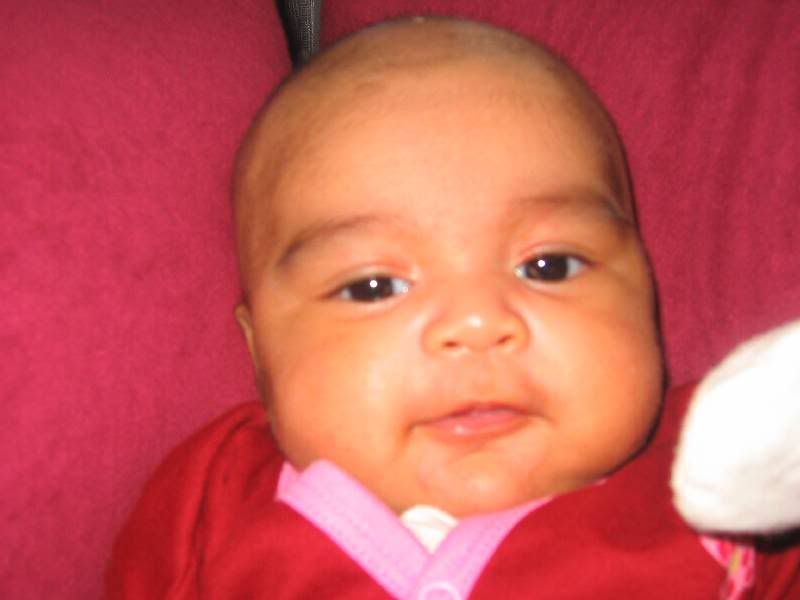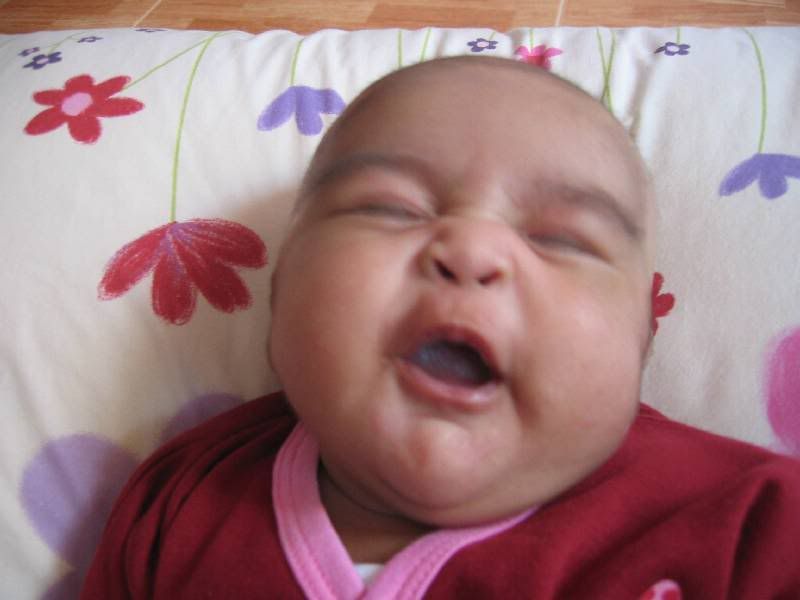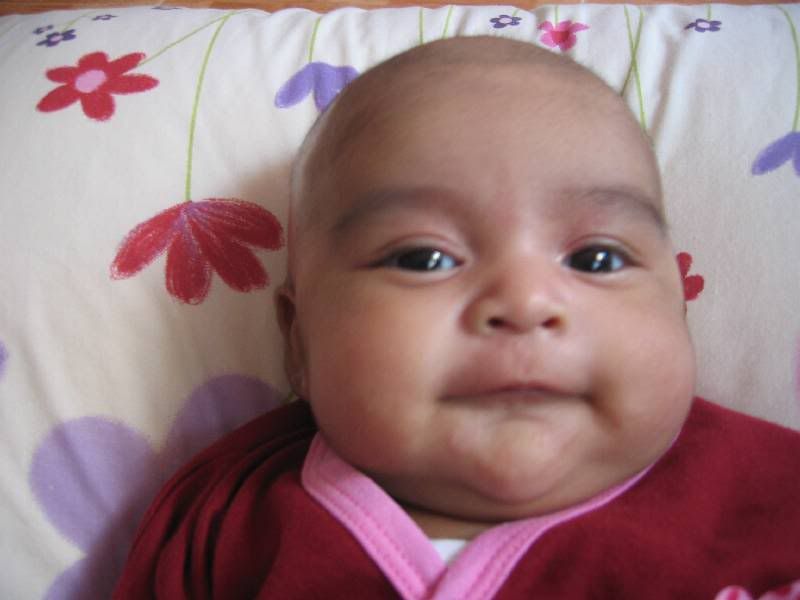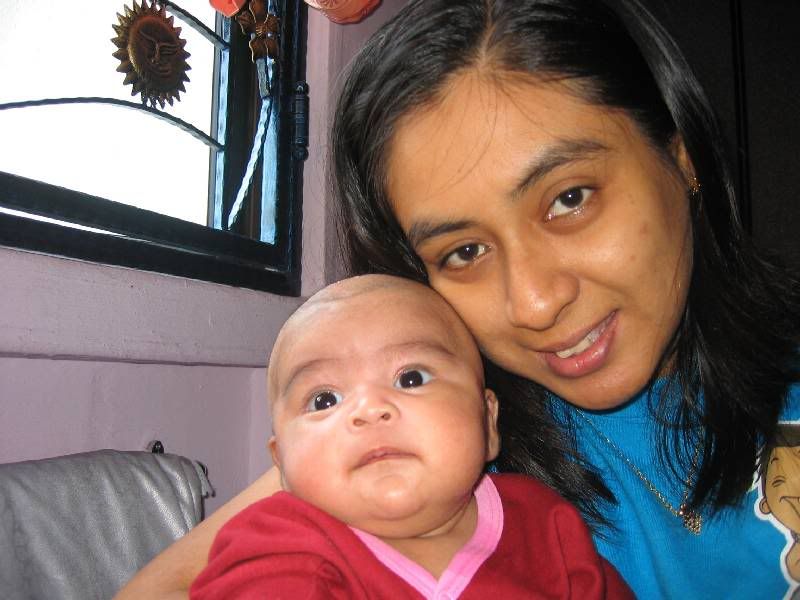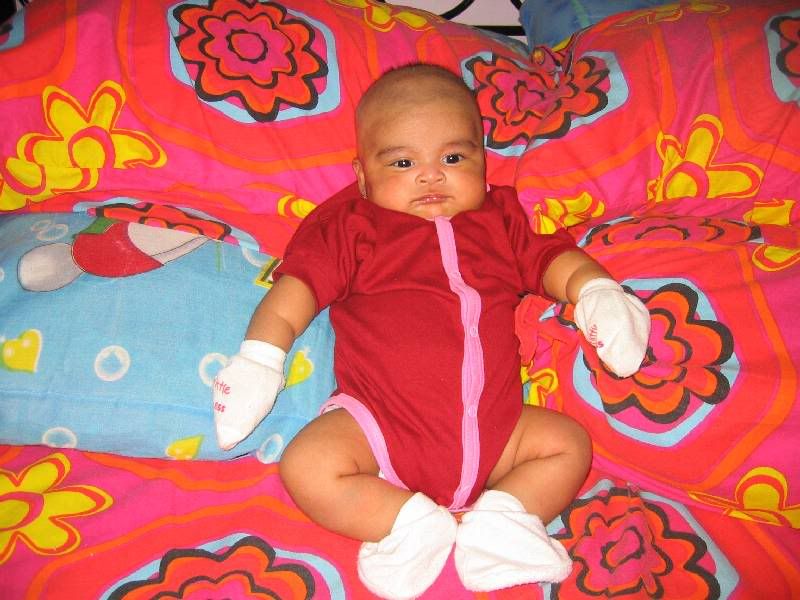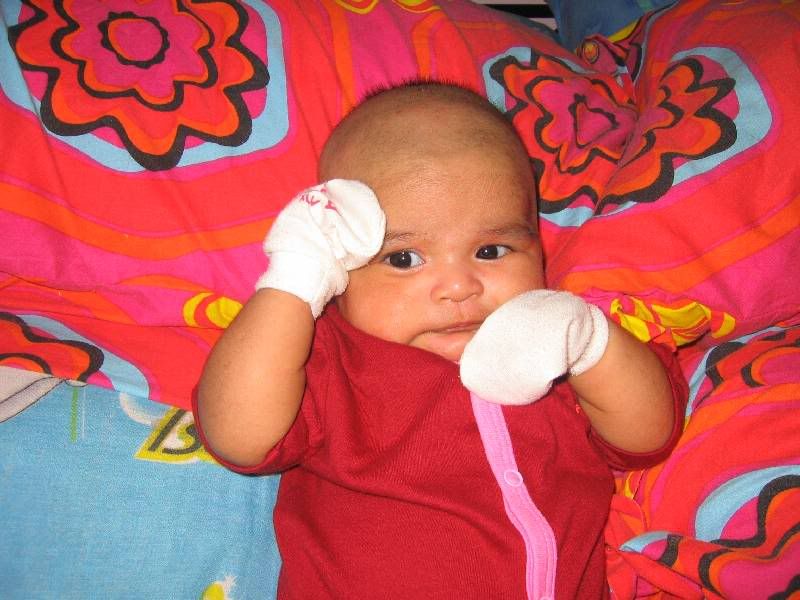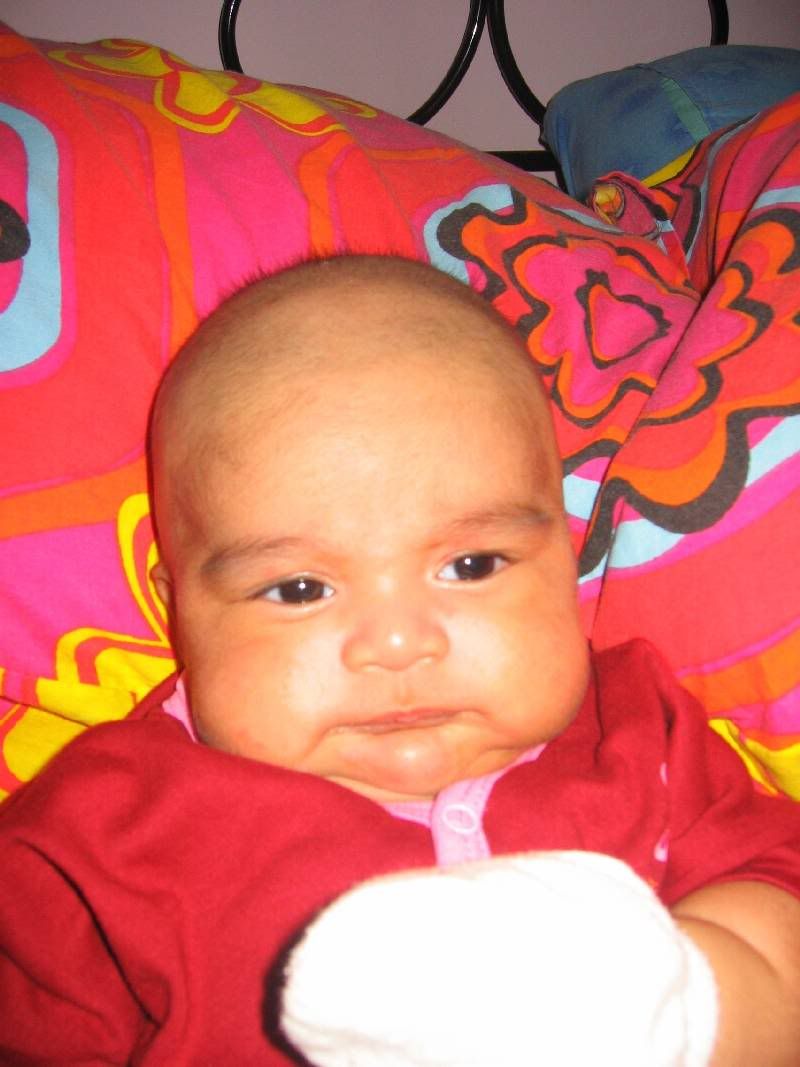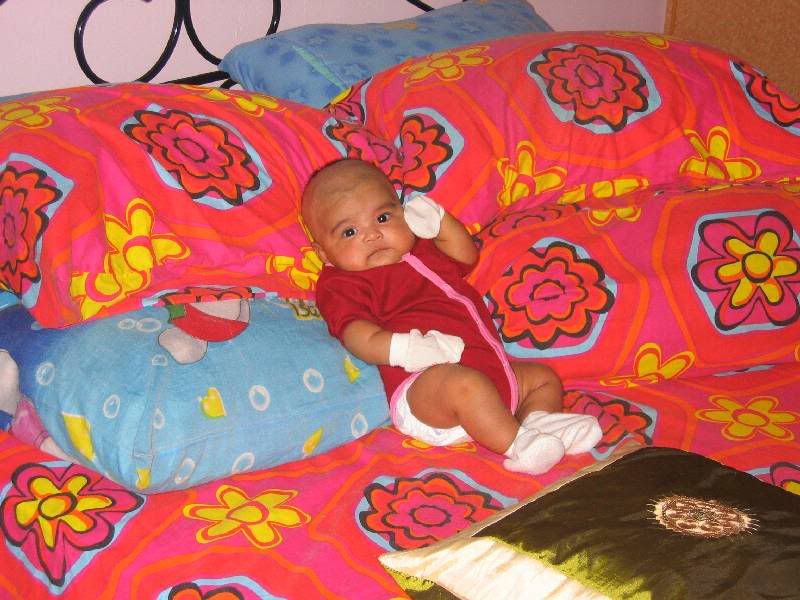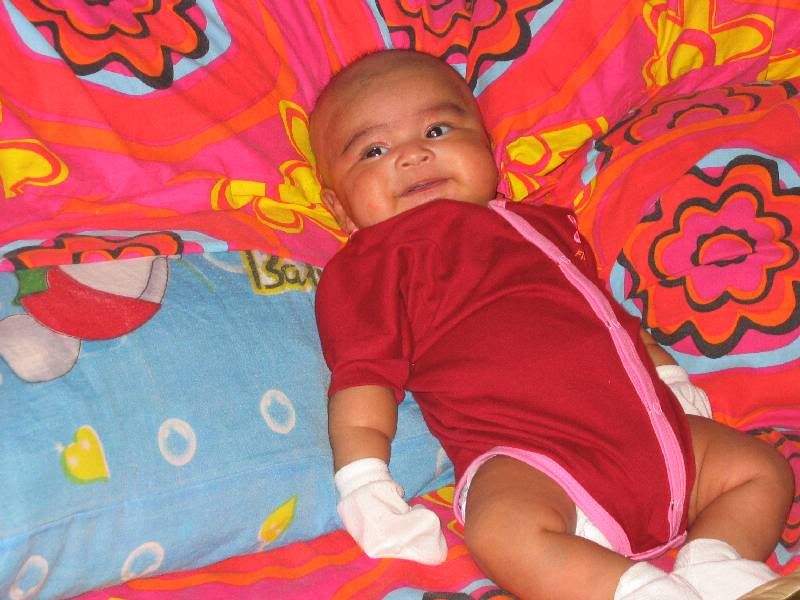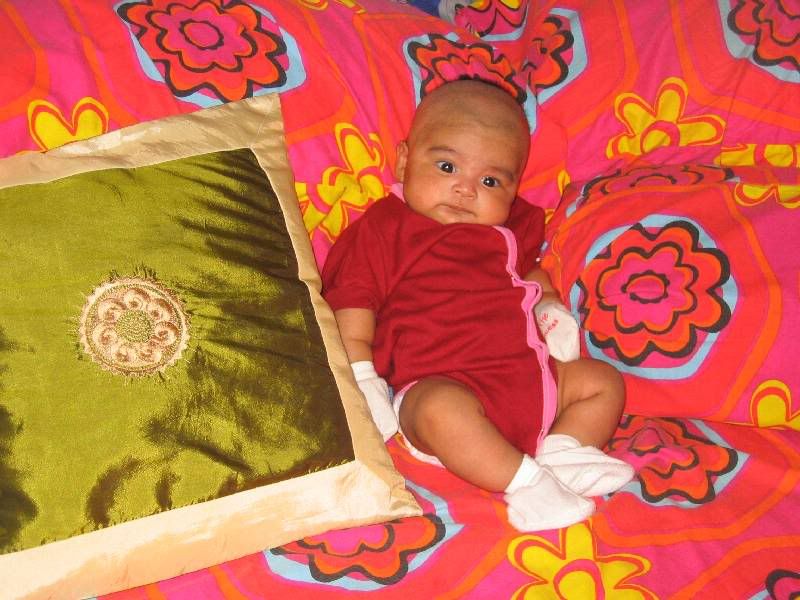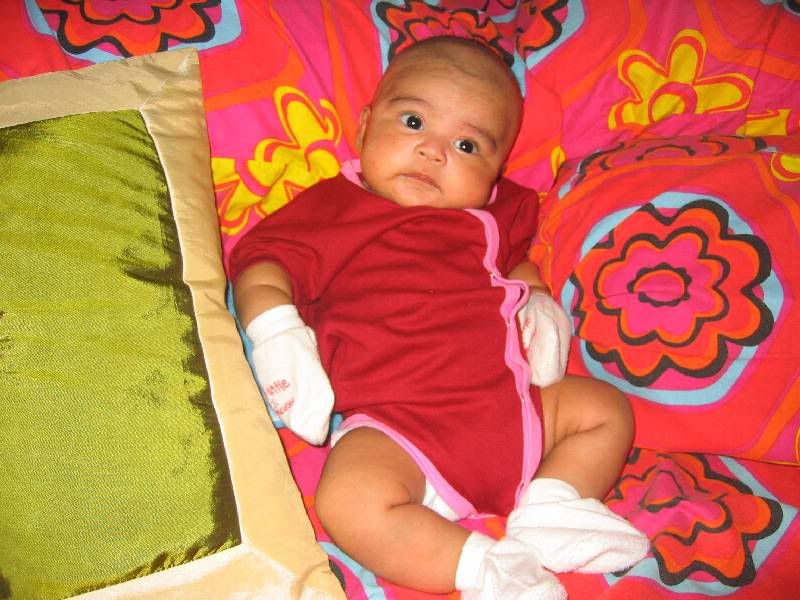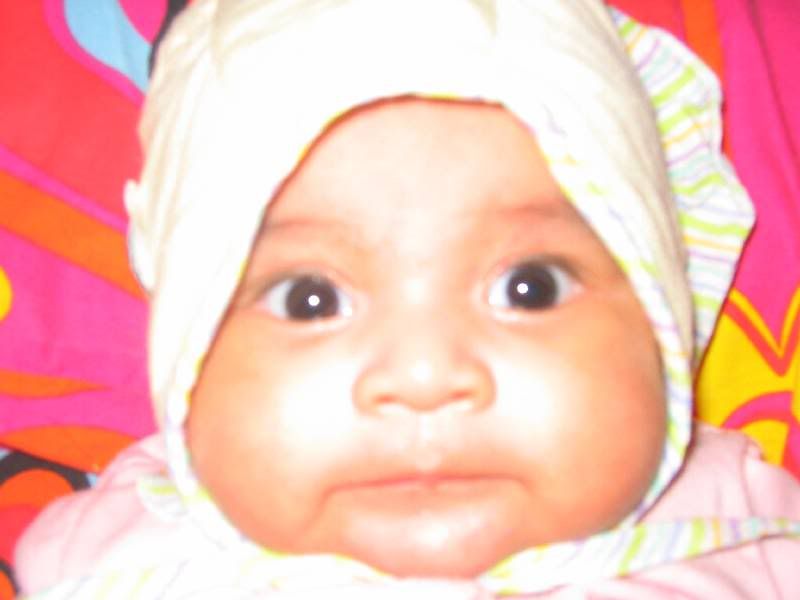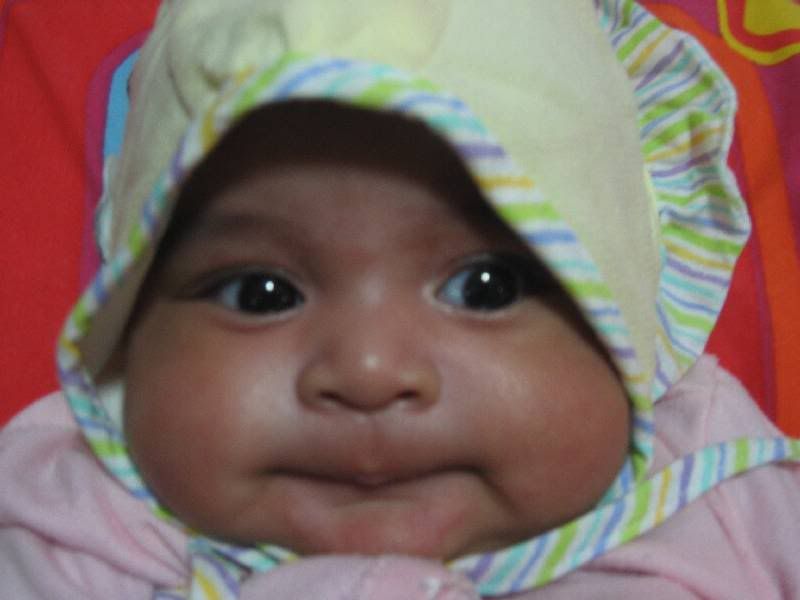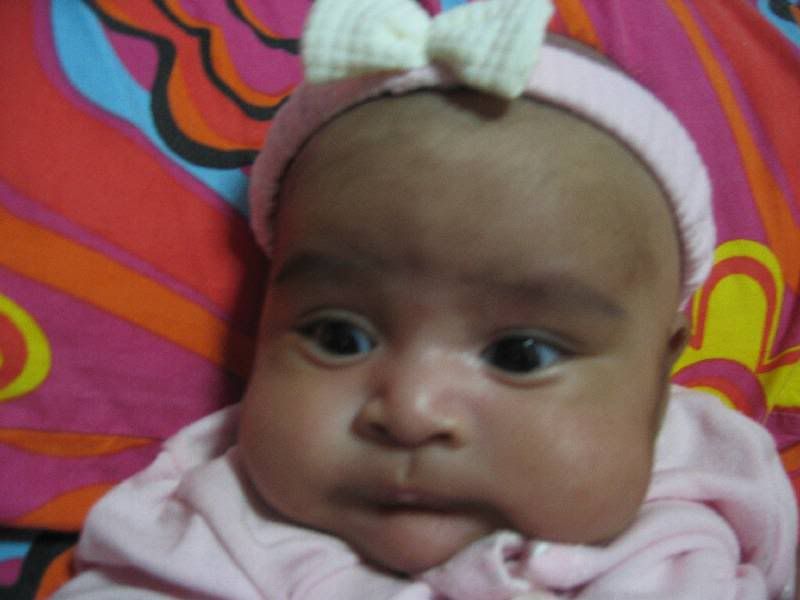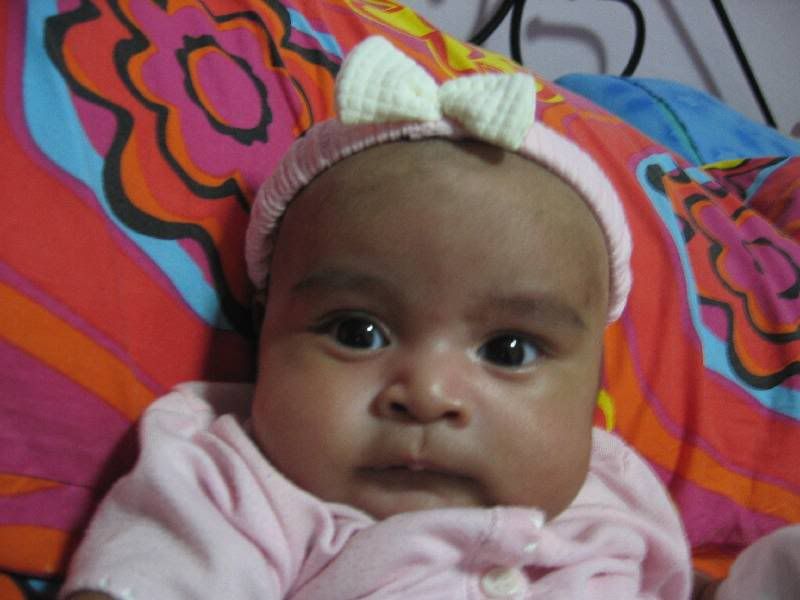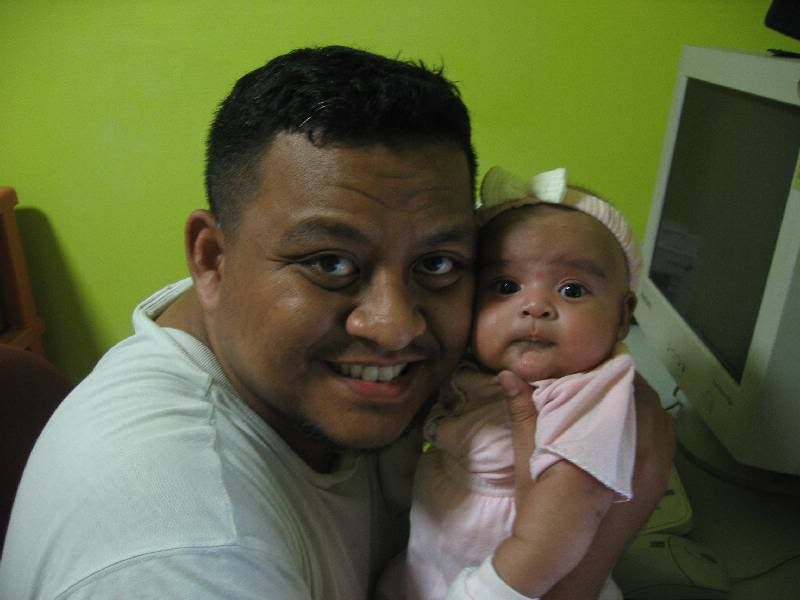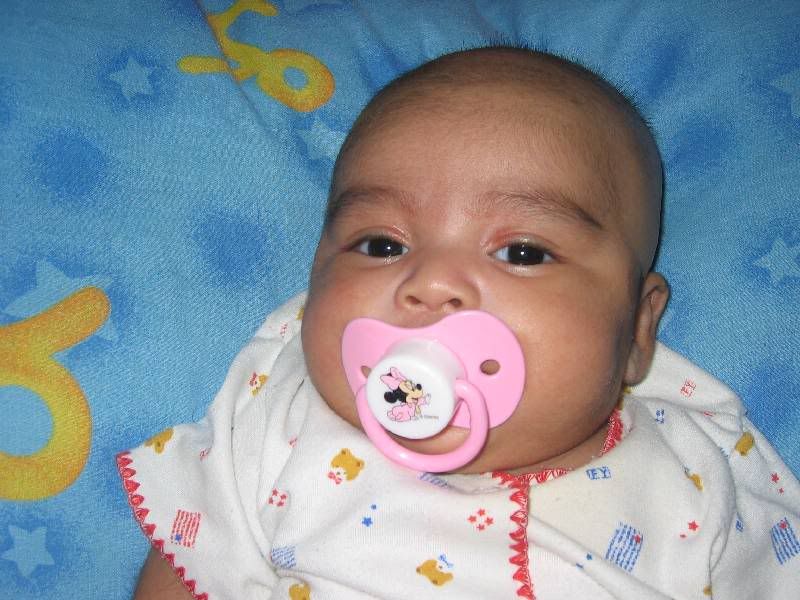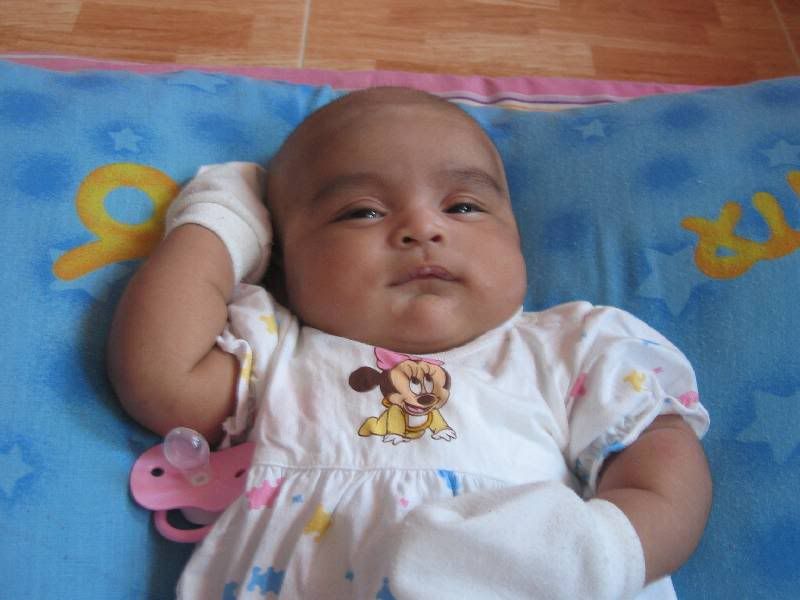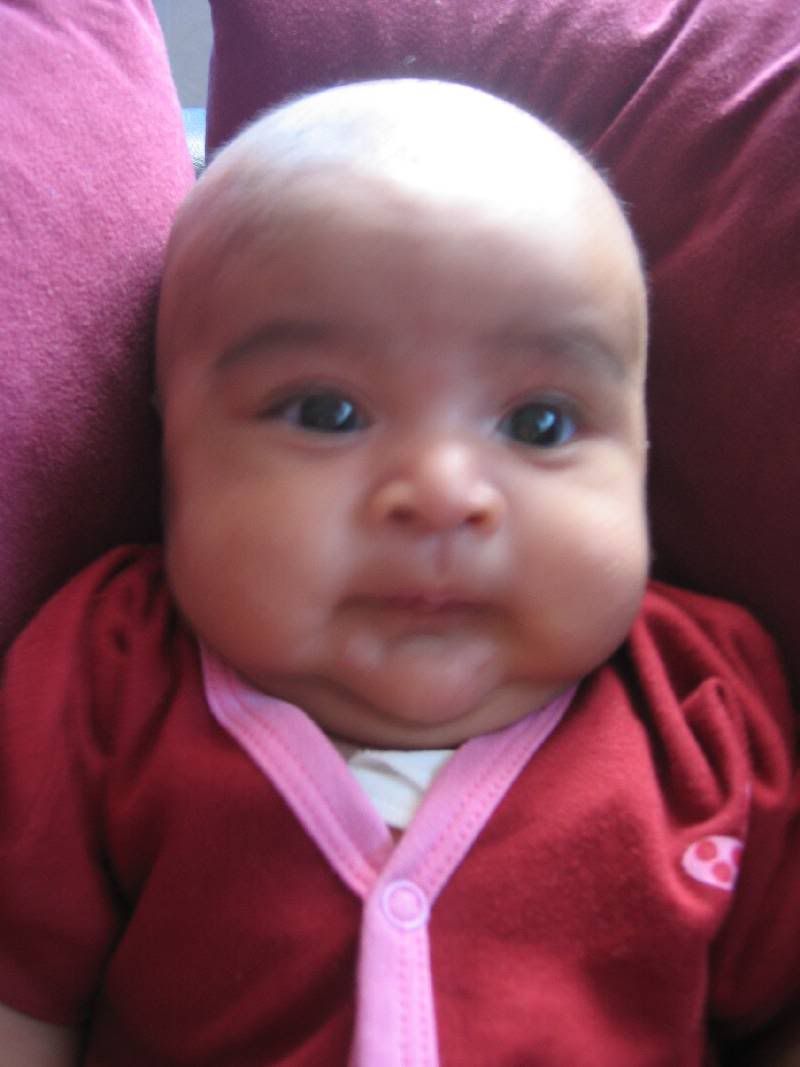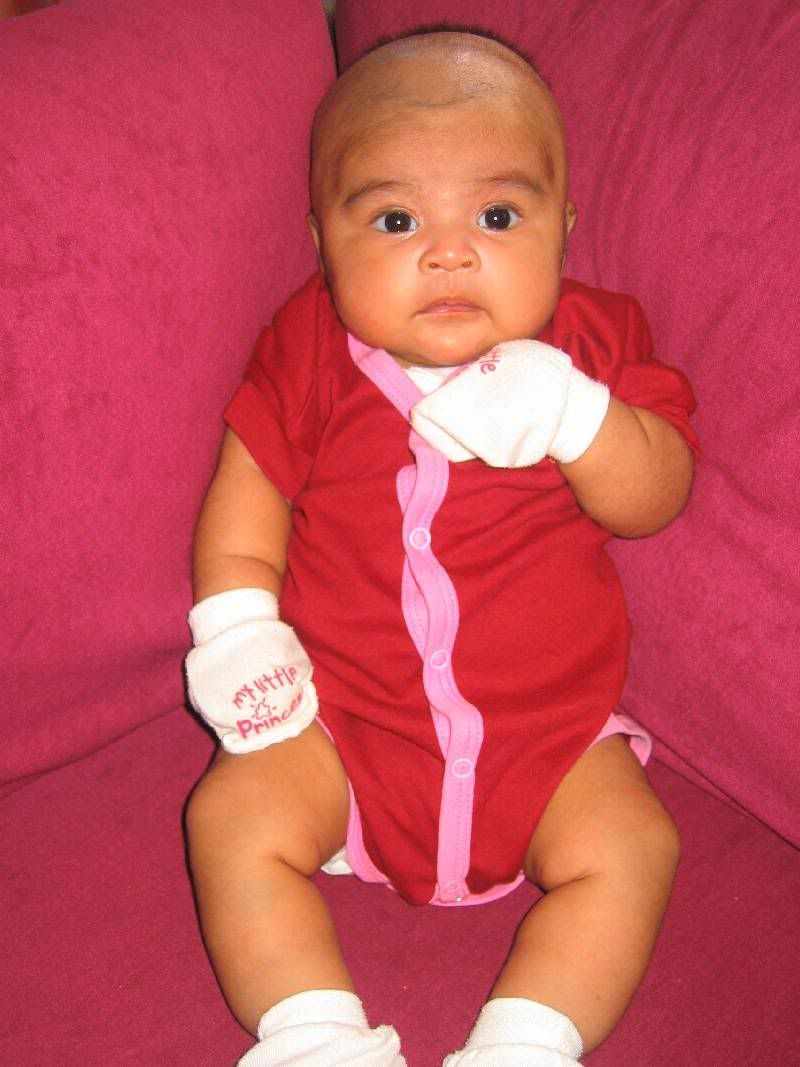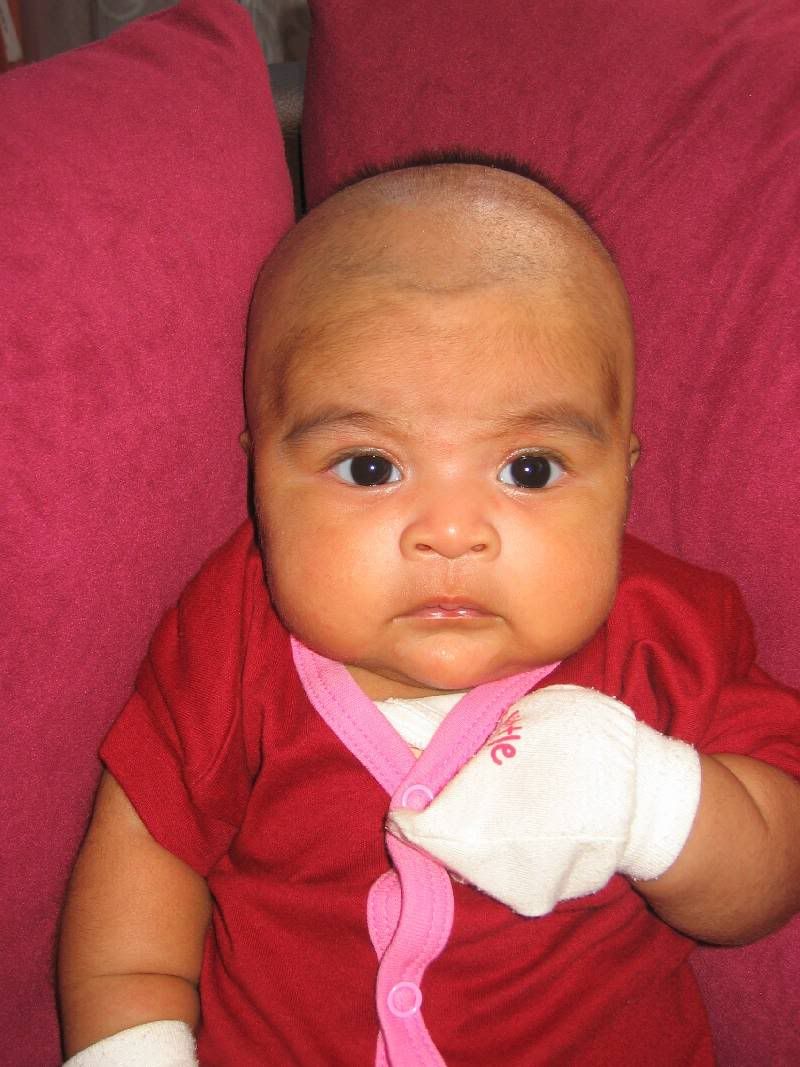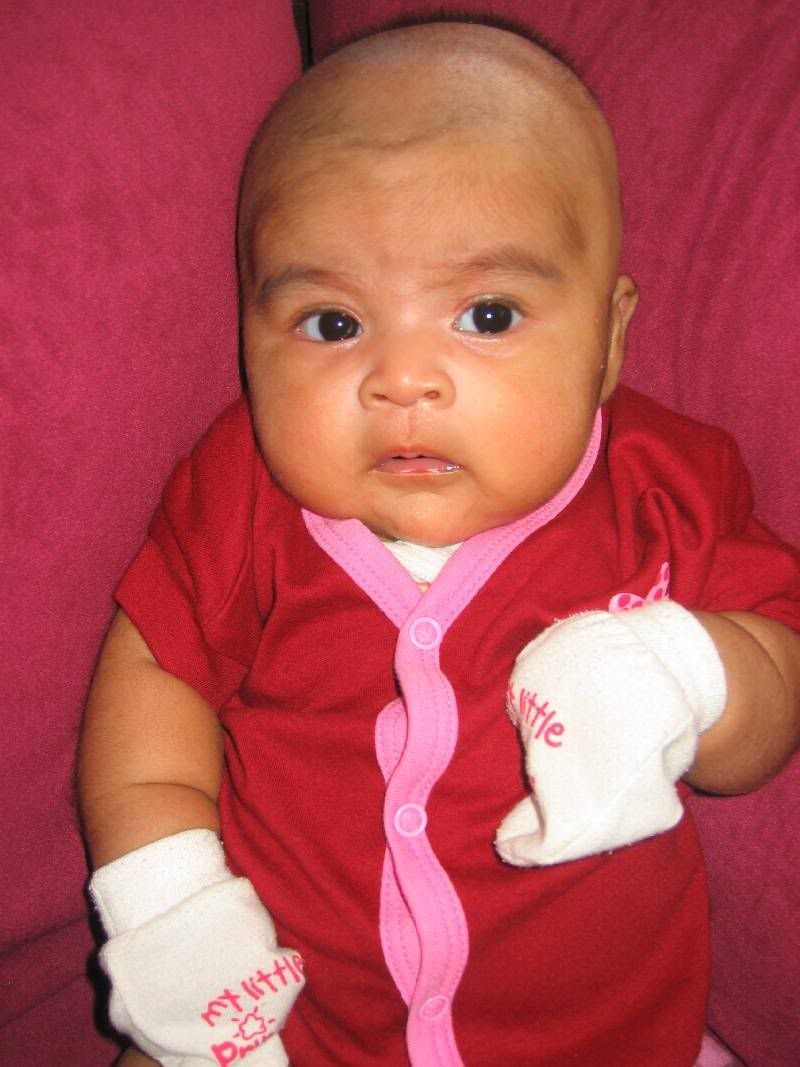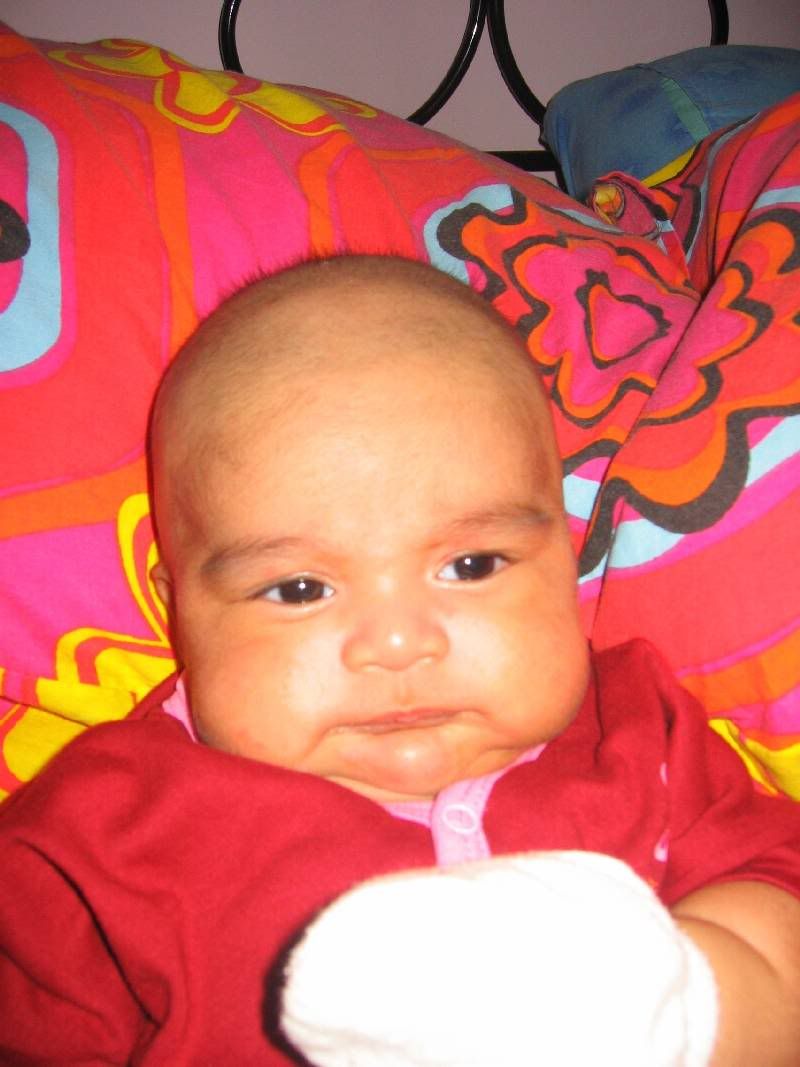 Phew! Lots of her peektures rite? Sorry hor!! Wait you all see until sien! ekekeke