Everything is back in order now.. I felt so relieved after clarifying everything and syukur the friendship is still going on strong..Alhamdulillah.. Else I just cudn't stop thinking abt it.. Hope it won't happen again.. Insya Allah...
Mum cooked Mee Soto/Soto just now.. That's for lunch & dinner... Nowadays, Alisha been quite cranky.. She will not sleep around 10pm onward till her last midnite milk timing.. But the good thing is tat she will woke up after 3 or 4 hrs later and missed 1 of her feeding time... At least I can sleep longer..hehe
Yesh! Today is my last day of confinement and am so happy abt it!! It was fast indeed huh!! Congrats to myself!! haha
Oh ya, just wanna share a funny incident with you guys!! I saw a lucky draw coupon in Kotex packing and scratch it and guess what it shown there??? by the way it is in Bahasa Indon..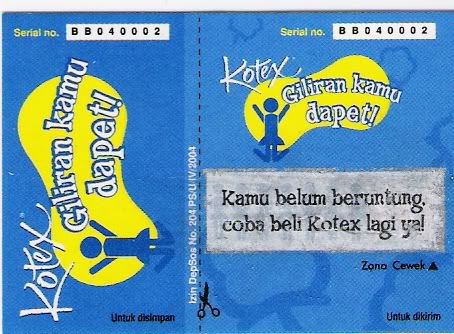 Tak sedap betul bahasa nya! Tak beralas langsung! hehe