I know you guys are waiting for my tis very entry rite? :)
At tis very day last week around 11 plus in the morning, I was having a mild contraction!! Wow! It's a week past oredy! Fast isn't it? isk isk isk...
Recapped back on 23rd Feb 2005...(exactly 37th weeks)
It was around 11.30am... I was busy chatting, bloghopping & forumming.... Suddenly I felt like a menses cramp... I was like... uhhh?? Is tis wat they call real contraction???? Was busy telling the gurlz and hubbie in the chatroom tat I got the cramp... Hubbie asked to time the contraction... Began timing.. tick tock tick tock.. 10 mins time, it came again! I'm in pain again!! Arghhh!! The contractions were really 10 mins apart... I told hubbie tat it's painful... He signed his urgent leave form and leave office...
He reached home around 12.45pm... I still observing the contractions coming... Duduk tak senang, diri tak senang... Aisey!!!! At around 1.30pm, I called Dr Aziz's clinic.. One of the kakak there told me to go hospital and from there the hospital will call Dr Aziz... But in the end, she asked me to talk to Dr Aziz first...She transferred my call to Dr Aziz... Explained to Dr tat I have tis contraction 10 mins apart but so far no stains or watsoever... He suggested tat I come to his clinic before really going to the hospital... He asked me to meet him at 2.30pm...
I quickly grabbed my E-Bag and check wat's missing and put in the watever things tat need to be brought to the hospital.... Not forgetting the Air Selusur... I started drinking by then... Bid goodbye to my house as I dunno whether I'm coming back for the day? Took a cab to Kembangan Plaza... When we reached there, Dr Aziz had went for his lunch and prayers so we took Q number and luckily was 2nd in Q... Dr Aziz came back around 3pm..
When my turn was called, both of us went in.. Dr Aziz asked me to lie down at the bed as he wanted to check my cervix... At tat point of time, my hands were as cold as ice.. Cos I heard tat it's quite painful when checking the cervix... Dalam otak ni dah pikir mcm2..haha... Start baca mcm2...Padahal blom labour...hehe.. Dr Aziz asked me to take off my pants and undies... Saw him wearing the glove and squeezing some gel onto his hand and jeng jeng jeng.... *gulp* When he puts his hand in, ouch!!! Then I try to relax myself.. Okay lah not tat painful!! hehe...
"Eh dah bukak 3cm ah...Okay you ready for labour now!" Dr Aziz told me... Dalam hati, Allah saja yg tahu bagaimana perasaan ku masa itu! Excited pon ada, takut pon ada...He wrote memo on my antenatal card tat to be given to the hospital...Then he asked us whether we have our own transport or we take a cab... Told him tat we will take a cab down to East Shore... Then he said tat he will send us to East Shore and just give him 20 mins to check some of the patients first... Wahhh! So nice of him! So we went to the counter outside to do the payment and the kakak there prescribed me 1 type of medicine and a Curaso stitches spray for my used after birth.. Heard some advices from the kakak2 counter there while waiting for Dr Aziz to send us.. The Kakaks there told us tat we're lucky tat Dr Aziz wanted to send us...Special treatment gitu... hahaha...
So around 3.45pm, Dr Aziz leave a few of his patients in the clinic and quickly send us to Eash Shore... He then told us tat he will come down later and the midwife will give him updates on me... Hubbie went to register and I was wheelchaired up to the labour ward. Feeling ku masa tuh, tak terkata... Am I really going for labour?? So soon?? Am I ready? All these questions came into my mind!! The nurse there asked me to change into the labour outfit and brought me to one of the labour room... Wah! So syiok ah the labour room...Got TV, got sofa...hehe..
Hubbie came up to the room and the nurse told him tat tis room will be our room for the day till I give birth... Hubbie was so happy tat he got a big sofa tat can turn into bed one...Den SCV channels.... The nurse then asked me to lie down on the bed and put the contraction belt and baby's heartbeat's belt on my tummy.. And asked me to rest.... At tat time, my contraction was quite mild.. The nurse kept coming in to check on the contraction level... Then it's time for the nurse to clear my bowel... Aisey..peh sakit dia masuk kat obat tu kat anu!! keke.. Dah lah ku sarapan capati jer kul 10 lebih pagi..den tak makan lunch...apa yg nak kuar??? hehe..
The nurse then asked me to wait till 10 to 15 mins to go put put.. Tapi tak sampai 5 mins, peyut dah mengulas..tetap ku tunggu sampai 10 mins..kalau tak buang karen jer masukkan benda tuh! hehe.. Iskk..sampai jer toilet, hah kau!! Trus put put berderai! oops...sorry ye tak censored sket! :p After tat back to the bed... Watched TV with hubbie while drinking the air selusur...
So from 4.30pm till 8.30pm, my contraction still very mild... So the nurse called up Dr Aziz and informed on my status...Dr Aziz asked the nurse to burst my waterbag & dripped me to make the contractions come close apart... Alamak kene burst waterbag & drip..takut!!! Part the nurse broke the waterbag, mak oii... She korek2 to find the waterbag but still cannot burst..the sakit, mak oiii..Luckily the laffing gas became my best fren for awhile..Another nurse came and help to burst the waterbag...Water came gushing down there...Dah mcm paip bocor dah!! hehe...Then she mentioned abt drip....bila dgr werd drip tu, trus muka berubah seh...Dah lah saya nie tak pernah kene warded kat spital...pakai drip pon tak pernah..den nak kene cucuk ni semua...uwahhh!! Takut nya... Aisey...bila nak masuk itu jarum kat my urat, muka gue apa lagik, cramp rabak ah!! isk isk isk...Sakit beb!! Tapi tahan jer lah kan... But before the drip actually the nurse checked my cervix and it was 5cm opened! Masa dia check cervix tuh lah, gue pakai itu laffing gas! Kalau tak dia korek2 kat bawah itu...sakit mambangz!! At least pakai laffing gas tu, tak lah rasa sakit nah! hehe
Then came Dr Aziz around 9 plus gitu... Dia masuk jer dia boleh kata apa tau ... "Aik ingatkan saya dah boleh bersalin kan awak!!" Aiseyman dia bleh buat klakla plak dr ni!! hehe.. But around 9.30pm, the real contractions really came!!! Mak oiii peh sakit!!! It's around 2 mins apart!! uwahh.... Hubbie was kinda werried and kept asking whether shud he called the nurse but I told him tat no point to call them cos it's the real contractions...
Outside the labour ward, kissy, shanah, Bunnyz & Hirman were waiting... They tot tat if I can give birth by around tat time, they wanted to wait..hehe.. Cian korang... Dah lah tak dapat jumpa... Only hubby is allowed in the labour room... Thanks to kissy for buying me the 2 pieces of baju tido butang depan & also dinner for hubby..hehe..
Around 10 plus, the nurse dimmed the light in the room and off the TV and asked me & hubbie to take a nap... Hubbie got ready to take a nap but for me, aisey...baru nak terlelap, contractions come! isk isk isk.... Kept telling my hubbie "Sakit ah yang!" ... But the good thing is tat I didn't struggle or pinched my hubbie or do anything else... Tat's why the nurse told me "You such a good girl ah" hahaha.. Keep using the laffing gas but for shortwhile only cos kena warned by hubbie...hehe.. I was then given a pethidine jap on my thigh.. Then the nurse told me if I got the urge to put put, then call her quickly...
So around 12 midnite, suddenly the urged to put put came... Hubbie called the nurse and again the nurse checked my cervix and was told tat I'm fully dilated... She was quite shocked too as it was fast... From tat 12 midnite till 1.15am in the morning, the 2 nurses taught me how to TERAN!! Anyway the baby's head still up there and can't really be seen.. So they wanted me to TERAN till the baby's head is engaged down there then they will call Dr Aziz... Imagine for 1 hr plus I have to TERAN plus the contractions coming! Iskkk!! Dah lah napas ku kontot jer! hehe..
So I have to TERAN & TERAN till my kaki oso cannot TAHAN!! Sampai menggeletar seh! Tak larat lagik! The baby's head only came down a bit...Then one of the nurse told me tat she has to call Dr Aziz for assisted delivery... Most probably baby kena vacuumed out... Dr Aziz came shortly... He came in and said "Alamak Zubaidah, tadi mcm mana saya ajar awak "berak" (as in teran)? Ikut mcm gitu ah.." I told him back.. "Dr, saya dah tak larat ah..kaki dah menggeletar ni" boleh ku menjawab balik dalam kesakitan..ekeke... Den he jokingly asked.. "Awak nak TERAN ker nak cesarean?" .. Dgn pantas ku balas... TAK NAK!! NAK TERAN! ekekeke... So he puts on his glove and got ready a mini "toy" which they called vacuum.. Peh kecik benda tuh..Ingatkan betul2 nya vacuum lah! So he did explained to me & hubbie on th eprocedure of the vaccum thingy... What I know the next min, he had already put in one of the device inside my cervix and attached it to baby's head... And when the contraction came, he asked to TERAN and he slowly assist on pulling the baby out.. He kept saying BERAK cepat...I used my force and TERAN with around 2 nafas and out she comes on the 24th Feb 05 at 1.37am!! I feel soo lega once the baby's out!! But Dr Aziz took quite sometimes to get the placenta out.. Then the sewing part.. euww!! I can feel a bit of the needle being poke there... But come to tink, watever pain I've gone thru for the past few hrs, the sewing part is actually nothing.. (cedebah! eksyen konon gue!!) But seriously, apa Dr nak buat kat bawah tuh, buat ah! Wat I know is tat my precious Lil' gurl dah kuar... The 2 nurses attended to my baby.. 2 slaps on her buttock and she cried! I was soo happy to hear her crying!! Hubbie kept saying..."It's our daughter dear!!!" He was all excited!! Ye lah sapa yg tak excited!!
While the nurses cleaned me up, hubbie did the Azan & Qamat plus the taknik to our baby... After we had thanked Dr Aziz, hubbie went to pray and I was pushed to the ward and baby was pushed to the Nursery Room... Alhamdulillah, everything was over in a glimpse! 9 hrs in labour ward in total but luckily my labour pain was around 3 hrs... And syukur no epidural used!!
Hubbie was really great and was there for me when I needed his support most especially during the labour and the "TERAN-ING".. Thank you so much dear! Without you, I know tat I cudn't make it!!
Guys, sorry for the bahasa rojak ye!! hehe.. Itu jer lah yg boleh ku tertype kat sini! Syukur Alhamdulillah semua nya dah selamat..
Update on Alisha : She can come home today! yay!! Gonna fetch her at 5pm later!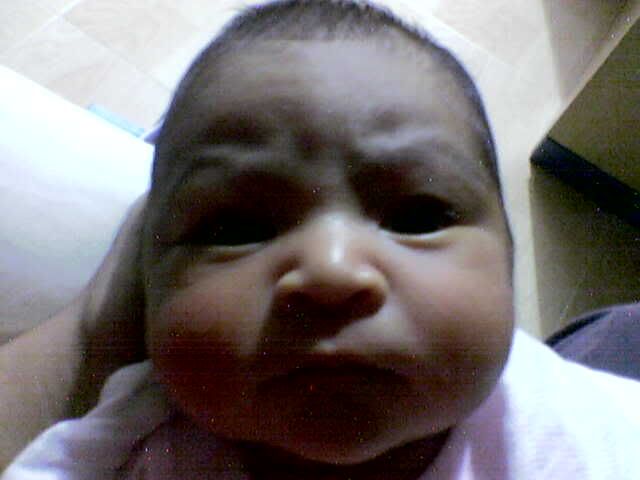 Was taken one of the nite sebab tuh tak clear.. Pakai camera phone plak tuh!