Wow! It's Friday oredy! The week past very fast indeed! I feel tat I just been out of hospital yesterday & tis Lil' Alisha just came out of me! How time flies!! My EDD oso havent past yet!! hehe.. !6th March shud be next Wednesday... Anyway yesterday nite received sms from one of our fren, Zunika, who just gave birth to a baby boi.. Her EDD is just a day after me which is 17th March..
Congrats Zunika & Fauzi!!
When I read her sms, all the moments in the labour ward flashes thru my mind!! I still can remember vividly every second of the labour tat I went thru.. The pushing, the pain and most importantly the moment when Lil' Alisha came out!! Phew!! The ordeal still fresh in my mind! And tat's why when ppl asked me when will be the coming of the 2nd one, I will just tell them tat the "trauma" is still fresh in my mind..hehe
Yesterday nite, received MMS from shanah... When I opened the message, saw
her
beautiful picture.. Auww...so sweet and pwetty ah!! Dapat gak tgk "live" dari hp walaupon tak dapat pegi ke sana..hehe...Here's the picture!!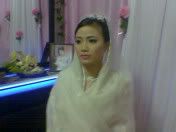 Pretty aint she??
waiting for hubby to come home later in the afternoon and we gonna rush down to Shing Shong for awhile to scout for Lil' Alisha's cukur rambut "berkat"... Then later tonite, my uncle & aunty gonna visit Lil' Alisha...
Now I better get some rest since Lil' Alisha is sleeping... Papai!! Hv a great weekend!!