Received the below email last Thursday morning and it surprised me...
From: MumCentreSent: Thursday, June 08, 2006 11:26 AMTo:
Zubaidah
Subject: MumCentre's Kids Pic Of The Week: Congratulations! Your Child Is A MumCentre Star!

Dear Zubaidah

Congratulations!

Alisha is a MumCentre star!

Tell all your friends that Alisha is featured in MumCentre Magazine's June to August 2006 issue and online at:


http://www.mumcentre.com/Article/ArticleDetail.aspx?a=130

Do write back to us with your mailing address so we can send you our token of appreciation (and a copy of the magazine!).

Sincerely,
The MumCentre Team

Actually I've totally forgotten that I ever submit picture of Alisha to MumCentre but the email came by surprised. Being a kiasu mother, during lunch time on Thursday I went to the nearest Mothercare at Centrepoint hoping to pick up the free magazine but to my disappointment, the magazines are not out yet over there. But lucky me, when we were at Marina Square yesterday, I saw Mothercare there and poped in there to pick up the magazine.. Finally get to see my darling face inside the
Kids Pic of The Week
section.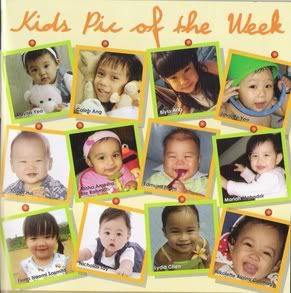 Spot Alisha Ameera in the MumCentre Magazine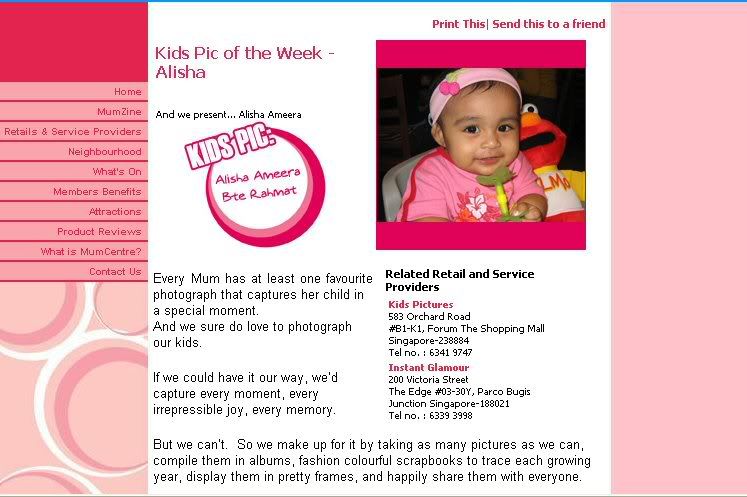 Alisha Ameera in the online MumCentre
So mommies out there, submit your darling pictures and who knows MumCentre will feature your lil one in the Kids of The Week. *cheh macam advertisement lak ;P*