Updated!
Sawadeekap!
I'm back!! But my soul is still in Bangkok! wakakakak.. If only we could extend our stay, I would have shop shop and shop again! 3 days 2 nites is definitely not enuff for shopping sakan in Bangkok. We shall bear in mind that if we were to go Bangkok again, it will be 4 days 3 nites or 5 days 4 nites!! No short trip one!! Hotel is superb! Food is great! Shopping is definitely heaven for us. Overall it was a great and fun trip to Bangkok. Macam nak terbang ke Bangkok jer sekarang jugak! :p
We set off to Changi Airport on Friday morning. Met my parents and siblings there at around 7.45am. We check-in our luggages and then went to Burger King for bfast. By 8.50am, we check-in andwent to the Gate allocated to us. It was a long walk inside Terminal 1. Instead of JetStarAsia flight, we got to board ValueAir. Anyway it's the same as the normal flight tho. I was quite worried for Alisha when the flight took off but amazingly, she acted normal and no sight of crying or wailing due to the pressure. That's good of her!! Here we, the adults keep complaining abt the pressure in our ears, Alisha happily munching her crackers and smiling here and there! *slap forehead*
We reached Bangkok around 11.30am. We took a van to our hotel, Baiyoke Sky. Hubbie & dad went to settle the room stuff, the rest of us kept snapping the view from the hotel lobby which is located at 18th floor. We were given rooms at 68 floor. Goodness! It was sooo high!! Unfortunately, we din get a connecting room as all the rooms were fully booked. But we luckily the our rooms were nearby each other. After settling ourselves down, we get to rest for about an hr, and off we went to hunt for food! Was told by my cuzzin and bro in law that there is a nearby Halal restaurant called Maedah. So hunting for food began! We walked quite a distance followed by a map and address of the restaurant in hand! Cheh! Dah mcm tourist sesat plak!! When asked the people along the streets, we really dun understand what they are trying to say. We just walked along the streets but din get to see any Halal Restaurant. Dah lah panas and Alisha wants to be carried! Mak ai! Cam nak patah pinggang! Luckily my dad took turned carry that heavy kenit of mine! :p
We were unable to locate the restaurant so I made a phonecall to my cuzzin back in Spore asking for the exact location. When my cuzzin was about to tell me the direction, we found the restaurant which is just a walk away from our hotel! Duh!!! Actually we walked in a different direction! All thanks to the bellboy of the hotel! Lerhhh!!! Asal bleh jer!!
We start ordering food as we were really hungry! Ordered different2 dishes! But one thing for sure, the Macaroni in Meat Sauce is really damn nice! Sungguh! Gue tak bedek!!! Bila makan, sure nak lagi dan lagi! :p
Day One there, we just make our rounds near the hotel. There's lotsa shops and "pasar malam" there. Nite time, we had our welcome drink at the Lobby Bar while enjoying the nite view of Bangkok. Baiyoke Sky Hotel is really tall! It's the tallest hotel in Thailand anyway! We just simply lurve the view outside. We also bought their delicious pastries and cakes which were sold at half price after 6pm.
Day Two, we took our free breakfast at the hotel Sky Restaurant. A breathtaking view from 77th floor while enjoying our bfast. Good thing, Alisha is well behaved during bfast. After that, we went to the Observation Deck where we snap pictures here and there. By 10 plus, we're off to Chatuchak. We had gotten ourselves ready to fight with the heat in Chatuchak! But I'm worried for Alisha as usual. Afraid that she will get cranky as she can't stand heat!! True enuff, she was perspiring heavily! We, adult were already perspired like what and the heat really killing us, what's more Alisha!! We get to shop only 1/4 of the section. Were told that Chatuchak is the size of 18 football field! Believe it or not, it is really huge but stuffy!! We could not really shop as Alisha was soo cranky! She was sleepy butI guess she cud not sleep due to the heat. So watever we saw and wanted to buy, we just grabbed it! Initial plan was to spent the whole day there but due to Alisha crankiness, we cut short to only 3 hrs plus. I guess it's best not to bring kids there else the heat is definitely be a hindrance for adult to shop once the kids start to get cranky. Nevertheless, both me & hubby managed to get few things. Even my parents, sis & bro are not satisfied shopping in Chatuchak as we din get to cover much! Nevermind, we shall return there one day when Alisha is big enuff! But it will be a NO for us to leave Alisha behind when we go for holiday!
We went back to the hotel. Alisha is just so happy when we reached our room. She simply lurve cooling places. I bathed her and she is back to her active action. Rested for awhile and we off to have our late lunch at Maedah Restaurant. After lunch, dad sent mum to the hotel room first den the 5 of us plus Alisha went off to World Trade Centre or now called the Central World Plaza. We took Tuk Tuk there. Alisha simply lurve the Tuk Tuk ride! Upon reaching there, were disappointed that the place is under renovation. Only few shops were open. So we decided to go to the shopping centre across. There, hubbie went for foot reflexology while dad, sis, bro, Alisha and myself went on a shopping spree. Then we sat down at KFC to eat for dinner and tapau some chickies for mum. We took Tuk Tuk back to the hotel. Feel sooo great to be in the hotel room! I guess outside is too hot to handle!! After a good bath and maghrib prayer, both me & hubbie just rested in the room as Alisha was already sound asleep! Pity her as she's really tired!! Dad, mum, sis & bro went out again to the Pasar Malam along the streets. They wanted to do the last nite shopping! What I know that nite I slept early cos I'm dead tired!!
Day Three, we had our bfast in the morning. After bfast, we book the hotel van for our trip to Bangkok Airport and then off to MBK. MBK really has changed alot! The last timeI went back in 2001, was much different than now! Definitely changed for the better. But the things there are much expensive than in Chatuchak. But watever it is, we still did some shopping tho'. Spent few hrs there before we headed back to hotel for our final packing. At 5.30pm, we checked out and waited for the van driver to pick us up. The driver sent us to the airport. To our surprised, the counter has yet to open! Duh! But the Queue were already long! Mak ai! Peh lembab! Unlike Spore, super tip top..That's why Singapore is named the Best Airport in the World. Once the counter open, another thing is that, the staff there wanted to check-in our luggage one by one! Bila mau game sey!! Instead of checking for the 6 of us at one go, they really have to go one by one! And people behind started to grumble as it's such a waste of time! After that we have to have our passport stamped! They are super lembab oso! Luckily we go to another Queue line else we were stuck at one counter. We then went to have our late lunch at KFC inside. All of us were super lapar! Ordered lotsa food.After eating, we spent our last Baht at the duty free shop on chocolates! Then off to board the plane. Thru out the journey back to Spore, Alisha slept so soundly. She only woke up once we had touched down Spore. Reached home at 12 midnite and get to sleep around 1am.
Okay, shall end my Bangkok report here.. Now I still feel so tired! Feel like going back home!!
Pictures will be uploaded soon! Sorry hor!
The
Photos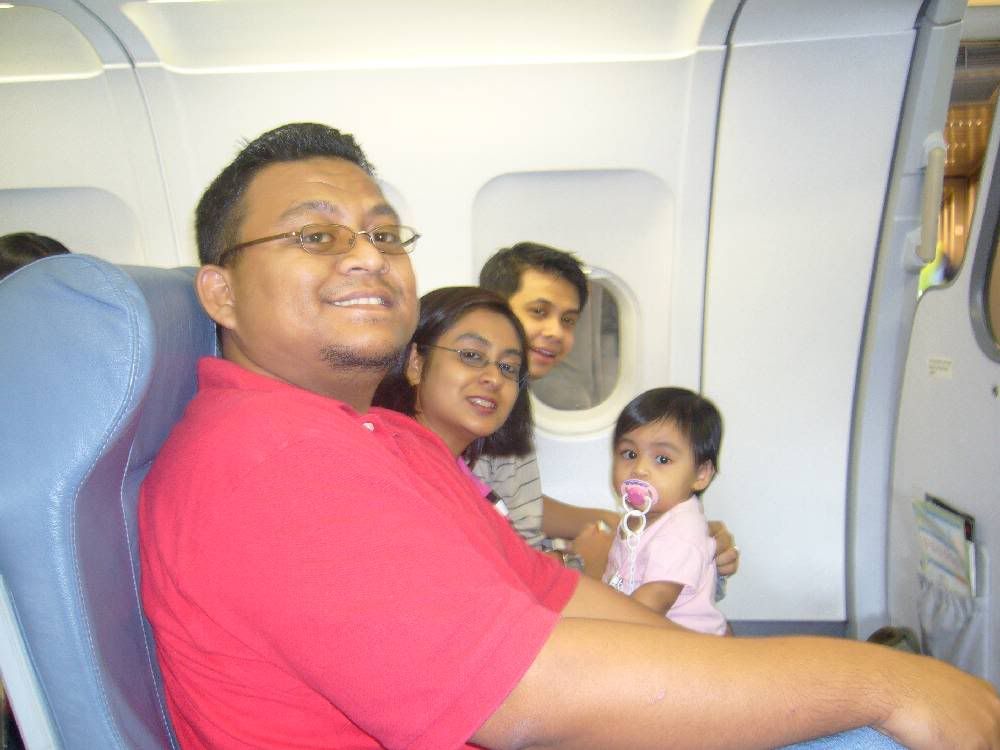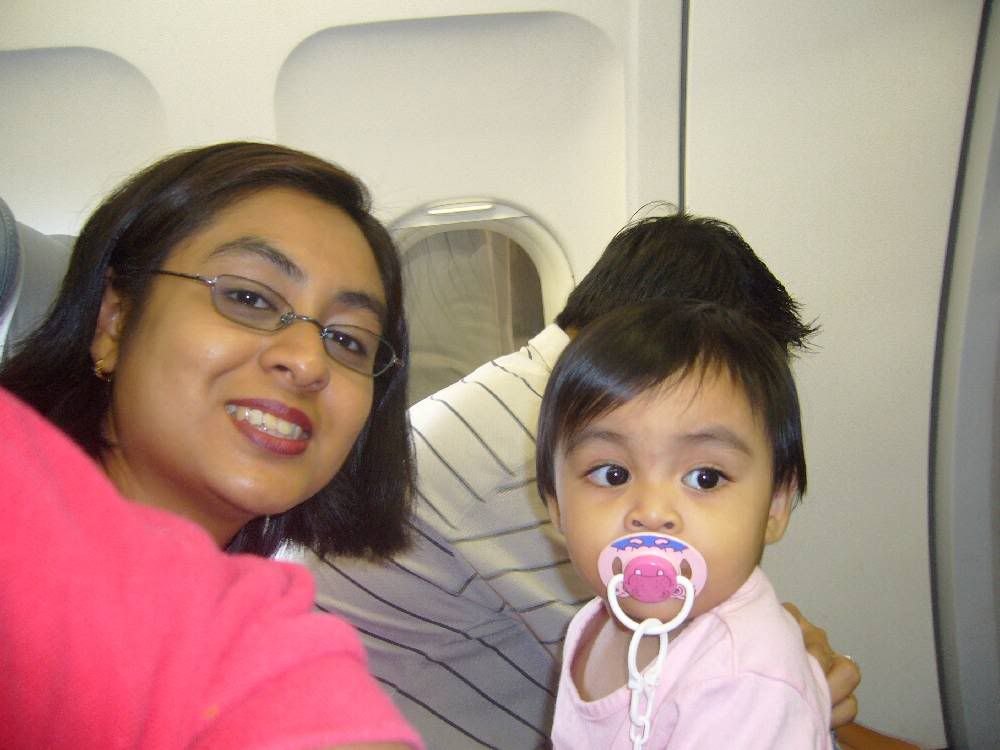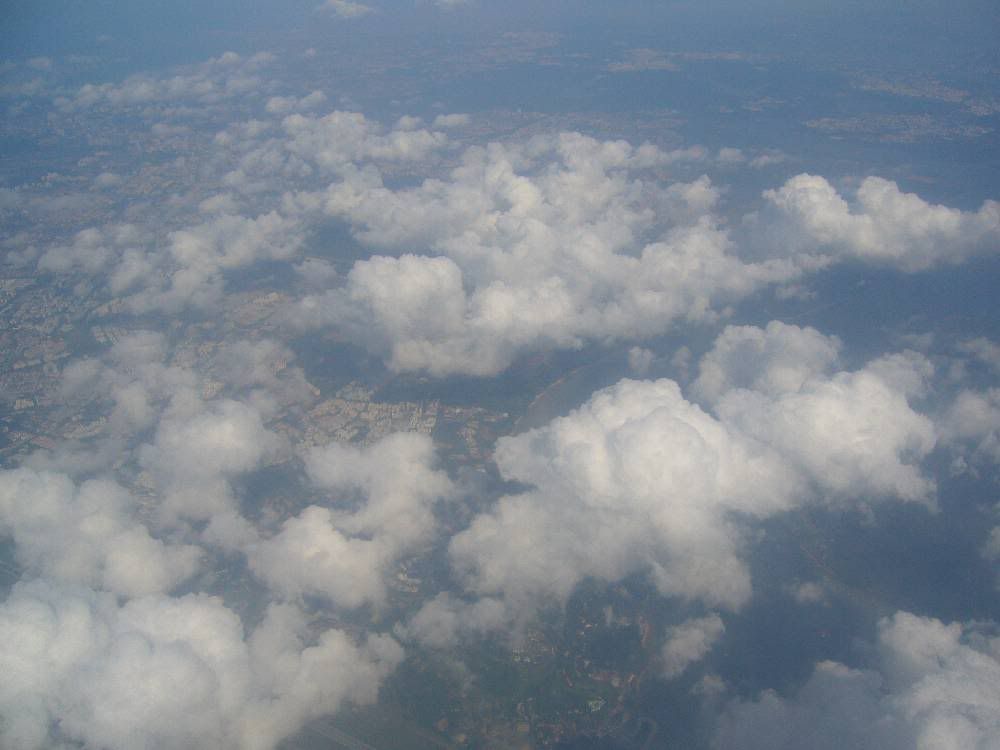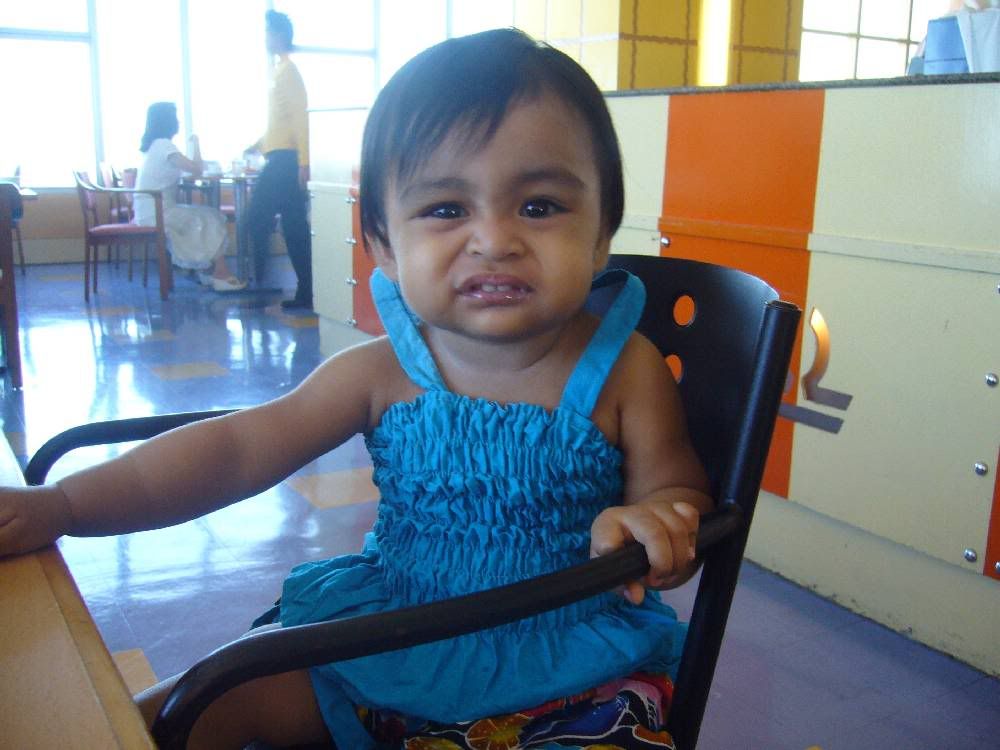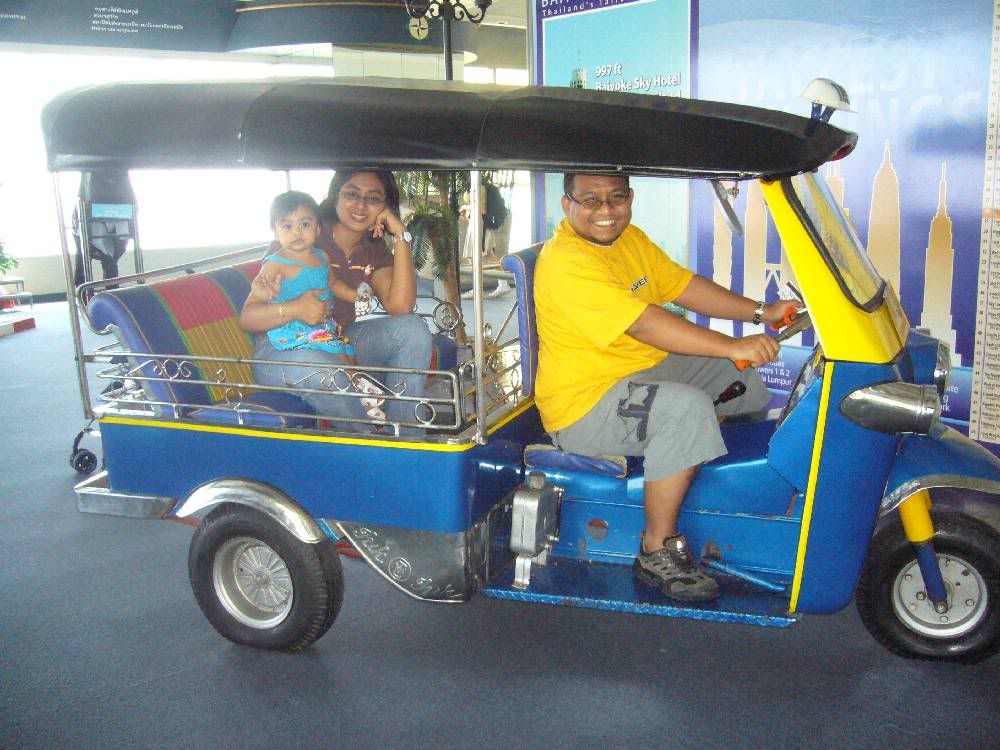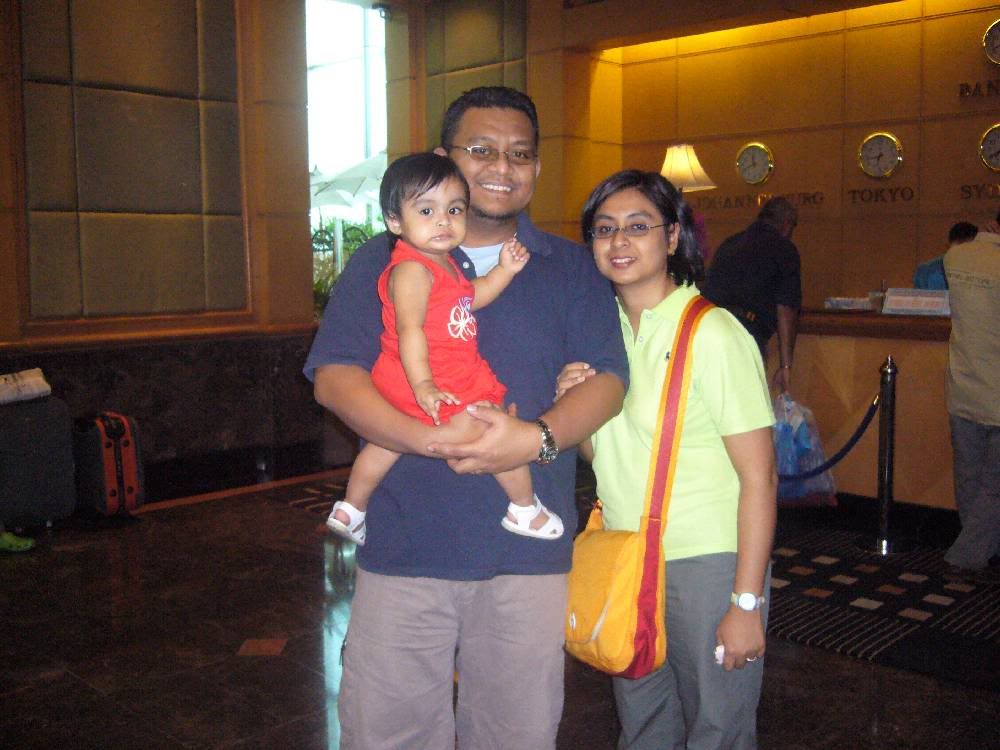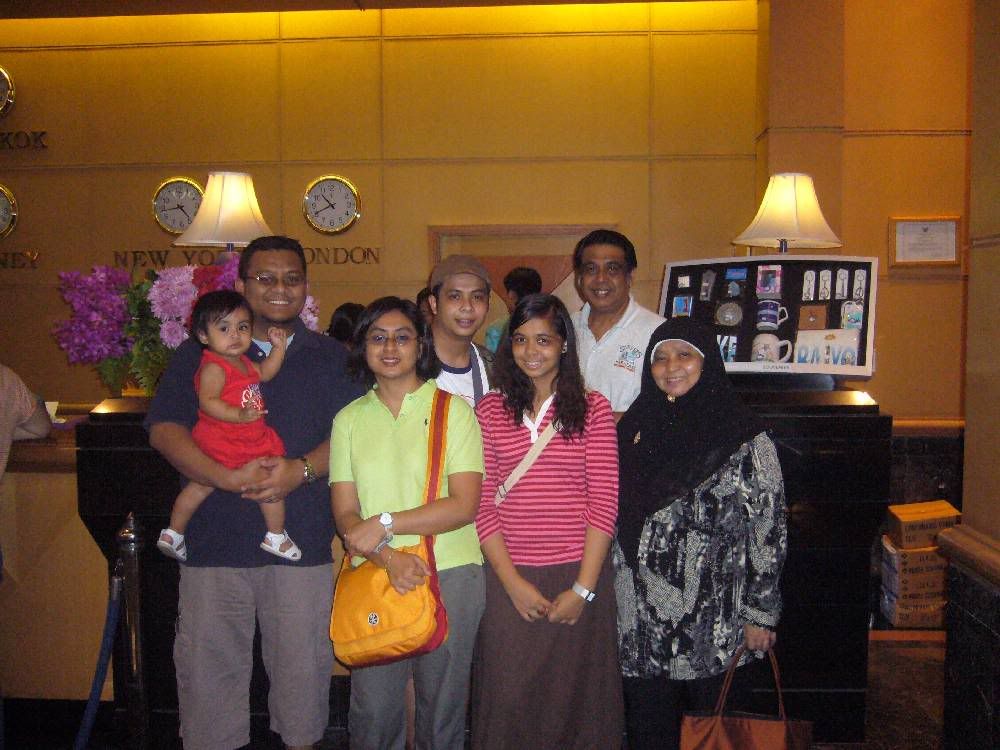 Family of 7