Wah lau! This morning I updated my blog but then.... when I clicked on Publish Post, there was a communication error.. And blogger was down.. Peh sakit hati! iskkk...
Neway, today is the 2nd day of Ramadhan.. Yesterday we bought food from Afghanistan kopishop for break fast before heading to hospital. We bought:
1) Laksa (myself)
2) Mee Hoon Goreng (MIL)
3) Nasi Ayam (hubbie)
4) Murtabak (all)
5) Coconut Blossom (all) - my all time feveret..
And gosh! Afghanistan was packed with ppl.. Nak jalan pon susah seh... kene sandwich oleh makcik2... Pening kepala kejap.. Dah lah penat, ngantuk, perut pon dah buat lagu heavy metal.. iskk..COBAAN! hehe
Got a surprised visit by Abang Long.. Kak Long had packed for us food for break fast.. If we know we dunt have to buy any food outside..
Food that Kak Long packed:
1) Roti Kirai with Chicken Curry
2) Nasi Goreng Power
3) Nuggets
4) Coleslaw
4) Kurma
Had a feast around FIL's hospital bed.. Nasib baik takde manusia2 lain..
Too all who gonna expect my cooking for break fast this year.. oops sorry!! Dapur tak berasap lah tis year.. Last year at least I got time to prepare break fast as I was not working.. Can even upload everyday menu in my blog but not this year.. Perhaps will whip up some dishes once FIL is back home. But that will be during weekend when we get to break fast at our home sweet home.. :)
Talking about breaking of fast... Received email on 2 restaurant which serve Halal buffet for Ramadhan...Please click on the picture for a bigger version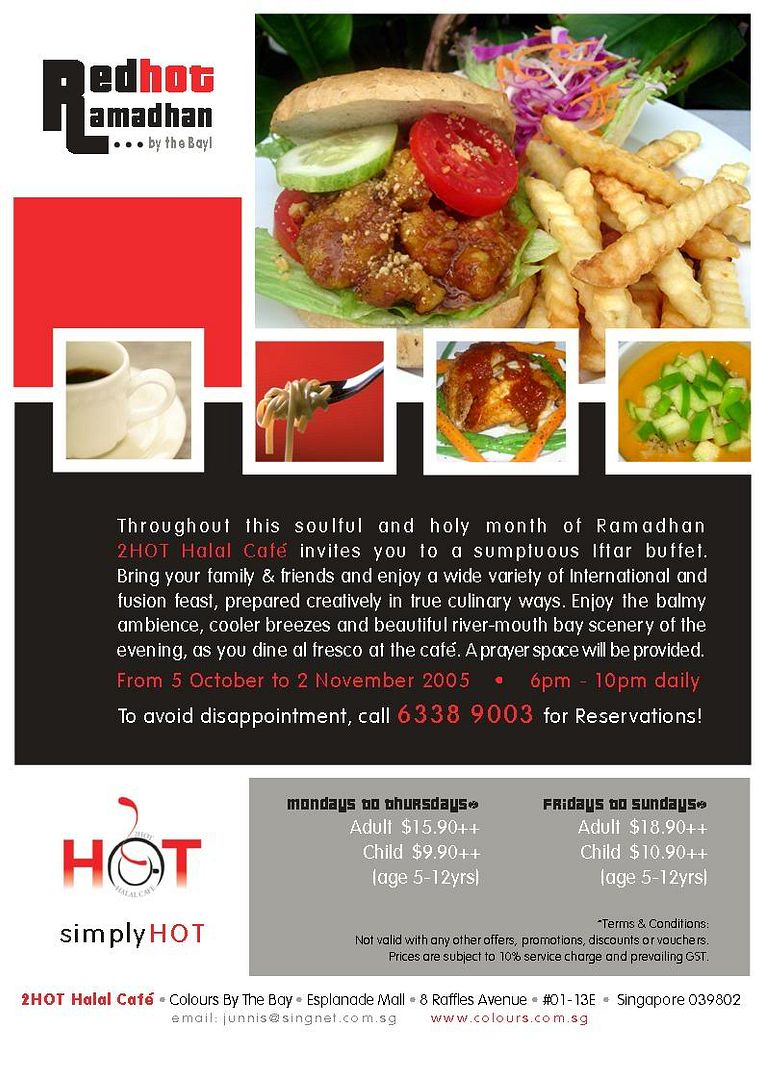 2HotHalal Cafe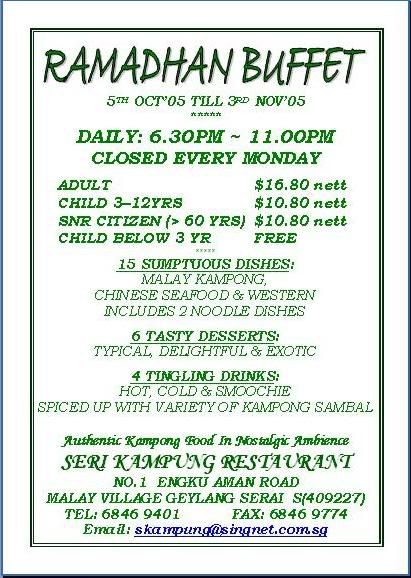 Seri Kampung Restaurant
So apa lagik??? Serbu lah!! ;)