Am on MC for today and also tomoro.. Diagnosed by doc = Gastric Flu.. A bit of fever.. The weather outside is just soo unpredictable.. It can be very sunny one moment and start to rain another moment..
Let me recap back what have I did for past few days...
Saturday
Was working on tat day... We didn't go hospital noon time but instead both me & hubbie went home for awhile to do some cleaning.. I managed to whip up Murtabak Maggi for break fast at hospital... Hubbie been asking for Murtabak Maggi so tak sampai hati, I whipped up 3 packets of Maggi...
The result :-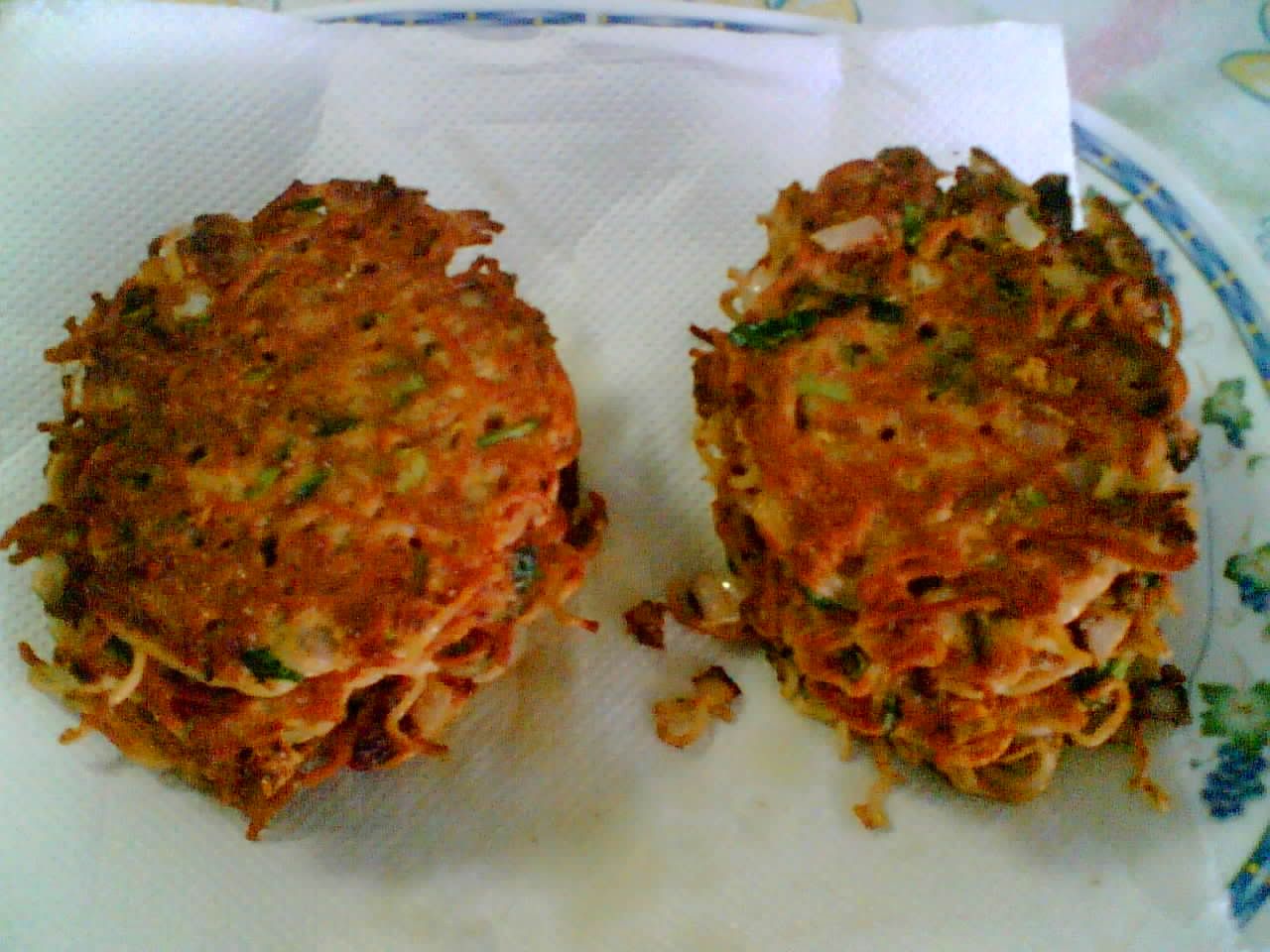 For recipe, pls click
here!
We went to hospital around 5 plus.. Stop over at Bedok to pick up Mee Tomato tat mum had cooked.. We had a great feast over at the hospital for break fast..
Food we had:
1) Mee Tomato (Mum's)
2) Nasi Lemak & Sambal Tumis Udang (Kak Long's)
3) Kacang Pool (Kak Nana's)
4) Nuggets (Kak Long's)
5) Bubur Kacang (Kak Long's)
6) Bee Hoon (Kak Long's)
7) Murtabak Maggi (Yours Truly)
8) Murtabak Daging (Abg Chik's)
Sunday
Both me & hubbie went to JB in the morning..Went Giant Tampoi for some groceries shopping and topping up petrol.. Once reached MIL's hse, we went to hospital with Kak Nana, Abg Daud & Lil Alisha.. My parents and siblings came too.. Went there for a short while den we came back to MIL's place.. Rested for awhile then around 5 plus we went back to hospital.. Before tat drop by Bedok again to pick up Nasi Sayur, Ayam Masak Merah, Daging Goreng and Pacri Nenas from my mum...
Again we had another feast.. Maklum lah weekend.. makanan semua power2! hehe..
Food we had:
1) Nasi Sayur set (Mum's)
2) Rendang & lontong (MIL's)
3) Lempeng Pisang (Kak Nana's)
4) Nasi Goreng (Kak Nana's)
5) Jemput2 Geragau (Kak Long's)
6) Chicken Maggi sup (Kak Long's)
See, dah mcm hari raya! hehe..
Today, MIL didn't cook anything as we know Kak Nana will kirim Abg Long food and Kak Long for sure tapau something for us... So we had:
1) Mee Rebus (Kak Long's)
2) Jemput2 Udang (Kak Long's)
3) Mee Goreng (Kak Nana's)
4) Karipap (Kak Nana's)
Okay enuff of the food..else you guys will be drooling tomoro... ekekeke..
Back to my kenit update... She is now on Similac Excellence 2.. We have to change formula milk for her as she had a hard time making big business as her stool will be very hard when she took Promil Gold follow up of S26.. Pity her.. She will start to cry when she wants to yak yak.. Her face will be very red.. And she got phobia of yak yak.. So I decided to switch to Similac and lucky she is able to accept it and can see the stool is like normal only that she will cry as I tink bcos of the blister she had around her yak yak opening.. But luckily we went to doc and get some medication for her..
For you people, here I present my Lil Kenit 7 months old peektures... For more of the peektures, pls view it
here!