Alisha First Zoo Trip
Friday (24/02/2006)

It's Alisha birthday!! In the morning, the 3 of us together with my PILs, went to Geylang to shop for groceries for Alisha's besday bash.. We took 2 hrs plus to shop at Geylang & Onan Road before we finally reached home.

At home, put Alisha tp sleep and I quickly get ready her stuffs for the Zoo Trip.. We went out around 2pm. Reached there almost 2.30pm. First stop was the KFC. Had our lunch there.. Then we proceed to buy the tixs and went in.. Both me & hubbie were soooo "jakun" when entering the Zoo.. Why? Bcos, it has been ages since we came to the Zoo.. Last trip was in our primary school days.. Instead of Alisha getting all excited, it's her parents who were really excited at that point of time!! hahaha.. Equipped with the map given, we start our expedition.. Alisha was soo excited upon seeing the animals.. She kept pointing to the animal and started to talk in her language... We were laffing seeing her expression... She is just so cute...

We covered one area to another area.. Was lucky that the weather really show mercy on us.. It was cooling and the wind was blowing right at our face! No scorching hot sun!! Phew! Else we will be udang kene bakar oredy! We took the Tram ride when we were already tired of walking.. Watched the Polar Bear feeding show.. Too bad we missed the Animal Show.. Alisha was wide awake thru out the "expedition" eventho we knew that she was sleepy at that time.. By the time, we almost covered every area, it was already 6pm.. Went to the DFS shop and bought Alisha a Girrafe & Monkey beanies.... She likes it!! Then we had Ben & Jerry ice cream before we made our move...

Next stop was to Concourse.. I had a last minute shopping for teh party stuff.. And to McKenzie Rd to have our dinner... Den off we went to fetch MIL's relatives from Kampung at hubbie's aunty's hse.. And off we went back...

At nite, I put Alisha to sleep before I make Chocolate Fudge cake and the Konnyaku Longan Jellies. Slept around 1.45am...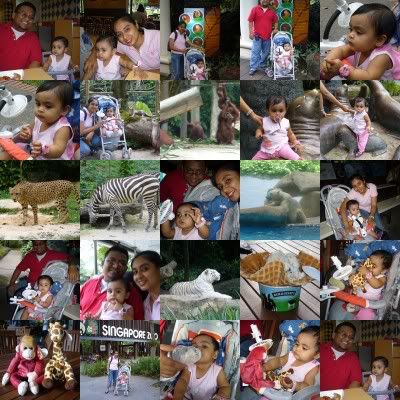 Trip to the Zoo
Alisha's 1st Birthday Bash
Saturday (25/02/2006)

Woke up in the morning and prepare Alisha's bfast. Bath her and let her play.. Both me & hubbie did a last minute spring cleaning and move the tables and sofa around. My mum came early and helped me with stuffs in the kitchen.. My Sis has to pick up Alisha's birthday cake at Parkway.. My cousin, Nini, came around 1 plus. She helped out with the living room decorations together with her sis and my sis.. As for me, I have to make sure Alisha gets enuff sleep.. Dad came awhile later from his work place.

At around 3 plus, SIL and family came.. She was soo lincah to get the food ready on the table.. We had Roti Kirai, Kari Daging, Salad cooked by MIL, Fries Bee Hoon & Almond Jelly Cocktail by my mum, Coconut Blossom by SIL, epok2 by Nollie's neighbourhood makcik, sotong balls, fries, hotdogs which we bought from Giant. At 4.00pm, kenduri doa selamat took place. FIL lead the kenduri... I was like busy changing Alisha to her pinky gown.. and this Mak Pengantin oso busy changing to a better looking clothes and make ups... Nollie came shortly after that.. And guest kept coming after that.. At about 5.30pm, Alisha cut her birthday cake.. We sang her a birthday song and guess what? She dance her way right to left, left to right.. haha.. Good thing my bro took a video of her! And she has her cake cutting and blowing candle (it's her Abah & Mama who blowed the candle off..wakakakka) I tink Alisha was sooo "geram" to see her cake and made her go round the table trying her luck to "touch" her Sesame Street cake! She was soo smart that when we moved her cake up, she went to the direction of the cake and when we moved the cake down, again she walked towartds the cake.. iskk...

Soon after the cake cutting, she started to get cranky.. So I changed her to her hippies pants and her Groovy Fox tee shirt.. She felt better... Then she & Aaryan had a "crawling competition" .. hahaa.. Bothof them goes diff direction..cute lah! Another cute baby is Baby Ellia aka Toothless Babe.. She laffed at Alisha when Alisha was crying! cuteness!!!

All the adults there were too engrossed with the babies there! There's Rian Haris, Zikry, Najwa, Ellia, Sarah, Qaisara, Nabil, Ilham, Alyssa, Aaryan & Dania Sofia.. Too bad Alisha din get a chance to take all babies together2..iskk.. Bleh terlupa plak.. Aiseyman...Seems that the babies had fun too!!
By nite time, Alisha was getting crankier as she's sleepy.. Bathed her and changed her into her pyjamas.. My parents, sis and cuzzins left close to 10pm... I quickly put Alisha to sleep while both me & hubbie did a spring cleaning.. Lucky it was not that much to do cos most of it, my SIL had helped us with the kitchen cleaning... Phew! By 12am, I was feeling groggy.. After my bath and everything, I went to sleep! A tiring day but we definitely enjoy ourselves as much as Alisha enjoyed herself! We would like to thank the guests who came over to our house...
Thanks a lot for the gift too! Alisha lurves all of them! Thanks!
For now, enjoy the peektures here...
The peektures are uploaded in my multiply
-
Zoo Trip
-
Alisha's Birthday Bash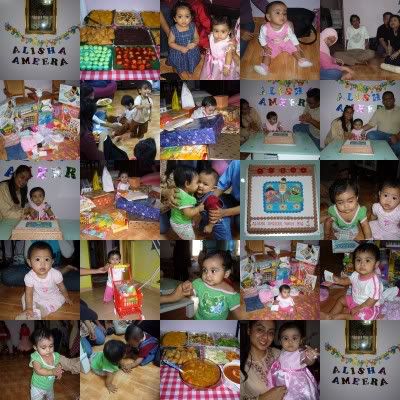 Alisha's 1st Birthday Bash