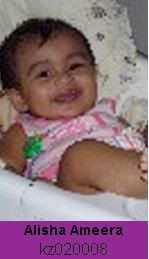 Vote for Alisha Ameera -
Click here!!
Enter kz020008 in yur sms field and send to 78888. Each vote cost 50 cents.
Thank you!
p/s: Sadly her picture is not clear. I've oredy resubmit her clearer picture.. Hopefully it can be changed!
Anyway come back for more updates on Alisha's Trip to the Zoo and Alisha's 1st Birthday Bash!