I am getting lazy to update my blog..Really!! Each time I'm thinking to update but the "M" syndrome overcome me so I decided to forgo the idea.. So now I am update my basi stories.. Pls bear with me ya! :)
Thursday:
Not werking today!! The feeling so syiok ah when you wake up in the morning and need not go to werk! Wow! That's how I'm feeling in the morning! But I can't wake up late cos kenitz woke up as early as 7.30am.. Both me & kenitz send hubbie to the door as he's going to werk.. Tried putting kenitz to sleep but she refused. So I have to layan her.. Gave her farley bfast, bathed her and finally she went to sleep.. Managed to have 2 hrs time off from her.. Did watever I need to do.. At 11.30am, I have to wake her up as I need to send her to MIL's .. Had an appointment with my fren, Rohani, to go to Bugis.. By then it was raining heavily.. Walked slowly under the shelter to MIL's hse.. At 12.20pm, I went to catch a bus to Kembangan MRT and proceed to Bugis from there.. I saw a fren of mine who was pregnant with her 2nd child now.. Wow! She was pregnant with her 1st child together with me and now she is pregnant again! Weee!!! Most of my frens who was pregnant year 2004, is pregnant this year too... HmmmMM.. not too sure when will be my turn?! haha.. Insya Allah "Project No. 2" will be this year.. who knows? hehe
Met Rohani and we went straight to Siam Kitchen for lunch.. So hungry and wat's more it's raining... We had the lunch buffet.. After that we went shopping and we bought ourselves a pair of shoe each.. I bought a baby gift for my fren, Siti Hawa, who has just given birth to her 2nd son last Wednesday.. Shall be visiting her soon.. Then off we went to Arab St.. Bought a baju in one of the shop called Murlia... Den went to search for Cennie's present.. All of us decided to buy her kain.. Fell in lurve with a purplish with pink flower material.. So after conferencing on the phone with Nollie & Kak Sun, I finally decided on that kain... We then walked along the shops and stopped by a kopi shop for tea session.. By 5pm, we were back at Bugis as Rohani's hubby was there to fetch her.. I took MRT back to Paya Lebar to meet hubbie at 6pm..
We went back home first.. After packing kenitz's things, we went to fetch her den fetch dad at his work place den off to Boon Keng for the Sup Kambing..After tapau the sup kambing, went back to Bedok..Mum cooked Thosai... We ate thosai and sup kambing.. Kenitz was playful today. She was super hyper... We left Bedok late, around 10.45pm as the next day we are not werking.. Hubbie decided a drive to no where.. But ended up at Boat Quay.. Not to clubbing eh! kekee.. But instead we took a fresh air along the river.. Sat there and oversee the Fullerton Hotel and the high rise building around.. Took some pics and we went off... Reached home around 12.40am..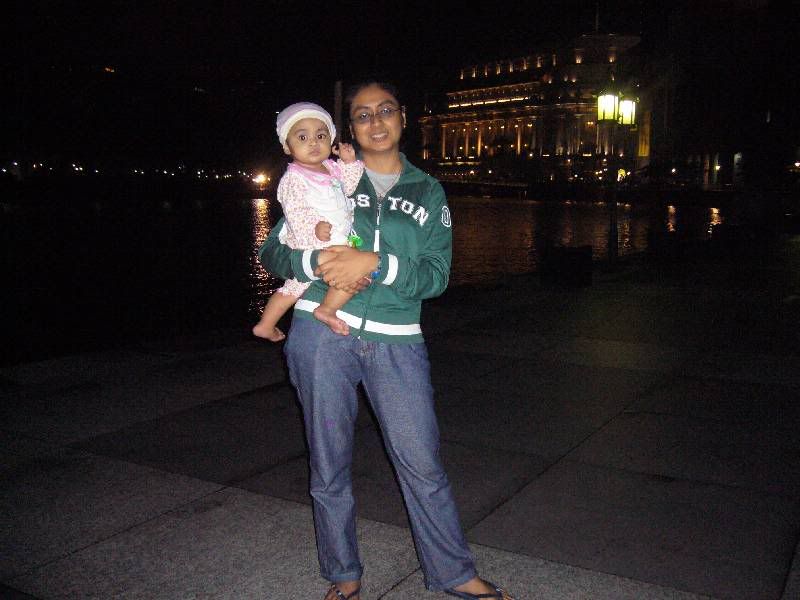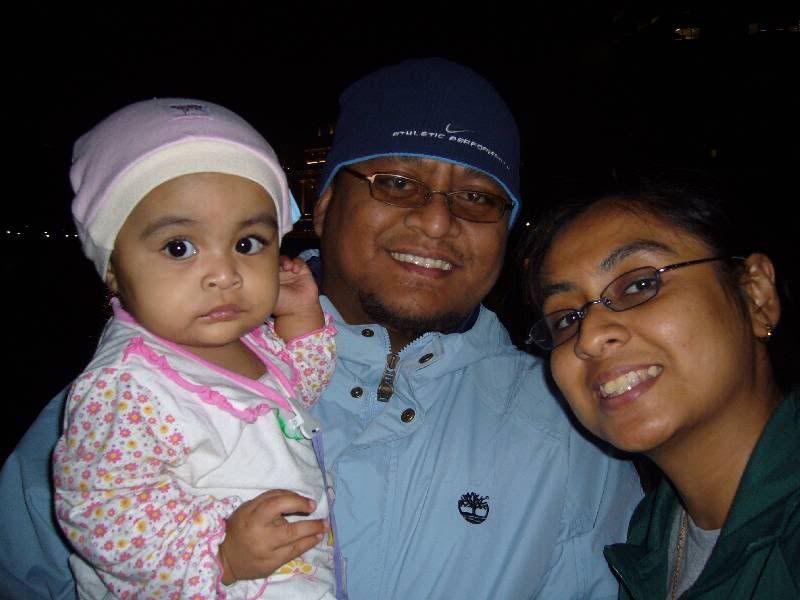 Us at Boat Quay..
Friday:
Finally I get to wake up at 8.30am as kenitz too woke up the same time.. She will wakes up late when we were to bring her out the nite before.. hehe.. At 9.30am, we went Pasar Geylang with PIL as MIL needs to get some groceries there.. Had our bfast in the pasar itself den start marketing.. I bought some stuff too.. Not forgetting I bought kurta near the Raja Lelong side.. Cheap2 and nice... :) Reached home at 12.15pm after sending PIL back home.. Rested for a while and put kenitz to sleep.. Packed the necesary things and get ready for kenitz clothes as we gonna meet the "Datin-Datin" & "Datuk-Datuk" later for High Tea at Cafe Vienna..
The day that all of us been waiting for.. Kak Sun, Nollie, Rosie, Cen, Yaya & esbOkz took half day today juz for today event.. Met them at Royal Scotts lobby around 2.35pm.. By 2.50pm, we went in Cafe Vienna. The high tea starts at 3pm.. So apa lagik, bedal ah!! We really had a feast.. Kenitz too has her share.. She ate the chicken congee.. But she likes the Bread and Butter Pudding the best! See lah, this kenitz of mine really have a good taste bud just like her Abah & Mama.. ahakzz.. We celebrated Cen's advanced besday too.. We had loads of fun there.. Yaya & Omar made a move first den followed by Kak Sun & Abg Mie.. Den esbOkz & hubby headed to Taka while Nollie, Cen and the 3 of us proceed to Coffee Bean Scotts to meet some ewah2 chatters...Met up with Putra, Celine, Daya, Naj & Kinna.. There we celebrated Naj besday.. So today we get to celebrate 2 gals besday! :) Went over to Far East for dinner den sent back Nollie and Daya home and we headed home.. Was so tired and in the end we did not went in JB to top up petrol...
Alisha getting ready to go her first High Tea session..
Click image for bigger view..
Saturday:
Today was a mendak day.. The weather is so sunny yet I feel so lazy...Furthermore both hubbie and me dunno where to go... I managed to lipat the "bertimbun" kain baju... I was putting kenitz to sleep and in the end I joined her too.. We finally went out at 4.30pm... Headed to Plaza Singapura as I wanted to go Aussino.. Before that we went Long John for our late dinner.. Then off to Aussino.. Bought towels & 1 cotton blanket and 1 quilt blanket.. Then went to John Little.. Bought Alisha a pair of jeans and a matching top. Bought myself a blouse and 2 "goggles".. After walk walk.. we then made our move from Plaza Singapura and headed to Holland Close to pick Nollie up.. Went to Adam Road for dinner and then off to McDonald Rideout Garden to lepakz for awhile..Reason why we went McDonald was bcos, free wireless to surf.. Hubbie brought his laptop along.. While hubbie busy surfing, Nollie & myself busy entertaining kenitz.. And this kenitz of mine likes to eat McDonald fries..
Alisha eating fries..
We left McDonald at 9.30pm as kenitz cannot sit still and I cudn't handle her anymore... So tired liao with her tak tahu diam seminit pon!! Send Nollie back and off we went home.. After bathing her, feed her milk and now she's off to dreamland! Finally I have time of my own!! Phew!!
So fast tomoro is Sunday and have a day more to go before I start my new job!
Happy weekend guys!