I'm finally back in S'pore!! uwahhhh!!! Can I not go back??!!! The 3 days 2 nites stay at Kampung was not enuff!! Apart from the scorching heat, everything was good! Especially the food!!! *ohHHH noo! I'm gaining more kilos again!!!!!*
Anyway reached home about 3.45pm just now... Was super tired!! But what is my tiredness compared to hubby who was driving!! hehe.. Now my Lil Icah has slept..guess she was "car lagged" hiak hiak hiak... As for me, I cudn't get any sleep.. Was sleepy just now but due to hunger, I'm just wide awake.. Now waiting for the KFC delivery.. What?? Chicken again?? Aiyohhh no choice lah.. Hubbie tried calling Golden Pillow but was sold out, Arnold - no answer, Sup tulang delivery - a $10 surcharge (so ex) so finally we settled with KFC lah ye...
Wokay, let me recapped back the days we were at Melaka...
Saturday (2.00am)
We decided to drive in the Tuas checkpoint by 3am as we were afraid that it might be jammed with cars going in Malaysia for holiday... Lil Icah was wide awake at 1.35am.. Mcm tahu je si kenit ni kita nak jalan... We fetched PIL first before we proceed to meet Abg Long & family at CCK...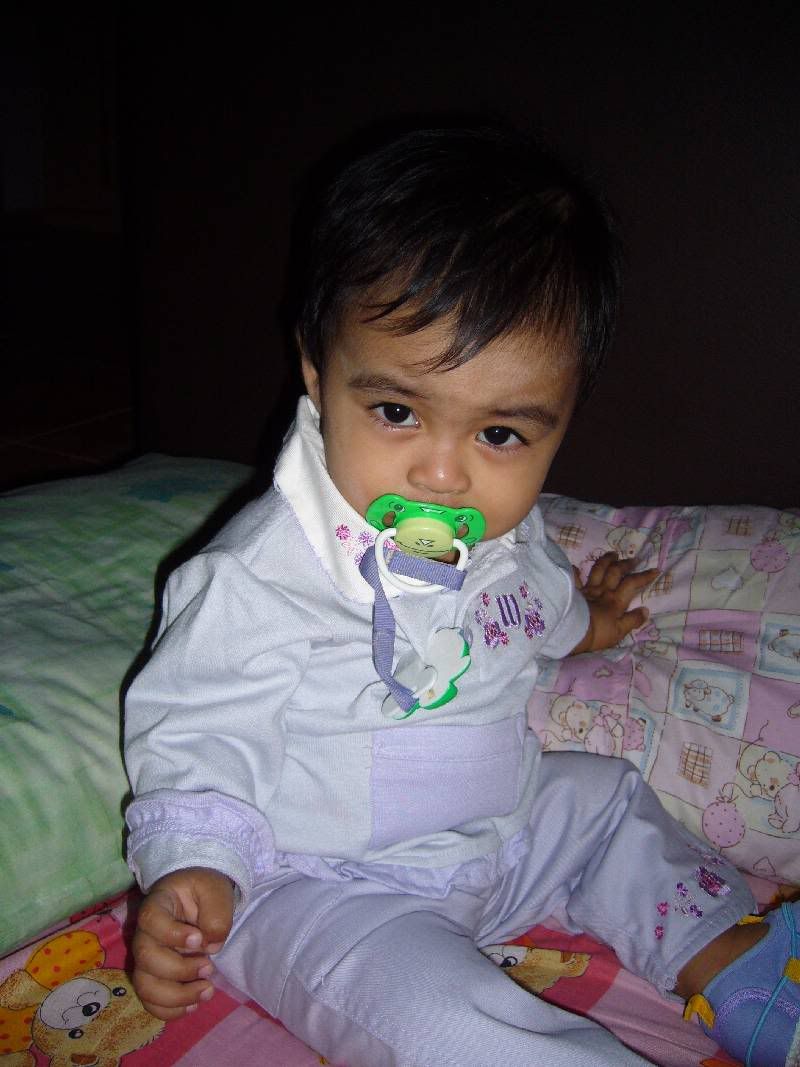 Icah ready to go..

After meeting at the confirmed place, we proceed to Tuas checkpoint.. As we were the first one to clear the immigration, we waited for Abg Long & family after the checkpoint exit.. Waited for quite sometimes and wondering what happened to them... Hubbie received a call from Abg Long and was told that the Toyota Picnic's tyre was flat!! Ohh no!!!! One of the right side tyre has punctured...We were kinda panicky... Hubbie started calling Abg Chik... Abg Long tried his best to drive carefully and parked behind our car.. Gosh! When I saw the tyre, I just cudn't say anything! Was really flat!!! All of us were wondering whether cud we proceed or just have to turn back to Spore... So both Abg Long and hubbie tried to change the flat tyre to the spare tyre.. It takes ages to first find the spare tyre and secondly changed the flat tyre.. hur hur hur... But at last they managed to change the spare tyre but was not confident at first to continue our journey as the spare tyre was small compared to the original one and it's thin! MIL suggested that we drove slowly and Insya Allah we will reached to our destination... Like MIL said, this is all dugaan...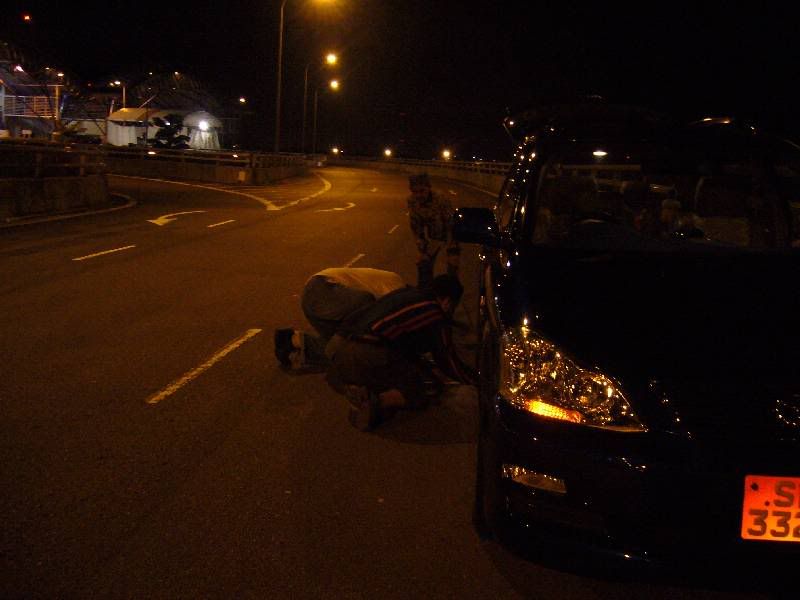 Changing the flat tyre..

So with tawakal, 2 cars drove at 80km/h to proceed to our destination.. First stop was at Tanjung Kupang Esso and Petronas to pump some air in the tyre... After some survey, they found that the flat tyre has hole on it.. Anyway we just continue with the journey... By then I was asleep.. What I know was that we stopped at Machap Petronas and that was about 7am.. Had our subuh prayer at the surau there and proceed to Ayer Keroh.. Alhamdulillah we finally reached Ayer Keroh near to 8.30am...Took the new route to Sungai Udang.. We stopped over near to MIL's kampung to change the tyre.. Luckily the tyre shop was opened that day! After changing den we proceed to Abg Ngah's hse within 5 mins drive.. After settling down ourselves, had our bfast, we proceed to clean ourselves before most of us fell asleep! Really tired!!! By then was awake in the afternoon...

At 6.30pm, went over to Pasar Malam.. Bought lotsa food!! We were like hungry hippos!!! Imagine the Apam Pulau Pinang, we bought 28 pieces and it finished!! hehe.. That very nite, we really sleep like log!!!

Sunday

Woke up early morning and we bought bfast at Mak Besar's stall... Bought Nasi Lemak, Lontong & Roti Canai... Again ate like we all suffering from starvation... hahaha... By 9am, we were all ready to follow Abg Long & family to Kuala Sungai Baru to visit Abg Long's MIL's relative... A long drove there before we reached the place...After a short visit, we proceed to take a drive to Pangkalan Balak beach... Nice place for a picnic... Then we off to Melaka Sentral terminal and then to Tesco.. Had our lunch at Tesco food court before doing our shopping.. We din't buy much things as Lil Icah has been cranky as she was sleepy at that time... After that we proceed back to Abg Ngah's hse...Went over to visit Mak Yah (MIL's sister) for awhile..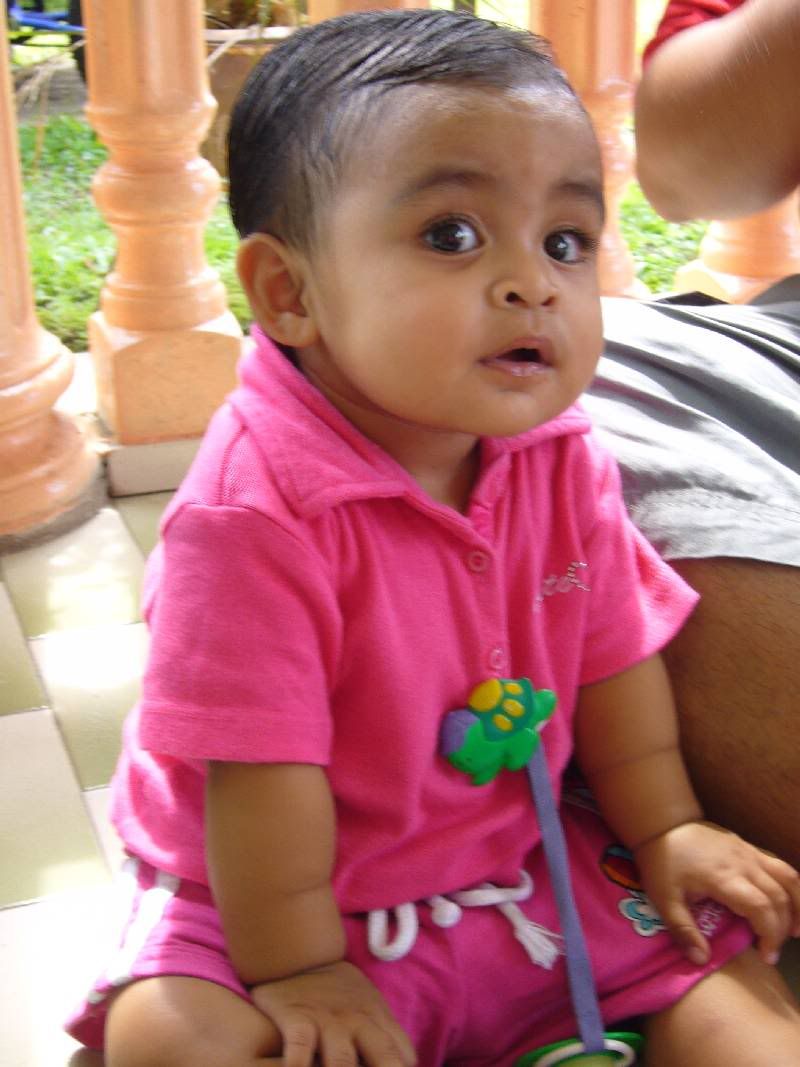 Icah with her mentel-ness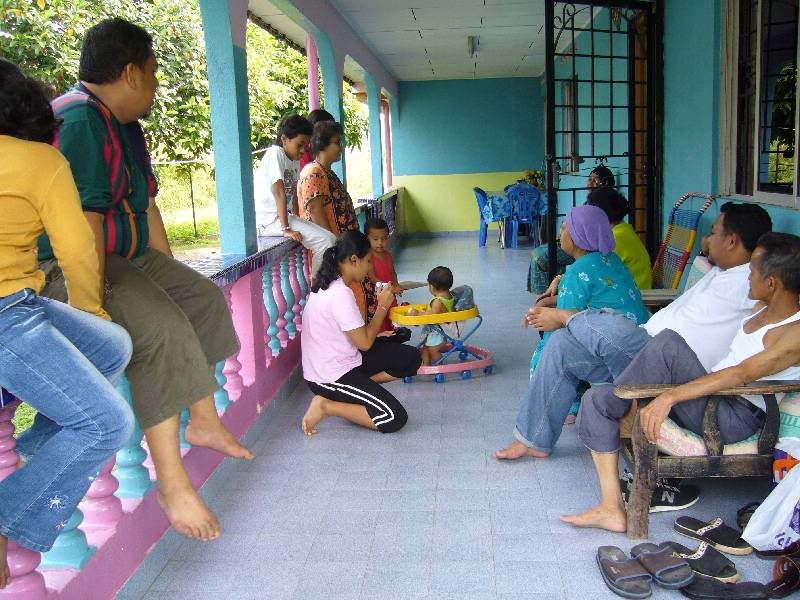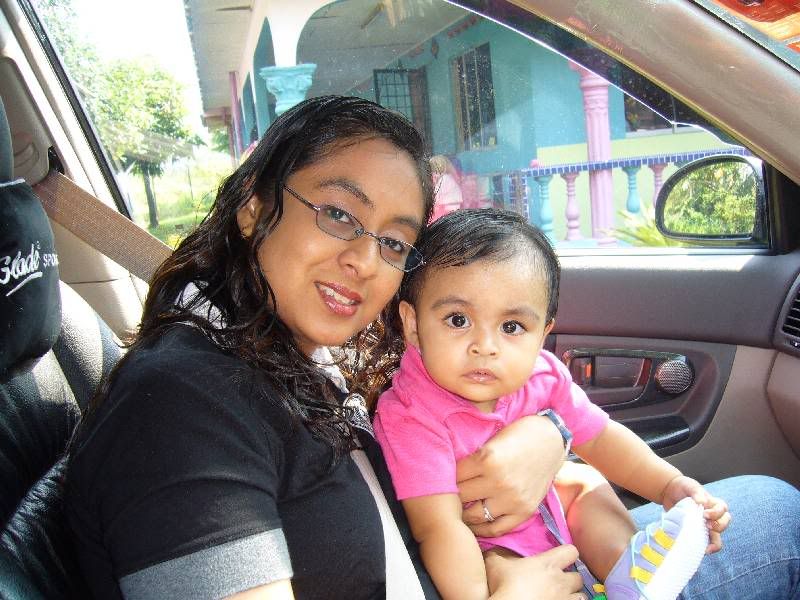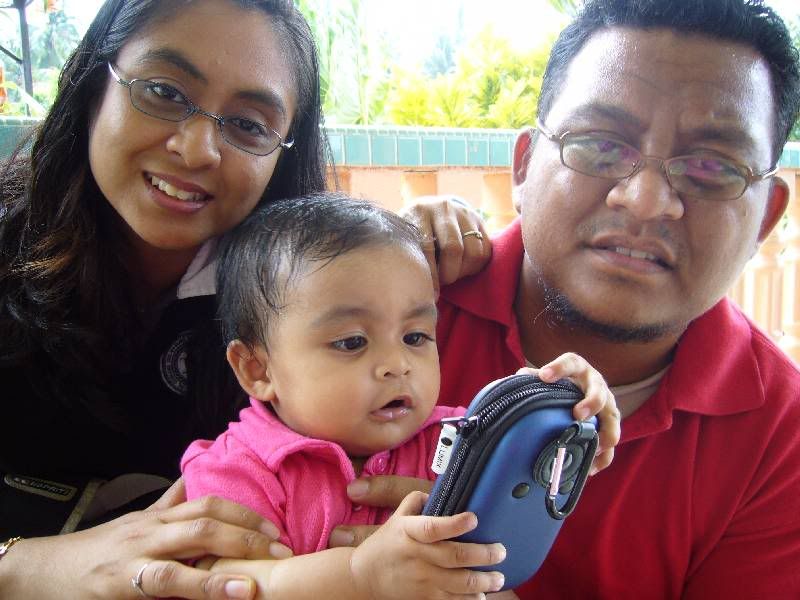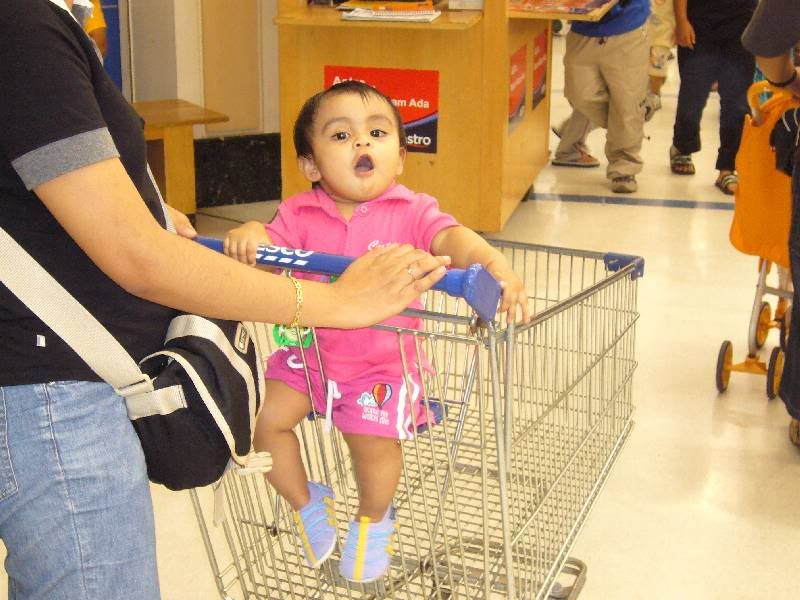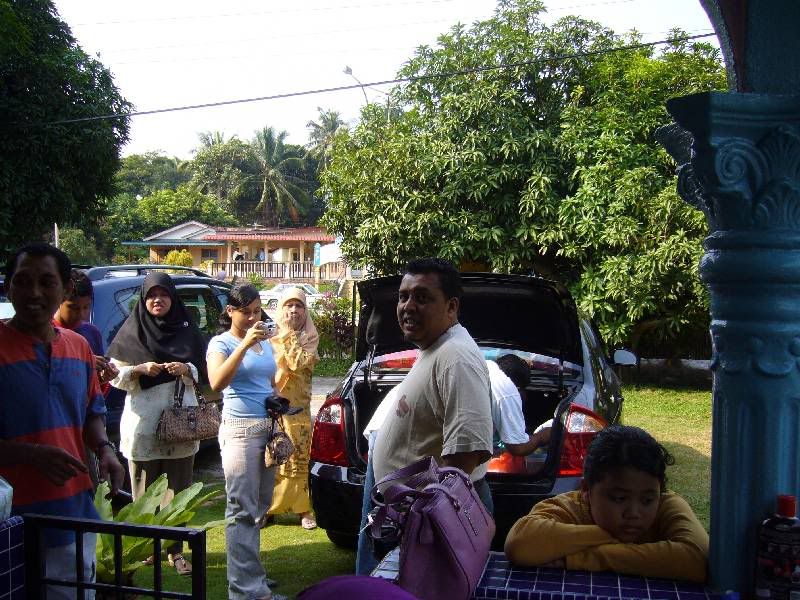 At nite, Abg Long & Abg Ngah went out to buy Satay, Tomyam, and few kinds of mee.. Again, we had a feast for the last nite.. That very nite, both Icah & me slept early.. We were tired anyway...


Today

Woke up early as usual.. Kak Ngah & Kak Long busy preparing bfast.. We had nasi goreng putih, mee goreng and jemput2 bawang & ikan bilis.. Best!!!! After that all of us beginning to get ourselves ready.. Packed our thing and prepared to go back.. Before going back, we visited Mak Oteh (MIL's sis) beside Abg Ngah's hse.. After which at 11am, we set off back to Spore.. Luckily no jammed and it was a smooth ride back to Spore.. Abg Long & family made their way back to CCK while we headed off to Ubi....
And not too sure if tonite hubbie wants to bring us out.. See if he's not tired then we shall go out else we just rest at home...
Till then, do visit to my
multiply
for more pictures...