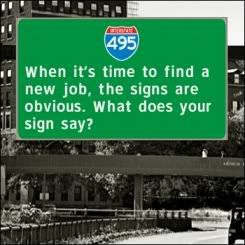 Well, I guess you guys must be guessing what good news I wanna announce... hehe.. All this while, when I on my MSN, messages keeps popping up asking what is the good news.. ekekek...
Most of you guys asked if I'm pregnant!! I would love to but guess belom ada rezeki.. :)
Actually it's nothing great lah but to me, it's something that I look forward to... As some of you know that currently I'm working for a Telco company and is under contract... Somewhere on September, I was informed by my boss that they might not want to have contract staff under the headcount.. As my headcount is under a project base, so my boss has no say in this.. So she told me to be prepared to get my contract shortened...haizzz...
ni lah nasib kalau under contract
.. They can just kick you as and when they like... So from then on, I tried to apply some internal posting but too bad not successful...
So I keep looking for jobs in Jobstreets, JobsDB & in the paper... Not until on 1st week of raya where Maslia (tenkiu hor) gave me a job link for me to apply.. I tried applying and guess what? Few mins after sending my resume, the job agency called me.. Told me about the job scope and all but she did not mention which company. She said that she will arrange and interview with the manager there.. It was Monday then... By the time I got her call on Wednesday saying that I secured an interview with the company on Friday... Friday came, I went for the interview...We chatted informally for abt an hr.. Sampai haus ku dibuatnya... After the interview ended, I was hoping to get the job there cos :
It's just a 10 mins walk from my house..
Save transport money!!
The company is one of the biggest logistic company in S'pore...
Will be working a 5 days work week..
Work starts at 9am and ends at 6pm..
Most importantly it is a permanent position..
I was praying that I can get the job..
Then the following week which was last Thursday, I got a call from the job agency telling me that I got the job! I was like ..Ohhh Reallyy??? That's a great news!!
So this Friday will be my last day in my current company...Come next Tuesday (21st Nov), I will embark a new journey in the new company... Hopefully all goes well for me.. Insya' Allah.. :)
Thanks to my MMVD sistas who have been encouraging & praying for me.. Thanks also to some of you out there for the well wishes & words of encouragement... :)
*cheh dah mcm amek award plak ako ni*