Sungguh cepat.com the long holiday gonna over... Tomoro is a werking day.. Luckily this week only 4 days of working... I'm feeling so tired rite now..Perhaps due to the outing since Saturday till today..
Yesterday, we went 2 jemputans.. One of it is my primary/secondary school classmate, Rozi at Fernvale.. She got married with our classmate too... Dah jodoh tak ke mana lah katakan.. hehe.. Congrats Rozi & Herman!! Food was superb, and the overall event was a grand one! Another one was at Yishun... After tat, we met Megat & hir. Luckily I brought along extra clothes to change.. Takkan gue nak pakai pant suit utk pi merayap beb! hehe.. I got changed at petrol station's toilet.. hehe.. We headed to Suntec... It was pack with people... We go jalan2 before we had our dinner.. First we tot of going to Rice Table but it was fully reserved so we ended up eating at Siam Kitchen for dinner.. Had the buffet set.. Thanks to Megat for the treat! :) Before we went them home, we went for drink at one of the coffeeshop at Yishun.. Came home around 10 plus..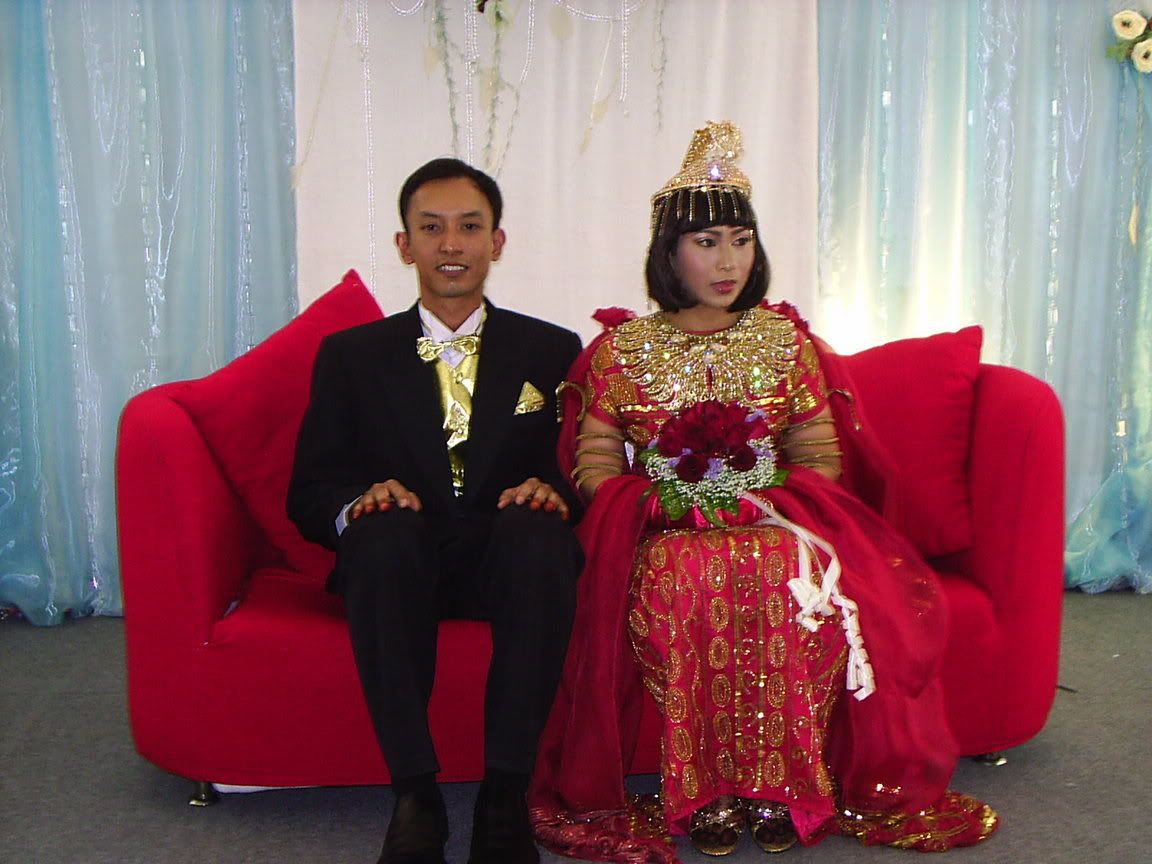 The newly wed couple.. ala-ala Cleopatra!! :)
Today noon, went over to my parents place for awhile before we headed to lunch out. We tot of having lunch at Hajah Maimunah Rest at Geylang but it was closed so we went over at Best Hawa Rest. Ordered quite a lot of food as today it is my bro's 23rd besday.. All of us including my bro's gf, Linda, were having a big feast.. After that we went over to SGH to visit my granny.. She was warded to hospital yesterday.. Her jerking started again and she had numerous of falling too.. Doc gonna observe her for few days..
Stayed there for awhile before the 3 of us went to meet Nollie, hir & Megat at Paragon Orchard.. Today is hir's besday too.. Orchard was packed with people!! iskk... Bleh mabuk tgk orang ramai cam tuh!! We headed to Centrepoint to window shopping and at 6pm, we headed to Rice Table for our dinner... At last we get to go Rice Table for dinner.. It was a good deal for us as we dine for 5 person but only pay for 3 person's meal.. Tat's bcos they have the promotion of dine 1 and free 1. And today's dinner is on BIRTHDAY boy.. hehe..
And of all days, today my phone choose to be not working!! I cudn't hear the caller's voice when ppl called in nor I cudn't heard voice when I make an outgoing call! Shit!! I was just tinking of changing my phoen to W800i but have to hold on as my contract with M1 ending next mth.. But now I need to service my 3230 at one of the Nokia service centre before I can change to W800i next mth.. So for the time being, I have to borrow Nollie's Sony Ericsson T610.. Luckily she got a spare hp else I cud not survice w/o any phone!!! Anyway when we went Nollie's back, I have to follow her to her home to collect the phone.. Now I can fiddle around with Sony Ericsson phone first before I buy my own Sony Ericsson.. :)
Today we reached home early as tomoro is a werking day.. Once reached home, I did with the ironing of both hubbie's and my werking clothes.. Tomoro gonna be hubbie's first day of werk ever since 3 months of hospitalization leave... No more holiday for you huh!!! hehe.. Tomoro I'm in 8.30am shift so will be back at 5.30pm!! I got 11.5 days to werk before my last day!! :)
Kay lah..Gotta stop here for today! Mata dah kuyu!! Have a brand new week guys! Look forward for this coming weekend again cos it's a long holiday!! yeahooo!! :)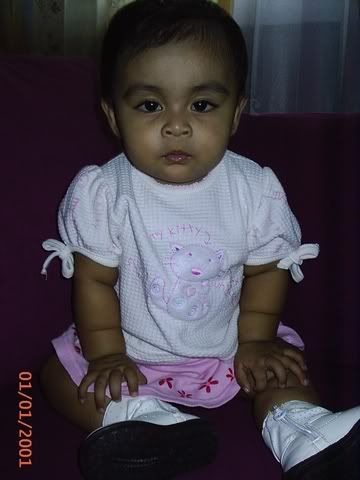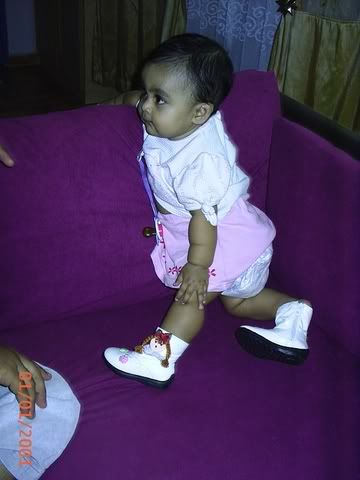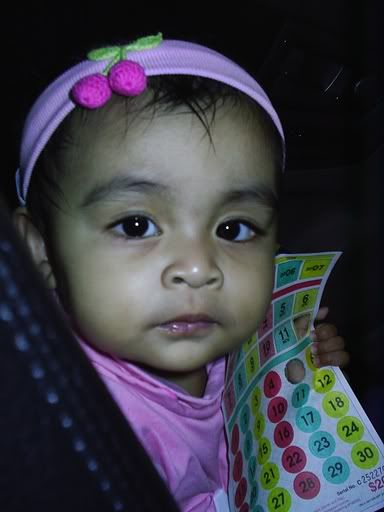 My Lil darling at 10 months old...