aloo...Here I am blogging in the opis at this time... Some companies may even let their staff went off early... But here I am in the ofis slogging till 7pm.. But hey! I'm not alone okay..I still got 3 more companions(all melayus) here plus my TL and supervisor.. So total makes 6 of us... Anyway all of us are in holiday mood...
Just now we had a mini celebration for Dec besday bash and also gift exchange event over at Ease. And I'm th eonly December baby alone.. Was so paisey that they have to sing a besday song for me alone.. hehe.. Then we have some food and gift exchange after that.. My lucky number was 40 and I got a box of Cadbury chocolate... At our desk, most of us get chocolate and some of them got teddy bears or frame.
Now all of us counting down till 7pm before we can enjoy our weekend and holiday! Next Fri den our group turn to work 7.30am. Yay!
To all fellow bloggers, Have a Happy Holiday!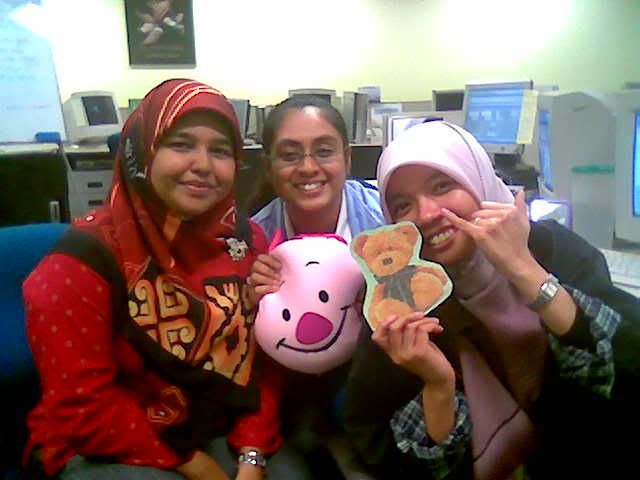 Taken in the ofis..
From left: Masita, me, Rohani