You guys tot that I had a great besday celebration yetserday aite? But too bad that it ended up in a "tragedy".. Yesterday morning around 10.15am, hubbie went to Katong Sing Post to get our car weekend coupon. While both me and Alisha had gotten ready. We had already plan to go Bugis and wanted to go Seoul Garden for lunch. But around 10.40am, I received a call from hubbie saying that he was involved in road accident. My heart was thumping real fast. I was so worried and asked abt his condition. Hubbie told me tat he suffered minor scratches and not too worry. He's waiting for Traffic Police to come. Wanted to probe further but I tink he's busy settling things. I prayed to Allah to protect him.. I hold Alisha so tightly and keep talking to her that her Abah will be ok altho she knew nuthing..
At around 11.30am, hubbie called asking me to come down as he's taking cab and need me to bring cash down. Saw his arm area and right knee covered with bandage. I kept asking whether he is alright. I'm worried about his knee. He injured his right knee which was being operated during Oct. He said that it's nothing and he didn't feel any pain at the operation area but instead the pain came from the wound. At home he began contacting the insurance company and IDAC. He told me that there is a mercedes who stop at the right lane just near Paya Lebar MRT to drop someone. And it's double yellow line and behind the mercedes, there a Van which stop abruptly. Hubbie was behind the van and tried to swerve to the left but hit the van brake light before falling and was thrown off at the centre lane. Lucky for him that a van approaching jammed break, else the van gonna knock him down and god knows what will happen with him. I was so petrified when heard his story. But Syukur Alhamdulillah nothing bad happen to him. Allah really protect him from the mishap apart from her minor scratches. His bike really broke down and the radiator broke.
At around 12 plus, both me & Alisha followed hubbie for ahwile to IDAC Paya Ubi to make report. There's no chance of claiming any insurance so hubbie has to fork out his own money for the bike repair. I told him that we can earn back the money but what's important is his life. Then hubbie sent both of us to MIL's place while he went back IDAC to bring her bike to the nearest workshop. After quoting, it cost $675 to repair the bike. Wow! That much! What to do, the bike is the one bringing him to and fro to work and bringing me to mu werkplace too.. By the time it settle was already 4pm.. Hubbie wanted to bring me out but I just told him that we just go back and rest instead. Anyway after magrib, my dad wanted to havemy besday dinner at Arnold. I was not in the mood to go out anyway. Before going back, hubbie drove to Ah Boy to buy something for his bike. Alisha and me slept in the car. After that we went back home.
After magrib, went Bedok to pick my parents and sis and headed to City Plaza where dad treated all of us at Arnold. I was so hungry but just managed to eat only 2 chicken. Alisha ate the mashed potato. After that we headed to First Lady where mum wanted to buy the pant suit. Dad asked me and sis to choose which baju we want. In the end both me and sis chose the same design of baju kebaya ala punjabi but in different color. The color that I wanted didn't have my size. Same goes to the color that sis wanted didn't have her size so in the end we swap the colors. I took the color she wanted and she took the color I wanted. Alisha got her fair share too. Dad bought for her baju kurung too and it's for Hari Raya Haji.. Pity dad that he has to spent hundreds of dollars on us.. He insisted us to get something eventho I said i dunt want any. He is just the best dad we have in this world!
After sending them home, we proceed to go back. After I had my shower, put Alisha to sleep and I went to sleep too..
Before I forget, I woild like to thank my bestest partner in crime, Miss Norawati, for the lovely white roses that you've sent me yesterday. Thanks a million my dear fren!! I lurve them very much!! :)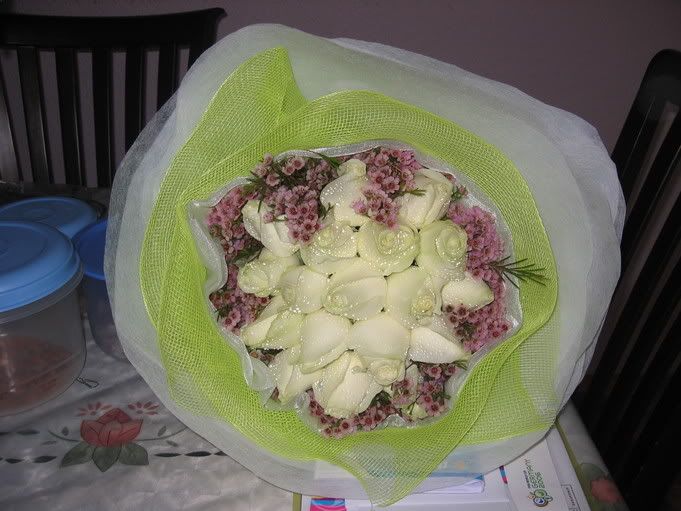 Anyway here are some pictures of my Lil Alisha Ameera. For more pics, pls click
here!