Hubbie drove me to werk before sending MIL to TTSH for her routine blood "donation" of her check up... Luckily today not tat busy at werk..
At 1pm, hubbie picked me up and we off to have our lunch at Evertop Hainanese Chicken Rice at Commonwealth Drive. Was introduced by Abang Long and it was indeed delicious!! Tak terkata kesedapan nya.. hehe.. After tat we proceed to Comex Exhibition at Suntec City.. Wow! It's really2 hard to get a parking.. But our patience paid off when a car make it move just in front of the Convention Centre lift.. Phew! Dah tunggu parking satu hal, nak naik lift pon kene Queue.. tsk tsk tsk...
Once we entered the Lvl 4 Comex, our eyes were everywhere.. There were lotsa things to see.. The place was packed with ppl.. Naik pening kepala beta... iskkk... My main aim was to find a brand new mp3 player... First hubbie went to check out the Linksys Wireless Router... after getting the price information, we continued our "journey" from one booth to another.. My eyes were wide open when I saw Creative booth.. I dragged hubbie quickly to the booth and scout for the mp3 player.. At last settled with Zen Micro 5GB...but too bad I didn't get the color that I liked..but nvm!! ;) Muka ada senyummmm! *grin*
My new music gadget, Zen Micro by Creative..
Then we went back to the Linksys booth and hubbie decided to get the Wireless G Router.. So both of us made a move from that Comex Exhibition with a happy face, getting a gadget each... Off we went back home..
At 5.30pm, went over to MIL to pick up Alisha den off to Bedok to fetch my parents and sister.. Went over to my aunty's place at Yishun. It's my late grandma 100 days tahlil... It's been 100 days since dear grandma left us.. But yet we just feel that she has been always closed in our heart... Thinking of her, really made me cry cos this year she & my late great-grandma will not be with us during Hari Raya... :(
Stayed over at Mak Opat's house and hr plus before we made our move..Sent my parents and sis back and off we went back home.. Was feeling sooo tired!! Tried to "godeh" my new gadget but was not able sync the songs from my pc to the player.. So I better go and pelok my bantal... hehe.. Anyway need to wake up early tomoro as we have promised SIL to go to Ayer Hitam wif her...
Alisha getting ready to go jalan..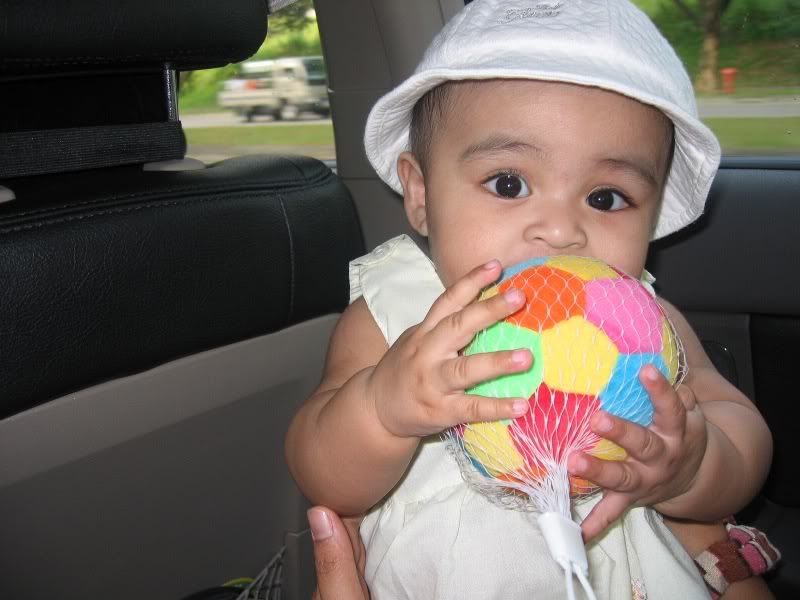 Alisha with her new toy courtesy of Atok Bedok..
Till then, good nite!! :)