Woke up as early as 6.15am today.. Get ready to go MIL's place to "post" Alisha there before going to Ayer Hitam.. After a light bfast, both me & hubbie together with SIL, her hubbie and doter set off to 2nd link.. It was raining heavily after the Malaysian Causeway.. After an hr drive, we reached Ayer Hitam... First stop was at the bantal2 shop.. Bought my Lil ALisha a pooh bear & tweety pillow.. And also a powerpuff girl soft toys..
After tat we find the stuff that we needed... At the end of the shopping, I got myself a wooden tall vase, rubber type flowers, a coffee table flower, frame and a door mat.. Sampai kering duit dibuatnya.. hehe.. Luckily we never stay there for long else, all our money gone buying more stuffs... hehe..
Took our lunch at Yeo's Family Restaurant at PTP.. By 3 plus we are back at MIL's place...
I did not managed to go to
Ayu aka blackrose's
wedding... Anyway Selamat Pengantin Baru to Ayu & hubby.. Semoga berkekalan hingga ke akhir hayat.. Insya Allah!!
Now I'm gonna "godeh" my new mp3 player... And will be turning in soon.. So sleepy oredy!! Monday is here again! So have a great new week... Tata!!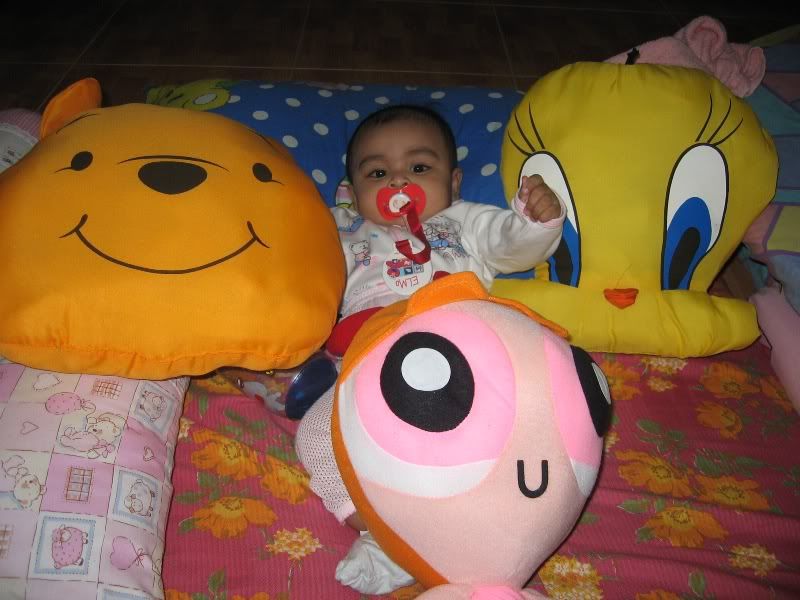 Alisha with her new soft stuffs...
Alisha with the big headed Blossom from PPG.. :)