Finally it's the day we've been waiting for.. shanah will be the Permaisuri Sehari!! She was gorgeous with her wedding outfit.. Not forgetting the charming groom ... Upon reaching the Multi Purpose Hall, we saw the Wedding Couple seated at the Pengantin table.. Without further a do, we quickly took their pic and as well as our pic with them.. Blom makan tau dah sempat nak amik gambar dgn Pengantin.. ehehe.. Sungguh kiasu.com kan kita2 ni! hehe.. But anyway shanah told us that she'll be going up and change to another wedding outfit.. Okay we shall wait for the next outfit..
The Pretty Bride & her Charming Groom..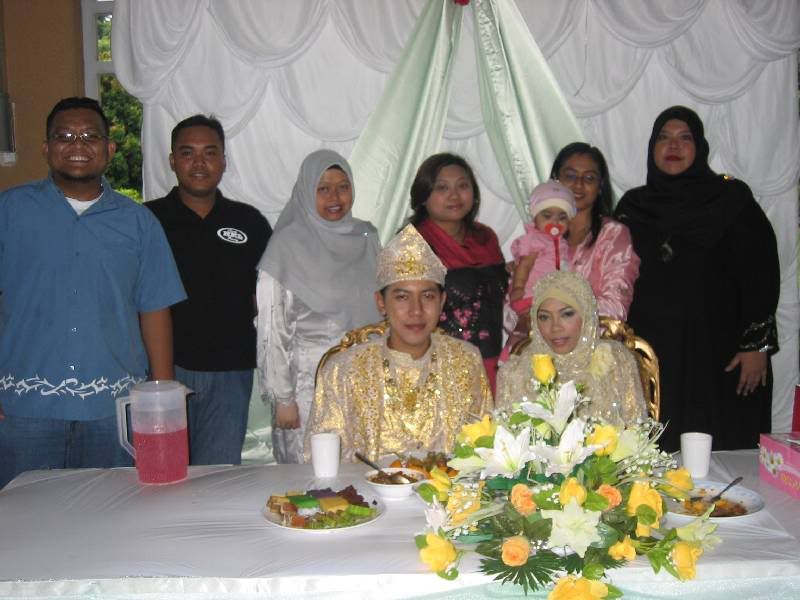 Us with the Pengantin..
Found seats at ujung korner of the hall.. Saw eLy... She's the Berkat Woman! Next time kasi lah rocher tu lebih2 ye! hehehe.. Together with Kak Sun, Nollie, Rosie and shammek, we "rempuh" the buffet table.. Lapar beb! hehe
Kak Nor & Abg Wan join us not long after... We ate, we chat and we pose for pics but the Pengantin have yet to come down.. Kak Asmah came after that.. We didn't manage to see another round of outfit from the Pengantin.. So all of us made our way back..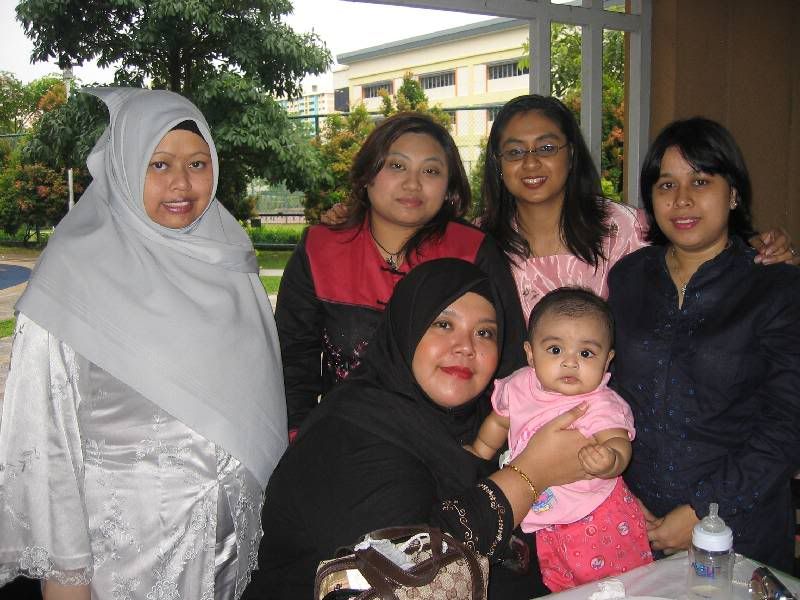 Nollie, Rosie, myself, Kak Nor, Kak Sun & Lil Alisha...



Kak Sun, Lil Alisha & Rosie...



We joined Abg Wan & Kak Nor to A&A Eating place at Chong Pang... Nowadays they frequent there and they recommended us with the food sell by Abg Wan's fren.. I had popiah basah, hubbie had che chong fun, Abg Wan had Nasi Ayam and Kak Nor had Wanton Chicken Noodle w/o the wanton! My sis didn't want anything as she was full.. As Lil Alisha, eat a bit of che chong fun and her plain water...


Stayed there till 7pm before we made a move back to MIL's place... Abg Long and family were already there... Had chit chat & laughter session together.. Watched Rapsodi at Suria.. Not bad ah! I like the part where Ahli Fikir performed! Superb! *thumbs up*


Finally we went back at 11pm... And now I need to get my sleep.. Lil Alisha is already sleeping... Good nite all!! Have a good day tomoro!!




Shanah & Mahadi...

Selamat Pengantin Baru!! Semoga jodoh kalian berkekalan hingga ke akhir hayat dan semoga dikurniakan cahayamata yg comel2... Selamat menempuhi alam rumahtangga! Welcome to the club! *wink*



Here is my kenit peektures taken at home before we went to shanah's wedding! For me visit my multiply aye!