Why must today be Monday?? Why it can't be Saturday again?! Weekend not enuff!!
Anyway our weekend started on last Friday. After maghrib, went over to my parent's house. Mum cooked Korma Daging. Hubbie bought Delifrance Baguette. Rest and relax there till 10.30pm. Decided to go Mustafa Centre. Dad followed us. Dint buy much things there tho. Then dad wanted to go for Supper. So we went to Mak's place. Reached there around 12.30am. After finished our supper, sent dad home. We went back. By the time Alisha was already sleeping.
Saturday morning, spent my morning making samosa. Packed some for MIL and some to stock up in the fridge. We went out to Compass Point at 3.30pm. While waiting for Abg Long's family, we went for some shoppings. Got myself working blouse at Metro, Charles & Keith working shoe, Alisha's sandal from Royal Sporting House and Alisha's straw cup & pyjamas at Kiddy palace. We then had our breakfast cum lunch cum dinner at Banquet with Abg Long's family. Hubbie sooo "mengidam" the brown Chinese Bee Hoon there so that's why he wanted to go Compass Point Banquet... hehe.. I had Tom Yam Yong Tau Foo and Char Kway. We left Compass Point at 7.30pm and proceed toPIL's house..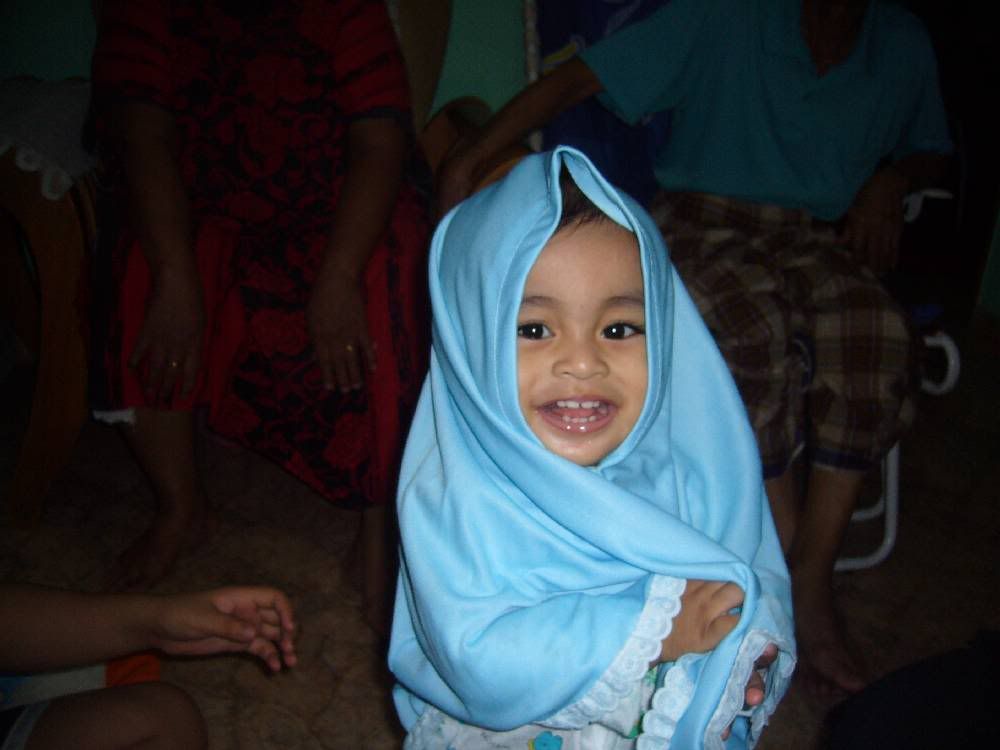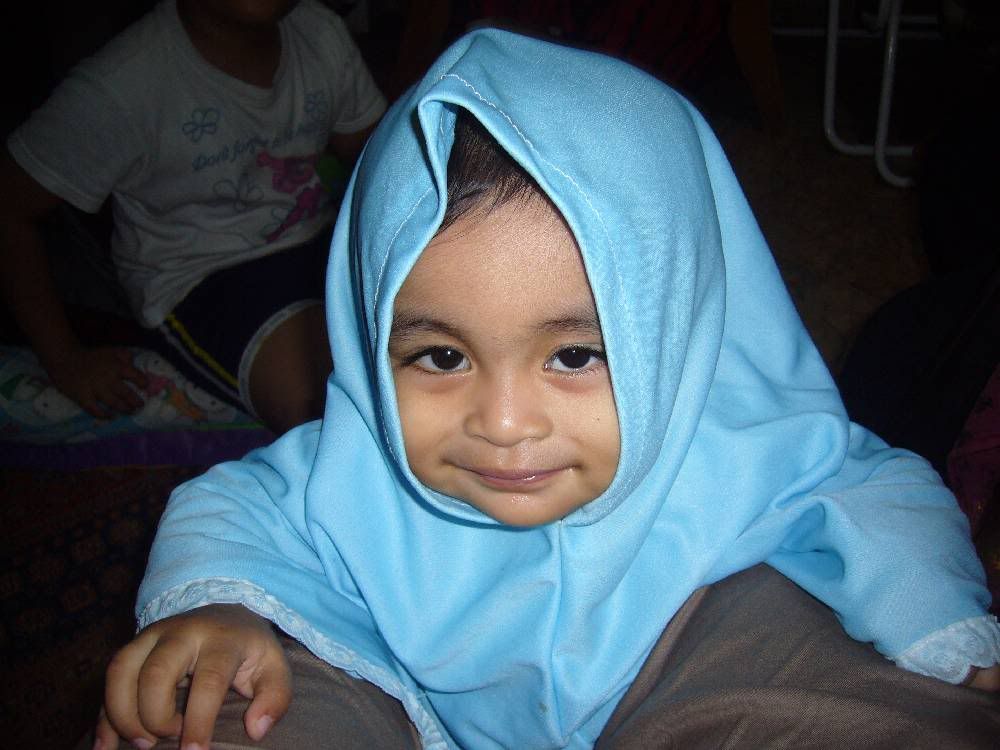 Alisha with her blue tudung

Sunday noon, we headed to Tampines St 33 for Ellia Maisarah's (or lebih dikenali sebagai Elly M) 1st Birthday Bash! Fuh sungguh cantik menarik rumah si Maslia aka esBokz ni! Sungguh retro! I liokeee! hehe.. While waiting for Kak Sun, Rosie & AH Tam, we ate our fill first. Food was great! We lurve the otak2... The Cupcakes by Ayu sungguh lawa dan kalerful! Kak Sun, Rosie and Ah Tam came shortly. Too bad Zana, Cen and Juju cud not make it. Elly soo cute lah with her maroon dress.. She was soo excited to see the cake so she get to touch the cake before we begin singing! haha.. Cacat lah itu Secret Recipe cake! hehe.. But she is such a cutie afterall.. :)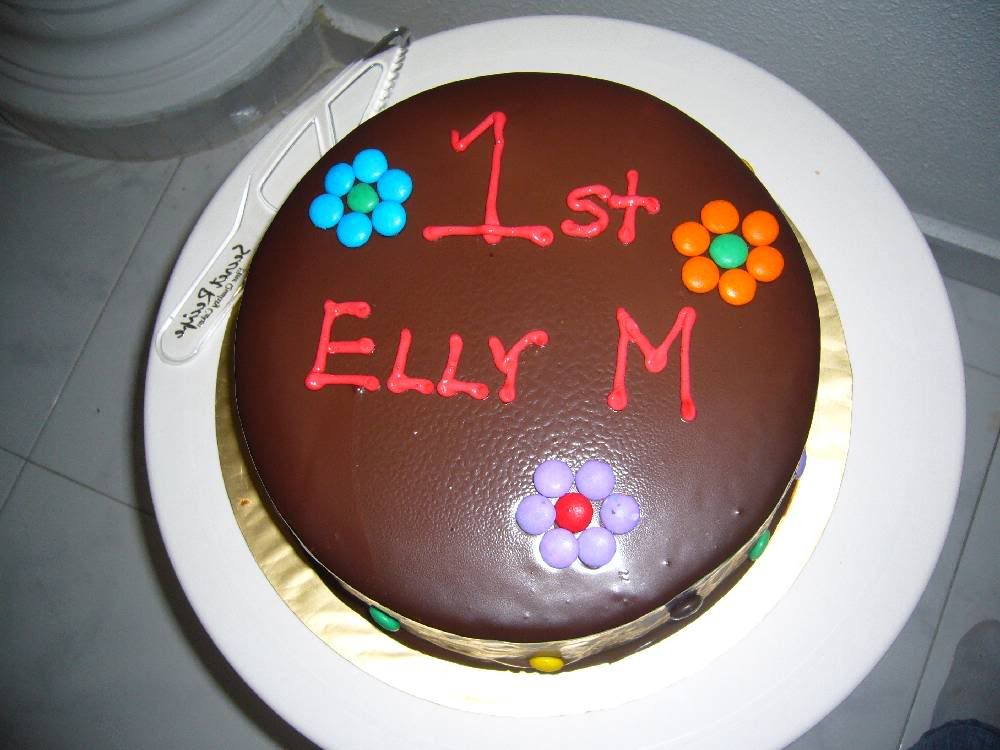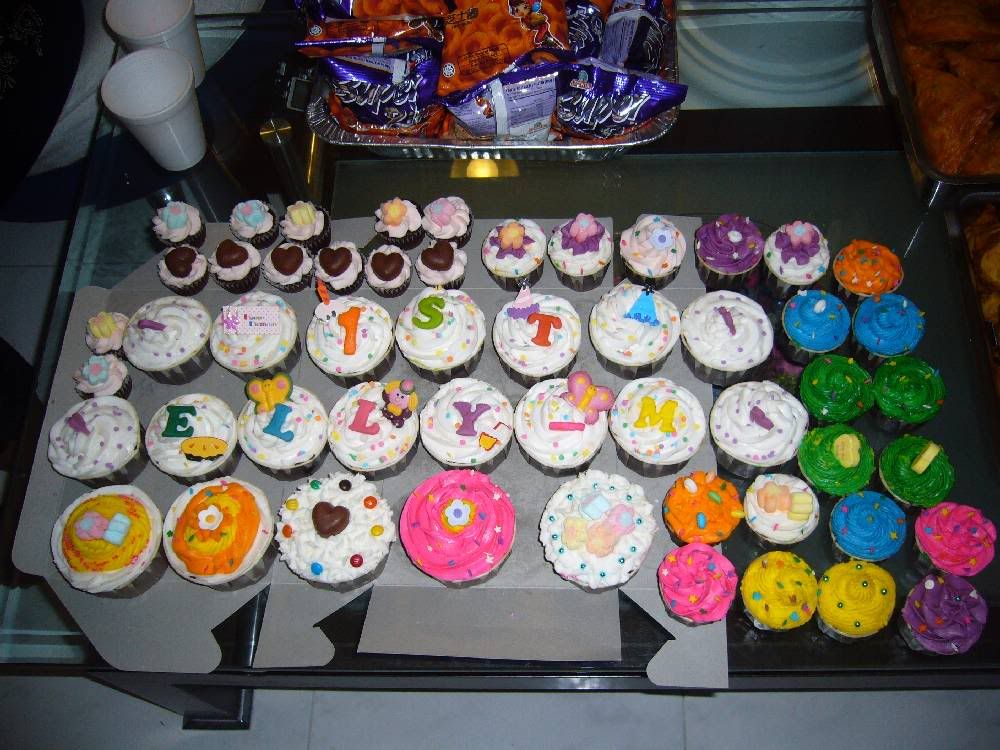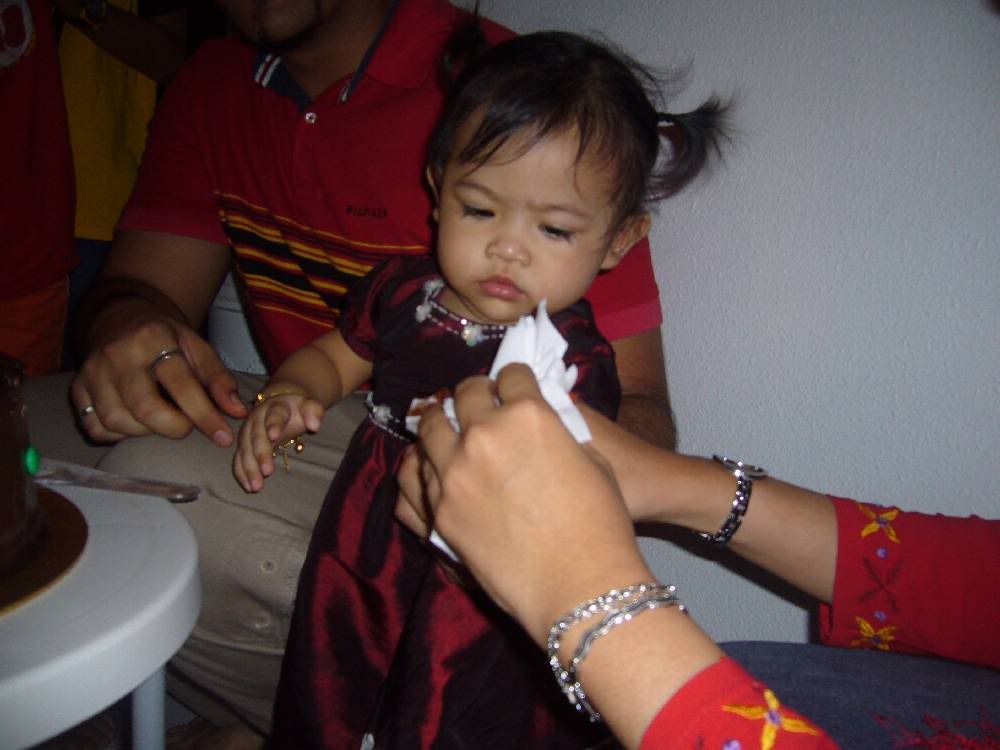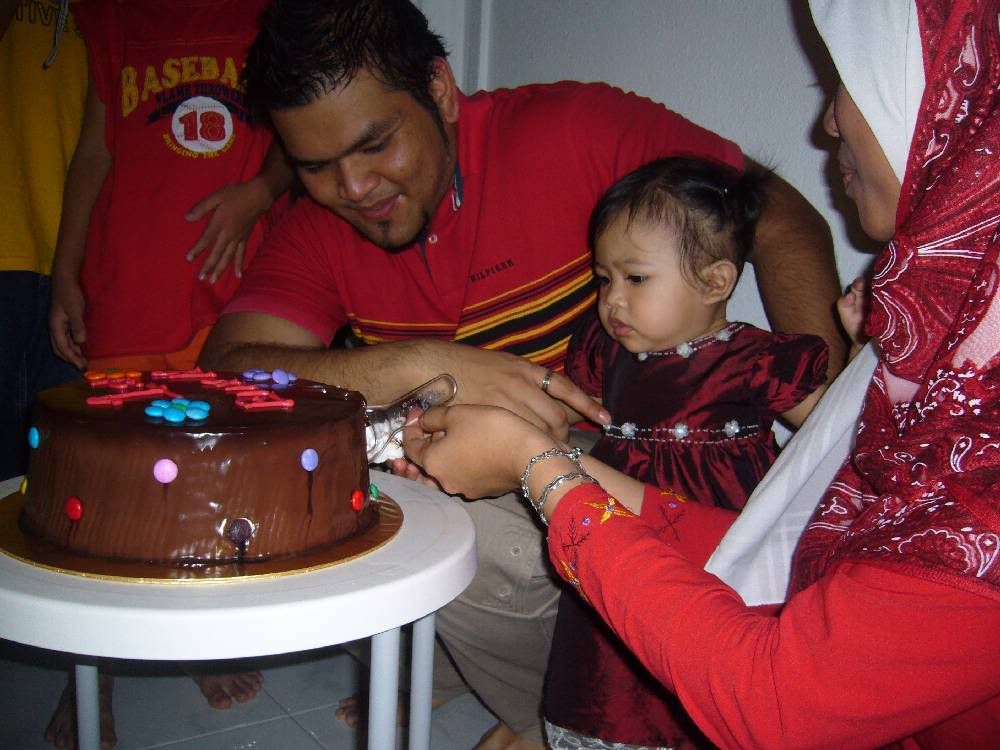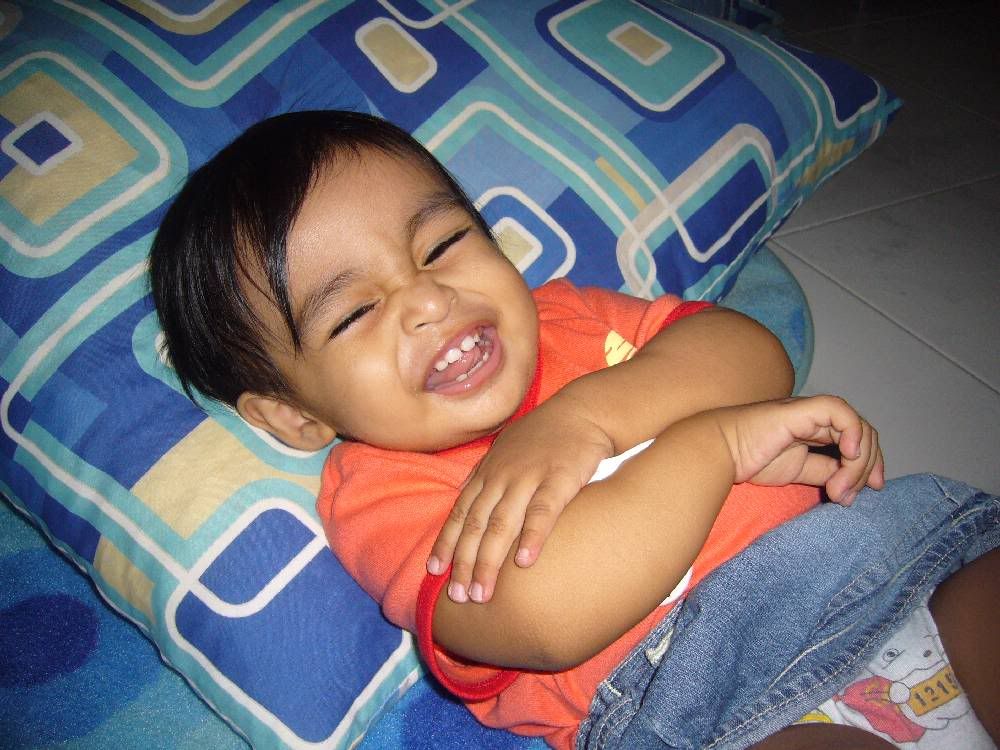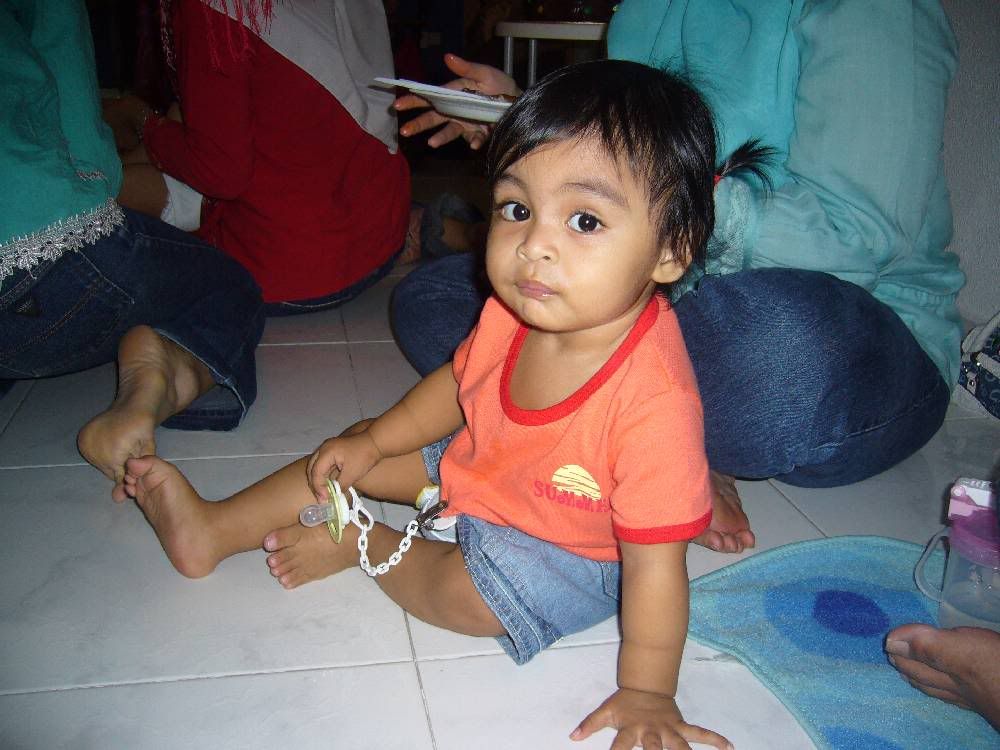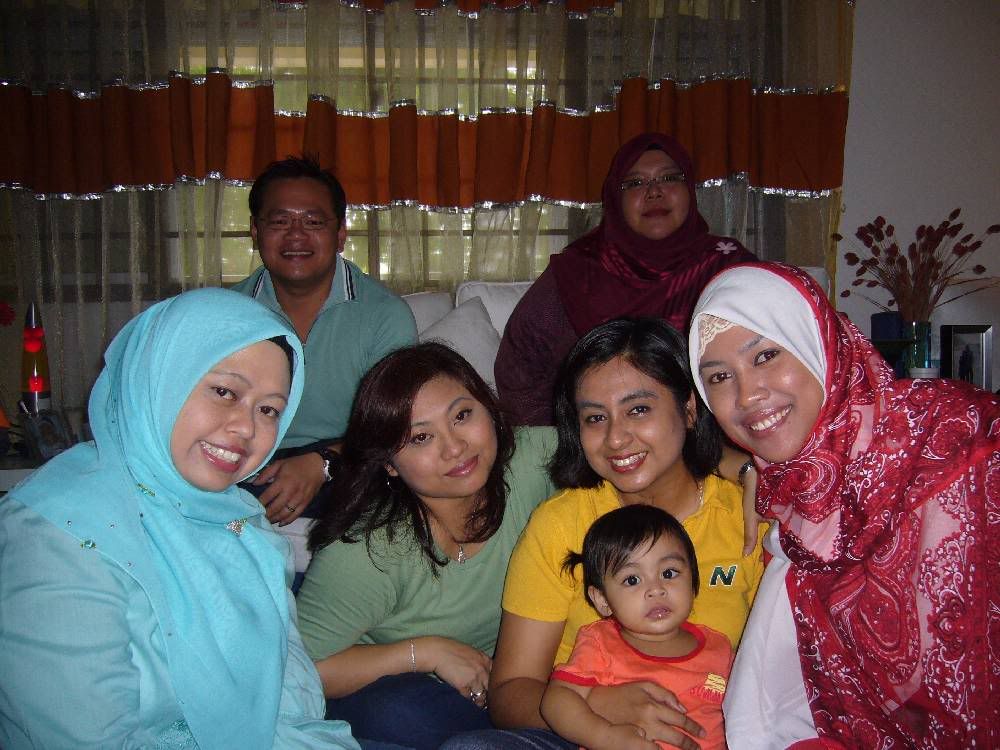 And my Lil Alisha really knows how to enjoy life there... Dia buat muka sardin and buat rumah Maslia mcm rumah dia sendiri! haha.. She sungguh like the retro cushion ah! Dia sungguh frenly sekali tapi bila dah nak tido, siaplah dia punya crankiness.. We made a move first as we need to go over to Abg Chik's house. Hubbie has to "godeh2" their PC. After lepaking at Abg Chik's place at Pasir Ris, all of us went to Carrefour Suntec.. Bought a few things there. Went over to Vhive and nearly we wanted to buy the computer table that hubbie is eyeing all this while but we decided not to buy first. Will be going down to another Vhive branch soon. We decided to revamp our study room too with new wall color and scrap those old cupboards & computer table. Then we off to Mak's Place again for our dinner. Reached home at 9pm.. Sungguh fenat!!
That's what we did for this weekend... Can't wait for this coming weekend as we going to Sentosa! I got free pass this time to Sentosa!! Gonna go Underwater World! yay!!
More pic can be found
here!