My darling Alisha is down with fever, cough and throat infection. This is her first ever so called serious sickness she ever had. Her fever shoot up till 39.7 ... Both hubbie & I were quite panic seeing the thermomether shoot up. We sponged her times and times again.

It's all started with a bad cough yesterday morning. She vomitted out 2 handful of phlegm. She kept crying and then her temperature shoot up. We were about to get ready to go to Zikry & Ilham's bday party but we have to forgo it. I'm sorry mk & girlnani for not attending yur boys' parties. Will be posting the boys' presents soonest. Hus, sorry to you too as I cud not pass Atikah's gift to you! Will post it to you too! We brought Alisha to the GP around 4.30pm. She kept crying when the doctor did a check on her. Once back home, gave her the medicine and she fell asleep soon after that. Only to wake up at 7.40pm. She seemed to be active after her bathe. We went to my parents' place for awhile as my mum cooked Briyani Dam. Alisha was super active at Bedok Home. We went back at around 10.15pm. Alisha dozed off after her medication.

But early morning, she was so cranky and woke up from her sleep. Her whole body was hot. Temperature shoot up till 39.7.. Quickly sponged her. She kept crying. I feel like crying too but have to be strong for the sake of Alisha. Try putting her back to sleep but she keeps waking up every 20 mins and I have to soothe her down everytime she wakes up. By 9am this morning, I'm feeling groggy due to lack of sleep. Alisha still having high fever. Gave her bread for breakfast but she only ate half. She has no appetitte. So we gave her milk but ended up she vomitted out all the food and milk she ate. Tot of bringing her to KKH but the tot of them (the nurses) bathing her with cold water, or perhaps warding her up, we changed our mind. Instead we called up the clinic and was told to bring Alisha down again. We quickly brought her to the clinic and was given priority to meet the doctor first. Doctor checked the temperature and it was 38.7. Luckily it went down a bit. He then inserted bullet to Alisha'a anus to bring the temperature down. He prescribe antibiotics for her too. He also said that Alisha's having bad throat infection. Poor Icah.. No wonder she has no appetitte at all.

After collecting the medicine, we went over to PIL's house. She's a bit cranky and wanted only me. No one else. She started to perspire and one moment, she is all by her feet and start to walk around. I guess the "bullet" really works on her. Alhamdulillah, the fever has really gone down and she is back to her active self. Now I can see her smile, cheeky-ness and her croak voice. I just missed her activeness this morning and good that I get to see her playing happily just now. We just need to monitor her fever still. Now finally she is sound asleep. I pray that the fever, cough and throat infection go off soon. It just sad to see her in pain.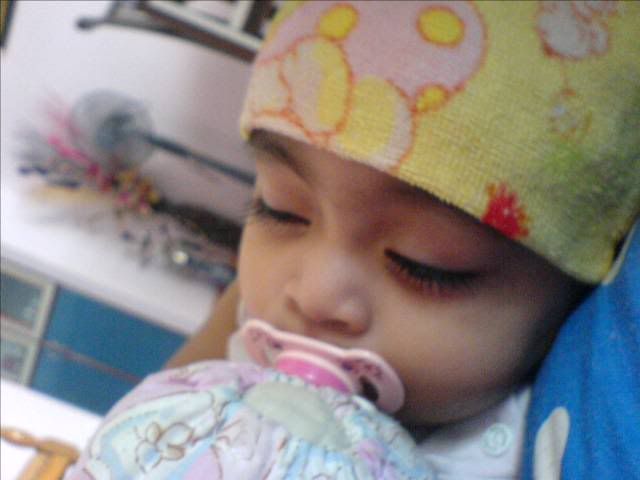 Alisha's sick face


Another note, HAPPY 28th BIRTHDAY TO PUAN MASLIA aka esbOkz aka Mama Ellia Maisarah.. Semoga dipanjangkan usia dan dimurahkan rezeki dan ditambahkan cahayamata ;)