It's already another brand new week and there will be no more holidays for now. Have to wait till our National Day which is in August! So another 2 months plus to survive.. Nevertheless, I shall wait eagerly for our family holiday to Bangkok this coming 2nd June.. Okay, now I shall recapped back what we did over the weekend...
Friday (Vesak Day)

Woke up early morning and got ready everything before taking a cab to Harbourfront where we met up with my parents and sis at McDonald. We had breakfast there first. Over at McDonald, we met Thamrin, Rida & Aaryan..They're going to Tanjong Balai.. We chatted for awhile before making our move to the Check in point. It was packed with people..We boarded the 9.10am ferry. It was Alisha's first trip to Batam taking ferry.. She was so excited.. Inside the ferry, she very the tak tahu diam.. Wanted to stand only and what else, joget her TTM (Teman Tapi Mesra) song! iskkk! *wink Rosie*
We reached Batam an hr later. The Batam Immigration was really slow and the Q were really long. Lucky for me that one of the officer saw me carrying Alisha who is a little cranky due to the heat, we were given priority to get our passport stamped first! Phew!! But still we have to waitfor the rest to finish queue-ing.. We changed the rupiahs and headed outside the immigration hall. Pak Long has already waited for us.All of us took Pak Long's car except dad who took "ojek". Dad is already familiar with the Batam "selok-belok" way of living.. He really knows how to bargain ah!
It was 10 mins ride to Pak Long's house.. It has been such a long time since I visited Pak Long's house.. The last time was when my late grandma visited Batam and we followed. That was ages ago.. And now we are visiting my 3.5 mths cousin, Nabil. He is just soo cute! Alisha too is very fond of him. She kept kissing Nabil till the lil boy cried! Not only she kissed him, she tried being funny and knock Nabil's head! Aiyoh! She is sooo ganas!! We have to be on a look out when she is near Nabil.. hehe
We rested for about 2 hrs before we went out again. Pak Long brought us to Top 100 where we ate our lunch at the usual Top Kong.. We ate our fill there..After that we went to the supermarket to buy some stuff and hubbie went over to the usual DVD shop and bought some DVDs.. Then we headed to MegaMall. It was a huge Mall.There, I bought few clothings, Alisha's sandals, Alisha's cups and cute water bottles.. After shopping, we went round the Mall. Saw mayang's mum and chatted for awhile. Was told that mayang was at the hypermarket. I quickly called her and went down to hypermarket hoping to catch her and Rian. We finally get to meet at the entrance of the hypermarket. Rian is so cute lah! And my mentel Alisha kissed Rian a few times! Too bad managed to snap 2 photos and was being stopped by the security guard there as no photo takings allowed! Duh!! Chatted for awhile before she rushed to get her things and headed back to Pelabuhan to catch up the ferry there. As for us, after paying for our stuff, we headed to A&W for Rootbeer Float & Waffles Ice Cream.. Yummie!
By the time we reached Pak Long's house was near to magrib. Rested for awhile before we went out again for dinner.This time, Pak Long treat us at one of the seafood place. We had a spread of seafood. By the time we went back it was closed to 10pm. Wanted to catch Laila Isabella at Suria but was too lazy to go to the 2nd floor so just laze around at the room below. After taking our bath, we sat in the room with aircon full blast and chit chatted while the kenit of mine entertained us with her movements... Finally slept at around 12 midnite..
Saturday
Had prata, lontong and nasi lemak for breakfast. Early morning, dad and Pak Long had went out to buy the breakfast. After breakfast, we lazed around before we went out for the last shopping.. Before that we sent my sis to Martha Tilaar Spa and Saloon as she needs to perm her hair again. Den Pak Long sent us to DC Mall.. We walked around the mall aimlessly as it seemed so bored at the mall. Nuthing much actually. What's more the aircon in the mall was faulty. We were feeling soooo warm there.. Finally we settled down at one of the restaurant and found a place beside a fan. Ordered our lunch and ate. After that we went back to Martha Tilaar. Reached there, hubbie wanted to do krembat (hair treatment). I was contemplating too wanting to do something to my hair! So finally, I decided to wash and cut my hair.. Dad had to tend to Alisha..Luckily my sis has finished her perm and she also look after Alisha while hubbie and myself went for our treatment and cut respectively. Finished everything by 2.30pm. Straight away we went back to Pak Long's house as we need to do our packing. Both me & hubbie plus Alisha together with my sis will be going back Spore first. While mum and dad will be back on Sunday.. We decided to take 5.30pm ferry. At Pak Long's hse, we managed to rest for awhile before we set off to the Pelabuhan at 4.15pm... Before that we went to MegaMall to buy Pizza Hut and some bread back.. Dad sent us there.. We then boarded the ferry at 5.20pm.. All the way back to Spore, Alisha and myself slept so soundly. We were so tired lah.. By the time we reached Spore, it was already 6.30pm.. After the clearance at the Spore Immigration, we took a cab back to our house. My sis will be staying over at our place.. Finally home sweet home.. That nite, we slept early!!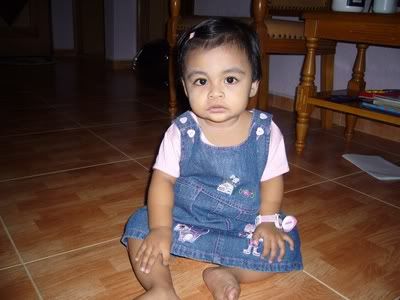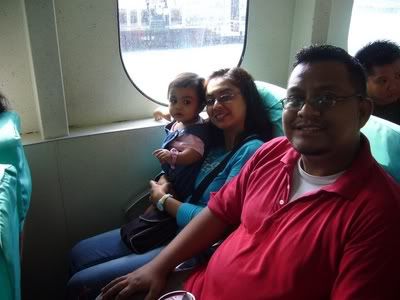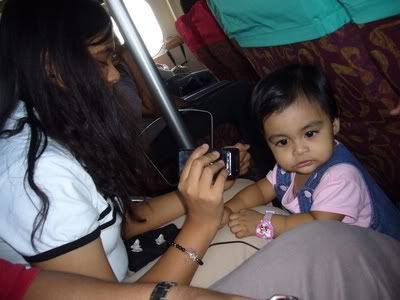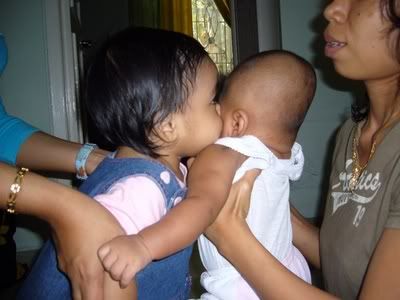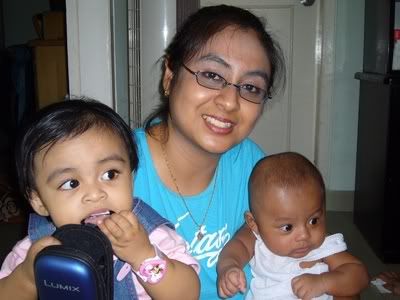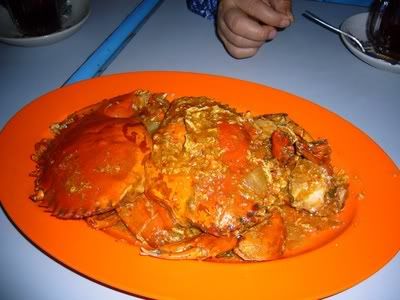 Sunday
We got ready to go to Yakun Century Square to meet up Kak Sun & Abg Mie, Maslia & family for our brunch date. Reached there close to 11am. Kak Sun came first. Luckily Kak Sun was in queue to buy the food so we joined in the Q and ordered our food. Chatted while we eat.. Lil Ellia was soo cute but a bit cranky as she is wary of strangers. And my Lil Alisha kept kissing her till she cried! Budak ni, tak abis-abis cium anak orang sampai kasi nangis! iskk!! Kak Sun bought lotsa Char Kway and Butterfly.. After our brunch, Kak Sun & Abg Mie proceed to go back Jurong house while we and Maslia family went to Starhub to change our set topto Digital one! Yeah! We're going Digital.. I know! I know! We all ketinggalan but nevertheless, finally we get to change ours! hiak hiak hiak..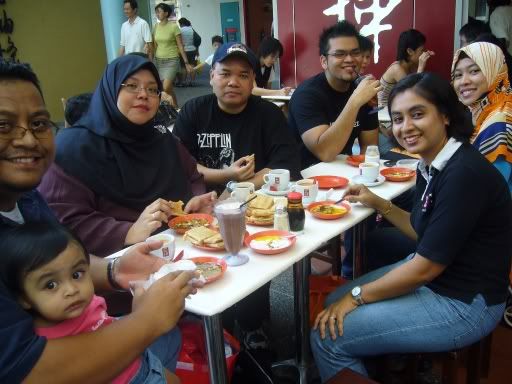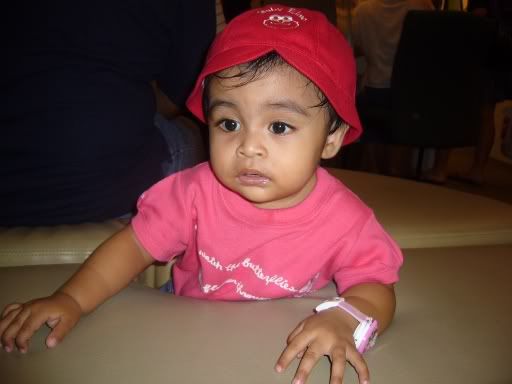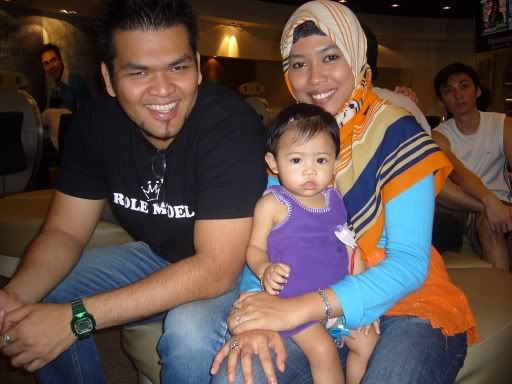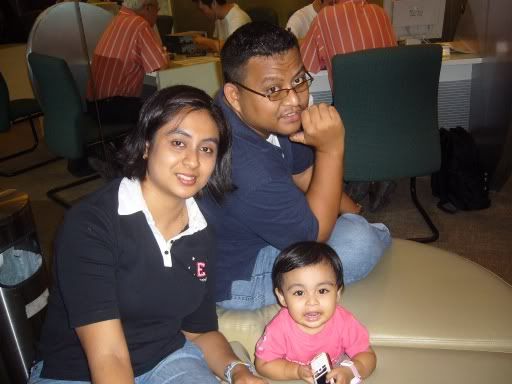 After that we all parted.. We went over to MIL's house as SIL has not seen Alisha for quite sometimes.. Stayed there for awhile.. At 2pm, we went out again. This time to Harbourfront to fetch my parents back from Batam. Then we went to Bedok Hawker Centre for our lunch.. Asyik menyekik jer kita ni! akakaka..After sending them back to Bedok home, we went back. At home, both me and Alisha sleep for nearly 3 hrs.. iskk.. Penat beb!!
After magrib, we went Parkway. Developed photos of Alisha. I've a habit of developing Alisha's photo since birth and every time she turns a month older. She has a total of 3 albums and now adding 1 more album..Then we have our Mother's Day dinner at Delifrance Bistro.. Not a grand one indeed but am happy and satisfied tho'.. :) Went back after that..
Phew! That was my weekend.. Sorry if I bore you guys to death! Hahaha.. So now, enjoy the pictures... More pictures can be found
here!