I've got 2 close buddies when I was in my poly days! They are like brothers to me! Even my parents treat them like their sons those days! We used to go everywhere together and we were in the same project group during our 3rd year. I was blessed that my cuzzin too was in the same course as I am and in the same project group. So it was the 4 of us! Among the 4, I'm the first one to get hitched! And this coming Saturday, my buddy, Adi, gonna get hitch too with her lovely fiance, Yanti. I am truly happy for them but at the same time sad bcos I will not be able to attend their wedding due to my Bangkok Trip. Nevertheless, I am delighted that I get to see the bride & groom to be just now! We planned to have dinner together so that I can pass them their wedding gift.
We arranged to meet at Fish & Co. Changi Airport together with my cuzzin, Nini. Too bad another buddy of mine, Apool, cud not make it else it will be a reunion for us.. Hubbie & Alisha joined in too! We had so much fun!! Chatting and joking all the way. From Fish & Co. to Starbucks!
I hope we can arrang to meet up again in time to come but it will be the complete 4!!
To my bestest buddy, Adi & Yanti, Wishing you guys a blissful marriage and stay loving alwayz!!
Us with the bride & groom to be....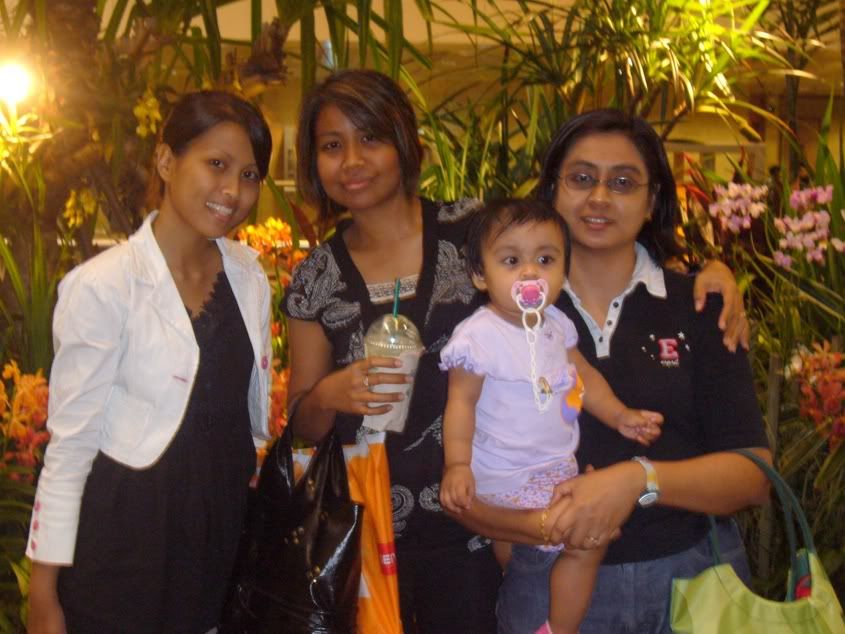 With the lovely bride to be....