Yesh! We're back yesterday nite.. Chose to be back yesterday instead of today cos for sure we will stuck in the massive jam in the checkpoint if we were to come back today... Reached home yesterday around 10pm.. Before that we sent PIL back home and den we zoomed to my parents' place to send some stuff there.. Back home, after shower, I put Alisha to sleep and both me & hubbie watched VCD - Cinta Luar Biasa till 1.30am.. Dozed off to sleep after tat.. Lil Alisha was soo tired that she sleeps throut the nite and only woke up at 5.30am for her milk and dozed off again.. Penat betul anak dara ku ini... Cian dia.. hehe
The trip to Malacca was fun! Altho it's a normal routine going back kampung that we have every year... But this year was fun cos Alisha is wif us and what's more it's her 1st trip there.. She being a first timer to go back kampung, her curiousity looking around her surrounding makes her soo cute lah.. I tink in her mind kept saying "Kat mana lah aku ni eh?" hehe
Kay let me recap back from the day we went till we're back in S'pore...
Friday(050805)
I was on half day on Friday.. Hubbie took full day off but I just settled with half day.. Furthermore the result of the National Day decoration competition will be out tat day at 10.30am... At werk, we have tis friendly decoration competition for the National Day among the teams in Lvl 8.. I was put in charge along with a colleague of mine for the deco stuff.. With the help of few of my other colleagues, we managed to put up a simple yet intertesting stuff up in the glass panel which clinched a 1st prize.. We were ecstatic upon hearing the result... We won $100 cash... Great!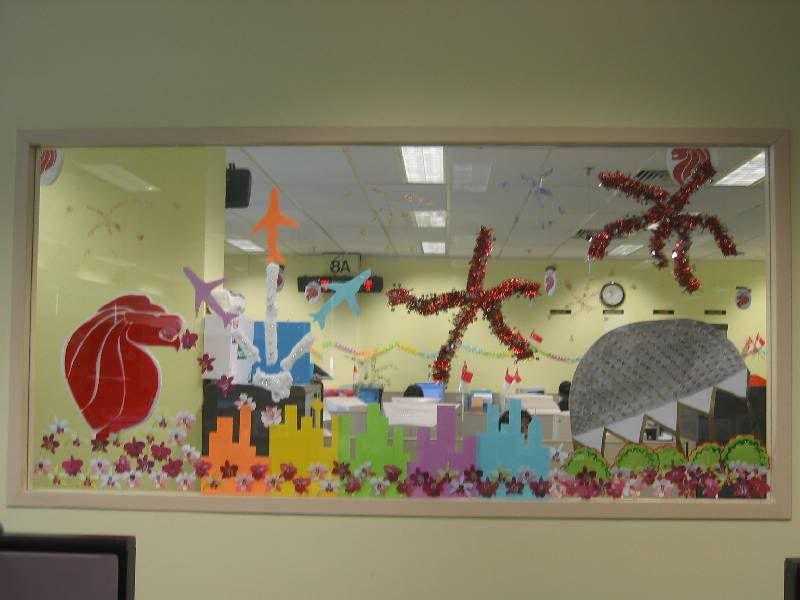 At 11.30am, I'm off from work and hubbie fetched me at my werk place and we headed to Tuas checkpoint straight.. PIL followed us.. Traffic was of course smooth.. Stopped by at Esso to buy drinks and Black Pepper Chicken from Ayamas.. Tat was our so called lunch! hehe.. After we ate, we continue our journey... Finally reached kampung 2.5 hrs later.. The feeling of staying kampung is just sooo great.. but minus off the heat lah.. hehe.. We didn't go to any places tat day.. Only to 7-11 nearby to buy some tidbits...
Saturday (060805)
Woke up at 6am... Dunt ask me why cos my precious Lil Alisha wokes around tat time.. She wants me to play with her.. But at kampung around tat time most ppl have woken up oredy.. At 6.45am, me & hubbie brought Alisha to buy bfast nearby and also to show Alisha to hubbie's grandma.. Over at the stall, Alisha was being surrounded by hubbie's aunties.. Sungguh popular anak ku ini... Sampai bau prata pipi dia.. hehe...
At 9.30am, both me and hubbie plus Alisha together with Kak Ngah (hubbie's SIL) & Lil Syazwan, we set off to Tesco to buy some stuff.. (shopping lah..apa lagik kan! hehe) After Tesco, we went to Pasar Besar at Melaka Sentral to buy stuff tat my mum asked for.. wat else if not belacan, gula melaka, baulu and pulut itam.. After "borong-ing" all the stuff, we proceed to our tailor.. Sent my 3 kain plus Alisha's.. SIL & mum oso sent 1 kain each to the nyonya.. Luckily the nyonya wants to take in Alisha's kain for baju kurung.. After everything, we went back home.. Too tired to continue our journey to Mahkota Parade...
Reached home and lepakz... At 6pm, we went to Pasar Malam nearby.. Borong all the food there.. Cheap2 and nice.. We bought ayam jerangkung, laksa penang, apam balik, mee sup, putu bambu & soya bean drink for dinner...
Sunday (070805)
We decided to bring the kiddos to Mahkota Parade for shopping... Set off around 10.30am.. Managed to get parking over there.. See lotsa Singapore cars there... We headed to a place tat I lurve to buy Alisha's clothing but unfortunately, World of Cartoon has closed down! Arghhh! Was quite sad lah.. Went over to Parkson.. Got my clinique compact powder there .. (cheaper than S'pore by $9) and also some of Alisha's clothes there.. Disney collection not so much there.. Sian! Went jalan2 .. One thing weird tat I encountered there was the Malaysian people there keep pointing at Alisha's mini fan tat was clipped at her stroller.. "Eh ada kipas ah" .. "Wahh got fan" "Eh ni kipas pakai bateri ker?" isk isk isk.. sungguh jakun.com ah.. hehe..
Neway we had our lunch at the foodcourt.. Not forgetting the milk shake at McDonald.. I just miss McDonald milk shake.. Spore used to have it here but dunno why they stopped it.. Reached home around 2.30pm... Lepakz again.. Feeling quite lerthagic as the weather is super hot & warm.. Tot of going another Pasar Malam at Pantai but we forgo the idea as we were super tired.. At nite, we had satay, mee bandung, mee hailam & tomyam for dinner.. BIL & FIL went to buy the food while hubbie & MIL went over to visit one of MIL's sis nearby.. Me & Alisha were excused as it was late oredy... yay! hehe
Oh ya.. not forgetting we had durian and chempedak feast too! *grin*
Monday (080805)
Early morning, hubbie drove Kak Ngah & MIL to Melaka Raya & to Pejabat Pos.. Me & Alisha tagged along.. The kiddos all went to skool.. FIL as usual will stay and do his "berkebun" thingy.. After we came back, we went visiting again.. This time we went PIL's siblings houses across the street.. Of cos was to introduce our "new comer", Lil Alisha to them.. Alisha kena kish kish and ramas2.. Poor her.. She get so agitated and scream out loud.. akakaka.. Pity them.. Alisha still wants her mama to carry her.. ;)
Reached home, we rested... MIL's sister and FL's sister dropped by... Packed everthing and by 4.30pm we set off back to S'pore.. The days just past soooo fast... iskk.. I just yearn for another holiday... but when?? hmmmm.... shall see lah..
So tat's about all lah.. Now I'm gonna sleep so tat I can wake up fresh to go to work tomoro.. Luckily tomoro is already midweek.. Meaning just 3 days of working.. yay!!
Bye for now!!! ;)
To view the pics, pls click
here!