Lately I'm being lazy to update this blog.. really! The tot of ending it up really crossed my mind but shall see how lah...
Anyway some updates over the weekend...
Last Friday my lil girl turned 13 months... At 13 mths she :
Has 8 teeth in total (comprises of "gigi kapak")
Trying her best to walk on her own but still afraid.
If she holds on to someting, she can "tawaf" the whole house
If we, adult we laffing, she will follow suit. Laffing her heart out
She will show her teeth when asked "Mana gigi Icah?"
When asked "Mana mata Icah?", she will blink her eyes
When someone wants to carry her, have to say "where's meow?" den she will follow you.. hehe
She loves to sway herself when listen to any music
That's all that I can update about my lil girl at 13...
Here's her pic @ 13th....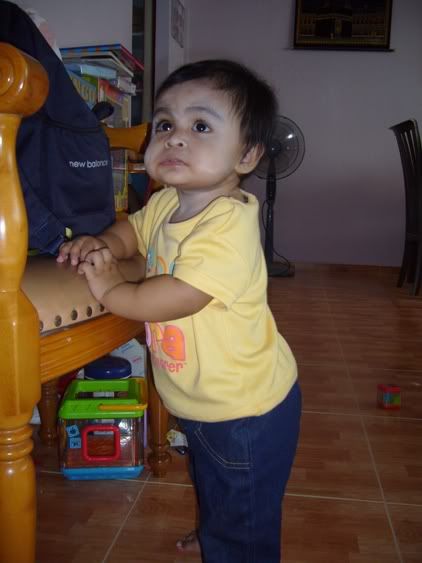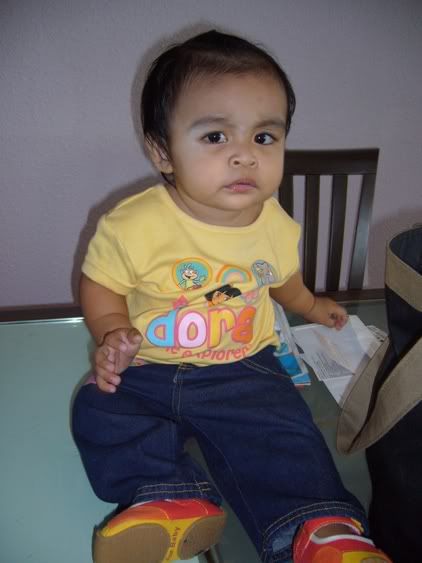 Just the 3 of us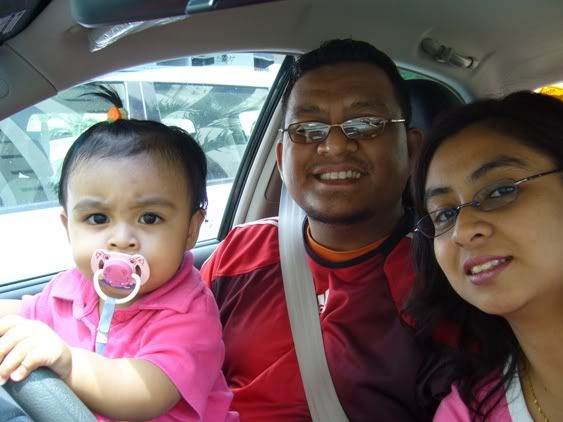 On Friday itself, we went over to my parent's place and watched APM together.. Once APM finished, the 3 of us went in JB to top up petrol and turned back to SG. Went back after that..
Saturday:

Attended Reen's daughter Nur Alyssa Qaizara's cukur rambut. Picked mayang & Rian up den off we went to Reen's abode. We being the first arrived guests had our touched on the delicious food first! At that time the Marhaban still going on.. Thanks Reen for inviting...
Pictures of Alisha Ameera & Rian Haris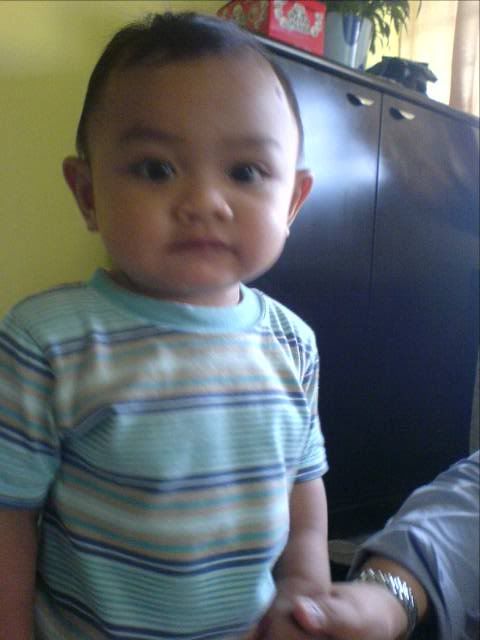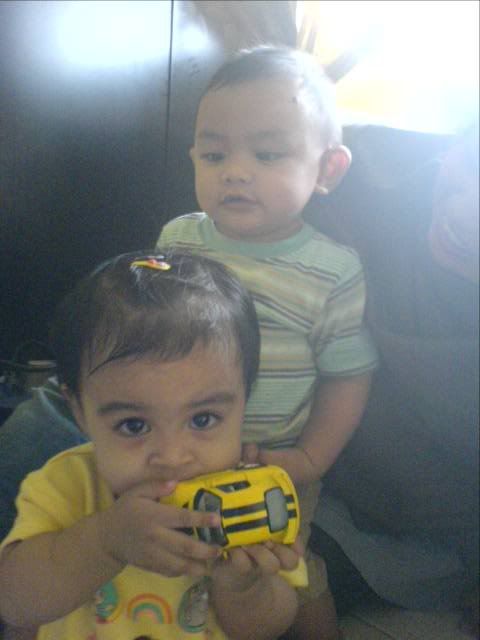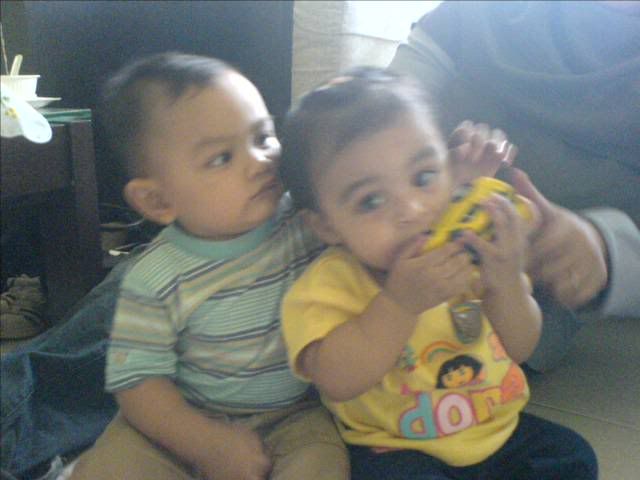 Then off we went to my ex-kolig, Celine, house at Pine Close for her housewarming. Met Hani and some of my ex-kolig there... Simple but nice house... Stayed there for 45 mins before we made a move back home.. Thanks Hani for Alisha's belated present... Alisha got a nice pair of gold earring and gold love pendant from Uncle Faizal & Aunty Hani...
At nite after hubbie watched his Liverpool game, we went out again to meet Ros & Adam at YD to pass something to Ros... Stayed there for about 45 mins enjoying the windy moment.. Hubbie and Adam talked abt cars while Ros & me entertained my lil girl... After that Ros & Adam made their way home and the 3 of us had our supper at Jalan Kayu... Reached home about 1.45am...
Sunday:
At 12 noon, we picked up my parents and my sis to go for Metro Sale.. Surprisingly, not so many people in the Expo Hall... While my mum, sis, hubbie and myself busy shopping, Alisha is taken care by my dad.. hehe.. Aman sket shopping... :p
I din buy much things tho... Sep sket duit.... After the shopping spree, we went to Bedok Hawker Centre for lunch... Then off to send my parents and sis back and we went back too.. Back home, Alisha slept for nearly 3 hrs as she was sooo tired...
After maghrib, we went out again for dinner... Both of us din know where to go.. Hubbie drove from PIE to CTE to TPE and end up again at Jalan Kayu.. aiseyyy... Then back home as Monday is a working day!!
Ohh ya..Yesterday when hubbie opened the letter box, we found the Progress Package letter addressed to each of us.. When we opened, muka ada sinyummmmm.... Wow!! Alhamdulillah..rezeki!!! So come May, all Sporean will be "richer" with a certain amount... :)
Till the next update, adious!!!!
Presenting Alisha with her Dancing COW (her new toy bought by her Atok Bak)