Sian...It's Monday again! How fast the time flies and back to werk again!! iskkk... The weekend just past like a flash! Here is the recap what happened for the past 3 days..
Friday:
Was on half day. Hubbie fetched me den we off to JB. Bringing hubbie's 2 nieces and 1 nephew & not forgetting out Lil kenit, we went shopping spree over there.. First we had our lunch at Secret Recipe at City Square.. Then went window shopping but Aqilah managed to get her skool bag at one of the shop.. After "tawaf" the City Square, we finally went over to Giant at Xtra.. Shopping spree for "barang rumah", Alisha's pyjamas and miscellaneous thingy.. After that hubbie went for a car wash while we sat at Marrybrown to grab lite bites.. Off we top up petrol and went in back Spore.. Quite a jammed over the caueway and finally reached home at 8pm.. What's more has promised
her
to go over her open house.. So after refreshing ourselves, we went out again at 8.45pm and headed to her blk at Edgefield Plain and waited for mayang and hubbie... Too bad Rian was not well, else Alisha wud love to see her "twin"... We proceed to Diana's place and saw quite a number of blogger.. As we were shy-shy cat, we just smiled.. But saw familiar faces tho...
We sat down at one korner and enjoy the nice view from the open concept window... Nice house you have there Di! We have to do the cooking ourselves to the ala2 Seoul Garden.. Not forgetting the yummy and spicy Tom Yam.. Power!! I get to eat at little as Alisha was cranky at that point of time..
Cranky pon cranky jugak tapi bila dapat duit raya dari aunties2, apa lagik, dia sapu youuu! hehe..
That's how my lil doter is! hehe.. Neway we made a move at around 10 plus. Send mayang & hubby home and we zoomed back home... I was so tired and straight went to dreamland after putting Alisha to sleep.
Saturday:
Finally get to jalan raya with Nollie today.. DB came over our house den we went to Nollie's house.. Nollie's mum cooked Nasi Lemak.. It's been such a long time since I ate Nollie's mum cooking..Few years back, at least thrice a month we came over to Nollie's hse and her mum will cooked for us.. Missed those times and of cos miss Nollie's mum cooking..hehe.. After Nollie's hse, we went to yaya aka lervme's hse.. She cooked Macaroni Soup for us.. Nice lah sista!! hehe.. Met Cen over there... After that we went over to Kak Mah aka Yahfiq's hse. She cooked Asam Pedas, Sambal Petai, Kacang Panjang Goreng and Telor Dadar eaten with white rice..best lah! Only that Alisha is cranky and I get to eat a little.. Again, lil kenit only want me to carry her! iskk..
stress gue dibuatnya.. Dah lah lengan semua sakit.. isk isk isk
...
After Kak Mah's hse, we went over to Sibak's place.. There we ate Mee Bandong..asyik badok jer.. Peyut pon kembung dgn makanan seh! hehe.. Shortly after tat we made our move to DB's hse.. DB's mum cooked Sup Tulang, Bee Hoon goreng and ayam goreng.. Power!! Lil Alisha having frens to play with.. DB's twin nieces.. But the kakak was quite cranky so Alisha played with the adik.. And tis kenit of mine, she bullied the adik twin.. Her hand is sooo very the "ringan" to just "ketuk" the adik at her head and also she wants to squeeze the fellow face.. isk isk isk.. I never taught her tat u know! But it's fun seeing them play.. At one time, the 2 of them took turns to "pok" one another.. haha..
We finally made a move from DB's place at 9 plus where we sent Nollie home and went straight back.. Wow, my legs are aching even till now.. I tink too much jalan lah...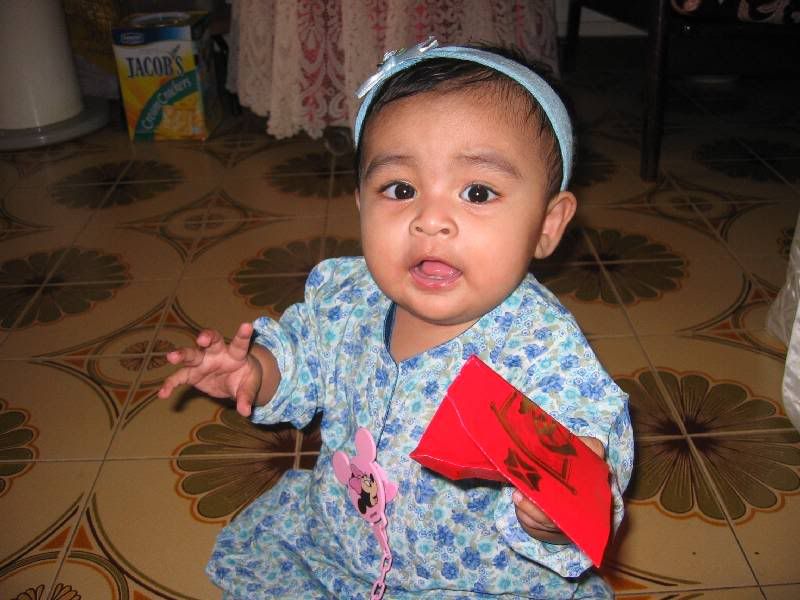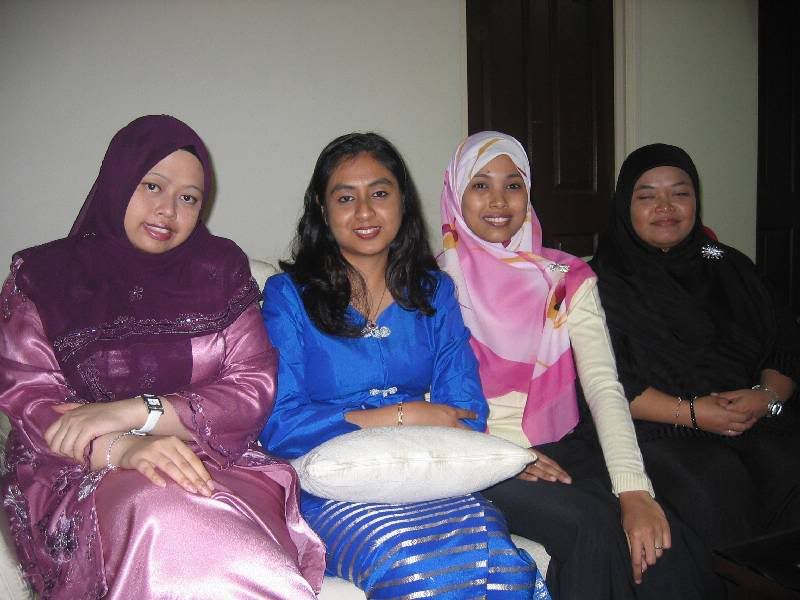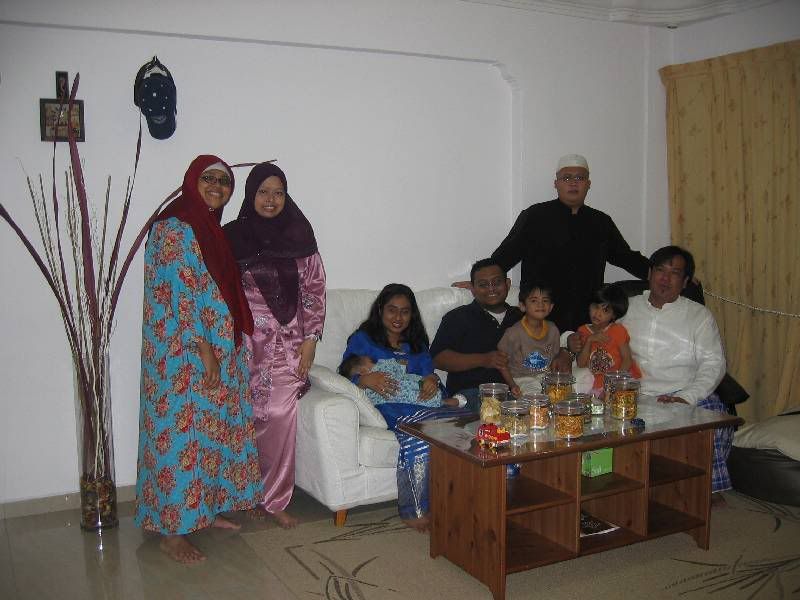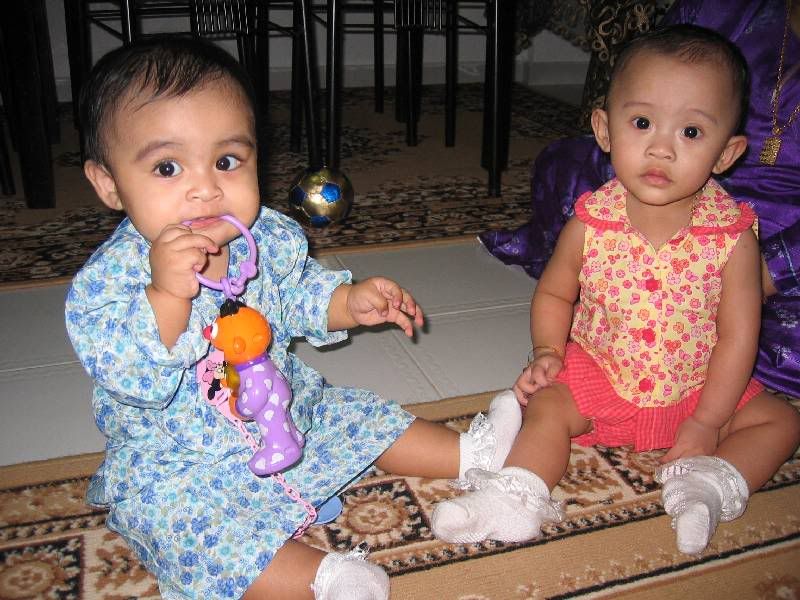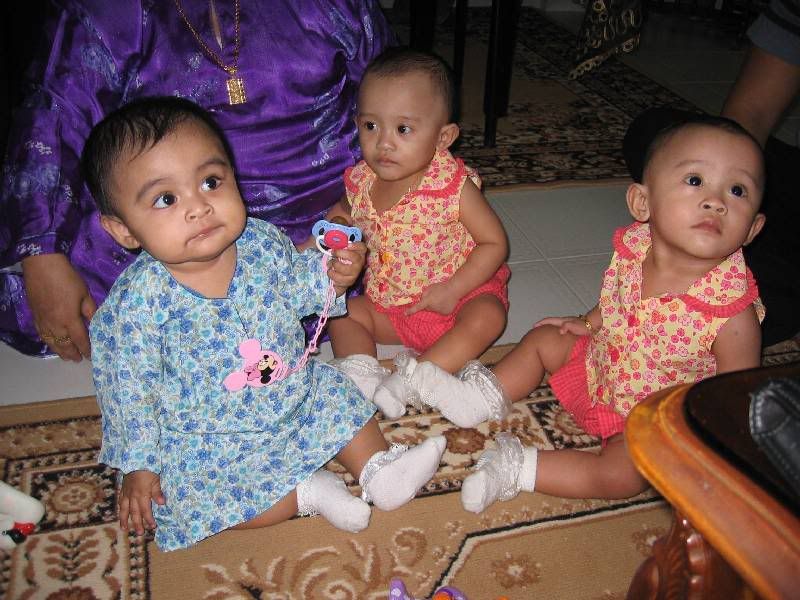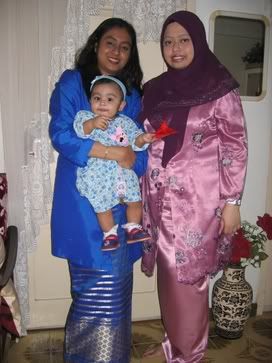 Sunday:
Attended Wati aka blitze's wedding at Simei.. Unfortunately my ex-kolig, Nazreen, cudn't make it last min.. Mayang came late so never get to see her.. While I looked around for other ex-kolig but managed to see only 2 of them.. So after eating, we greeted the bride and the groom and made our way to Compass Point. Hubbie wanted to buy jeans so we headed to Giordano.. Bought the jeans and have to wait for alteration. At the same time, waiting for Nollie, Cen, Kak Sun & Yaya to reach Compass Pt.. Get to buy Alisha's stroller fan and hubbie grab some tee shirts.. Sat down at Burger King and waited for them.. Once Nollie, Cen & Yaya plus Sarah & her maid came, we made our way to Metro to find kokodot's besday present..Then off to Polar Cake shop to buy the besday cake.. Yaya not knowing we gonna celebrate her besday too, was taken in tat we gonna celebrate kokodot's besday alone.. hehe.. Once Kak Sun reached Compass Point, we made our way to Rosie's abode...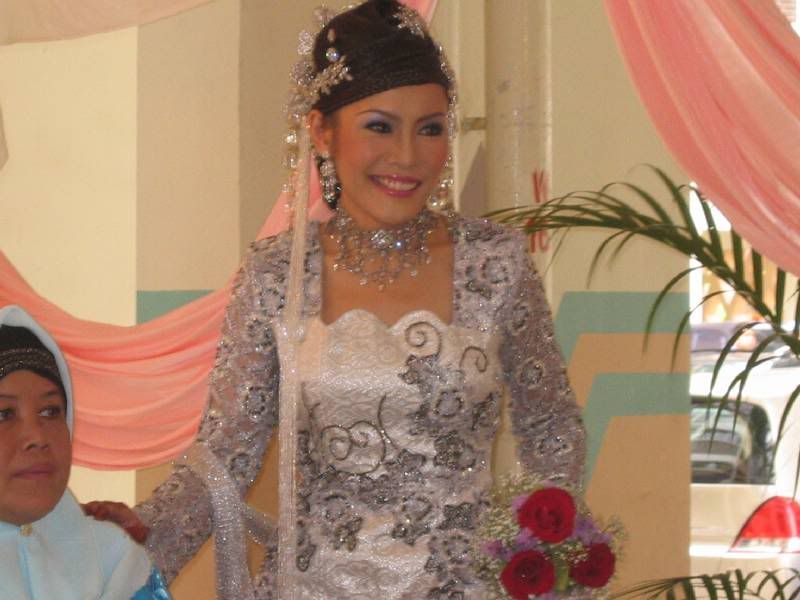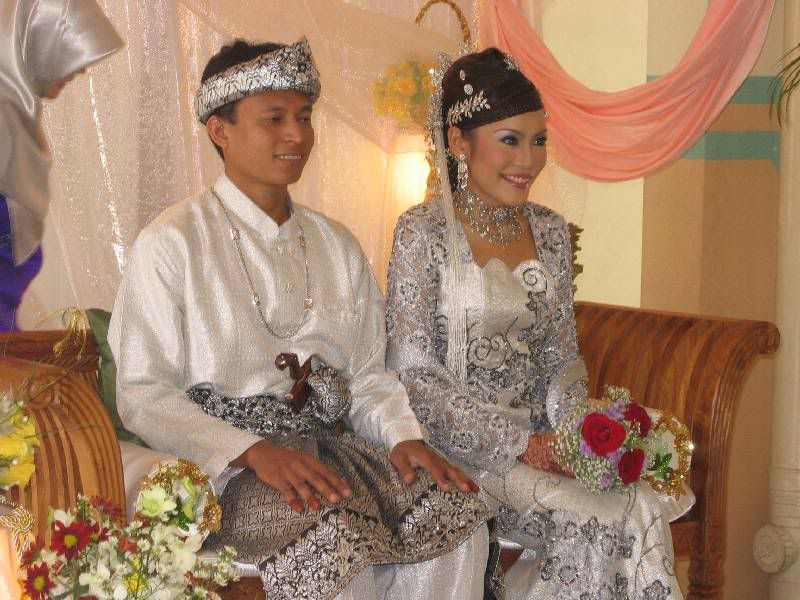 The Bride and the Groom...
We were warmly welcomed by Rosie & Adam.. Sat down and chit chatting together... Sham was there too.. Rosie prepared for us white bee hoon goreng, chickie wings and pishballs.. Nice lah Rosie... *wink* ... We had a great fun and laughter with Kak Sun's being our Joker of the Day! :p
Gonna plan for our upcoming "project" soon! hehe.. Anyway kokodot came late as we force her to come eventho Izzat has to work.. jahat kan kita!! hehe.. Just bcos we wanted to celebrate her belated besday! We surprised kokodot with the besday surprise and also yaya is surprised too when we said that we gonna celebrate her besday also.. hehe.. Kak Sun has already brought yaya's present earlier. Had blowing candles andcake cutting ceremony.. And while we had this small party, my lil kenit was sound asleep at Rosie's comfy bed.. Lawa lah itu bedsheet! hehe.. But Lil kenit soon getting cranky as she has not enuff of sleeping and seems so tired...
Finally at 8.40pm, all of us made a move...Nollie and Cen shared a cab while we sent Kak Sun to her PIL's place at Tampines and cocoa to her mum's place at Tampines too.. We then made our way back..
Peektures of the day: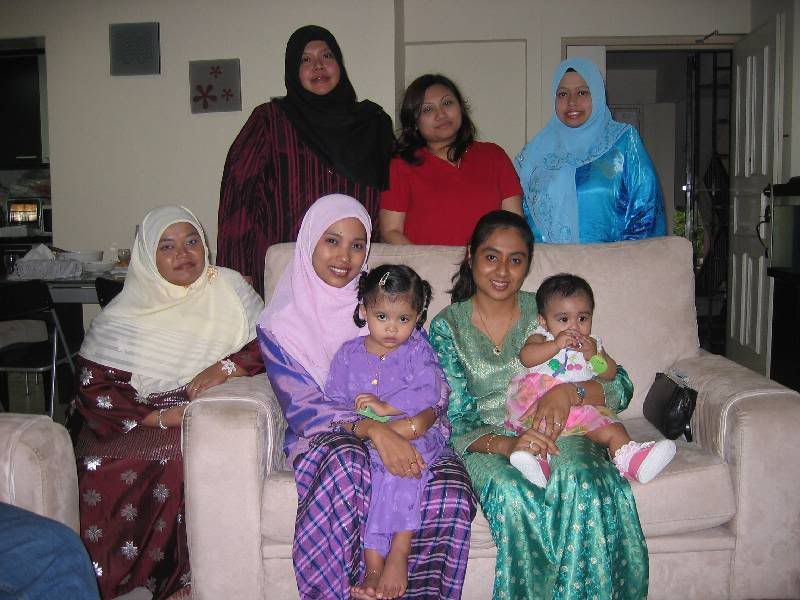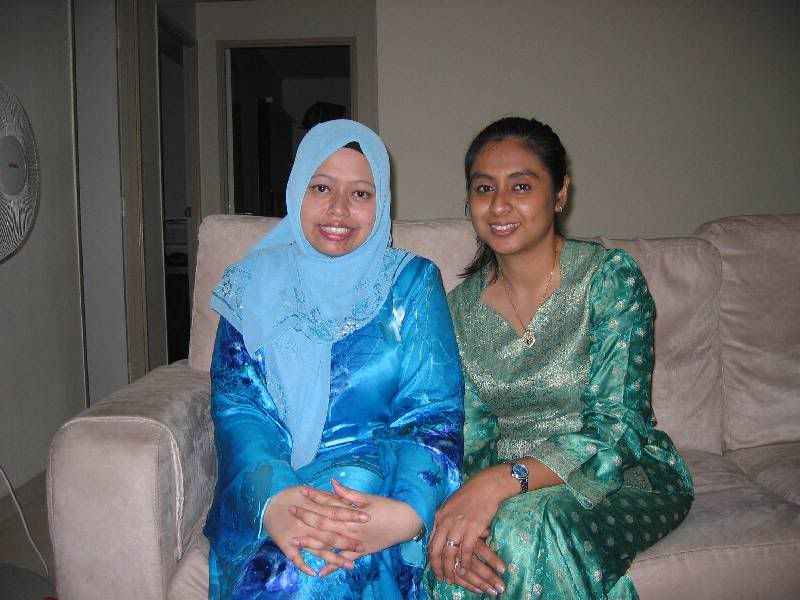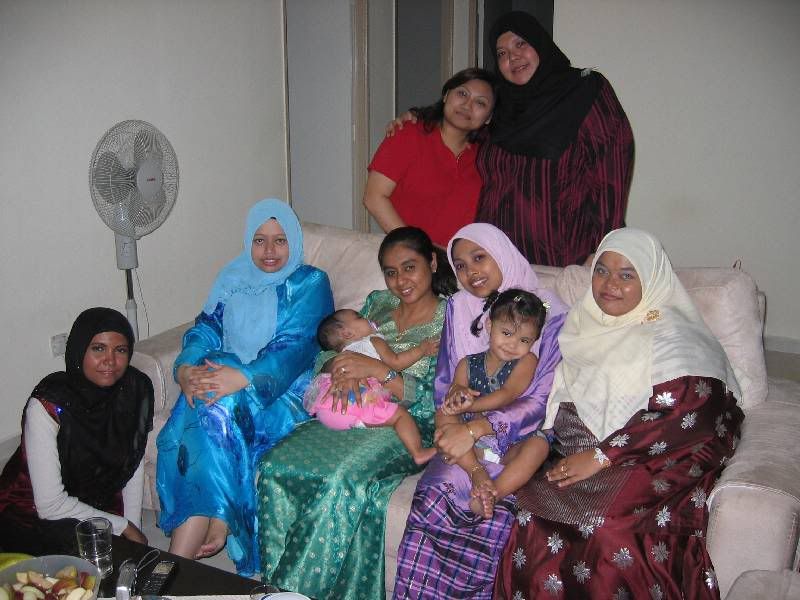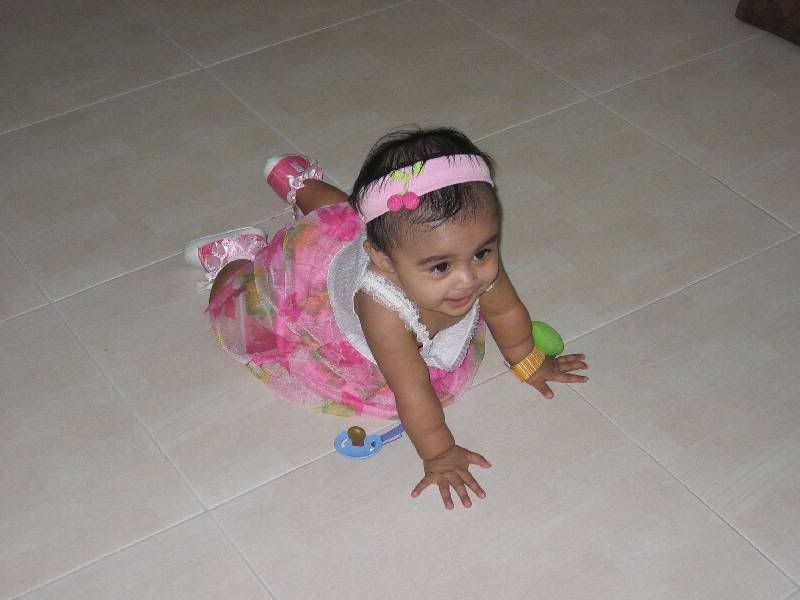 To nz, sorry sis we cudnt make it to yur house as Alisha was cranky.. Insya Allah one day we will come over to yur place okay! Sorry about tat ya!
Kay for photos, please visit my
multiply
....