It's already Sunday! And back to werk tomoro! Huwahhhh!! So fast!
Later, we be going over to my aunt's place at Yishun. We are having kenduri for my arwah datuk, arwah nenek & arwah moyang.. Come this 16th May & 22nd May, it will be a year that Arwah moyang & Arwah nenek left us.. Anyway we gonna fetch my parents later and go over to Mak Opat's hse..
Yesterday morning, I was super rajin you know! Did french toast with baked beans and scrambbled egg for breakfast and also Cheese Fries too!!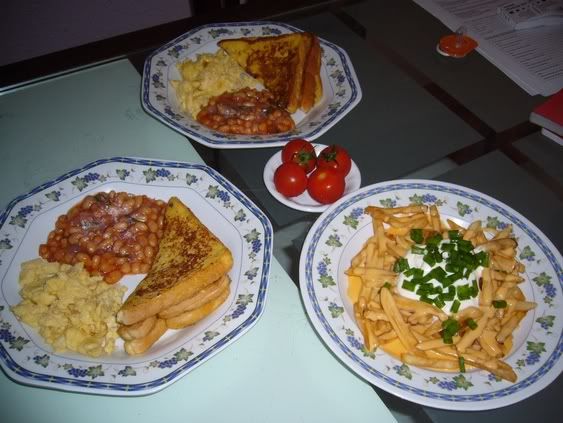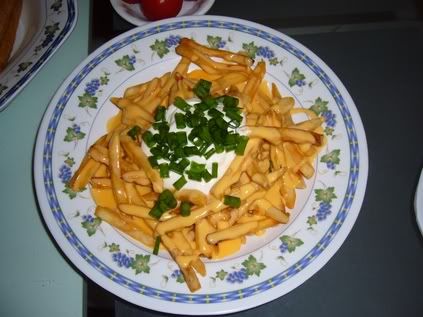 After our breakfast, helped hubbie out with the spring cleaning. Our Lil Alisha too busy "sping cleaning" round the house. Oh ya! She can walk now you know!! Semalam malam, dia dah "pasang" kaki and keliling rumah dia jalan.. Dia dah "giler" jalan lah ni!! Abis lah!!!! Tu lah, blom tahu jalan, kita ni asyik nak suruh dia jalan cepat.. Ni dia dah jalan, baru padan muka kita..nanti asyk terkejar sana sini, terpekik sana sini.. hehe
At 3.30pm yesterday, we went to fetch my parents and went over to Nani's hse to visit her. She is soo weak now! She din have the strength to walk too! Pity her.. Stayed there till nearly 5pm before we went over to Tampines Swimming Complex. Reached there and changed Alisha to her swimming costume. Oh my!! She is afraid of the pool!! When I first brought her down to the Kid's Pool, she cried!! mak aiii!! One thing, she is afraid of cold water! Anak dara ku ini mandi air panas! So kalau kene air sejuk, melalak lah dia!
I put her inside her "boya" and bring her in the middle of the pool. Hubbie joined us. She took some time to settled down. The pool was pack with children and their parents.. What a wrong day to go! Lucky for mayang that time she went during weekdays... We could not even go to the MUSHROOM there as it was surrrounded with kids. We just stayed in the pool for 40 mins before we were out from the pool. The weather turned dark and we decided to take our shower and go off from there. Perhaps next time shall go during weekdays!
By the time we reached our car, it started to rain. Phew! Lucky us! Went to Pasar Geylang to have our dinner and met Abg Long's family there. Together we went over to PIL's place. Stayed there till 11 pm before we went back.